Forget fall. Winter is fast approaching. And with every changing of the season comes a new set of fashion trends. The styles of 2012 are still fresh off the runway with concepts like floral prints, paisley colour palettes and doctor bags still very much in effect. Also in effect is the sense of colours in many designers' lines, toning down the brightness and cranking up the use of solid, primary colours. So, if you're looking to update your wardrobe, or get ahead of the curve for next year, or just want to avoid looking like a slob stuck in 1999, here are ten tips on how to look your sharpest in 2013.
10 Fashion Tips For Men To Look Out For. Slideshow text follows for mobile viewers.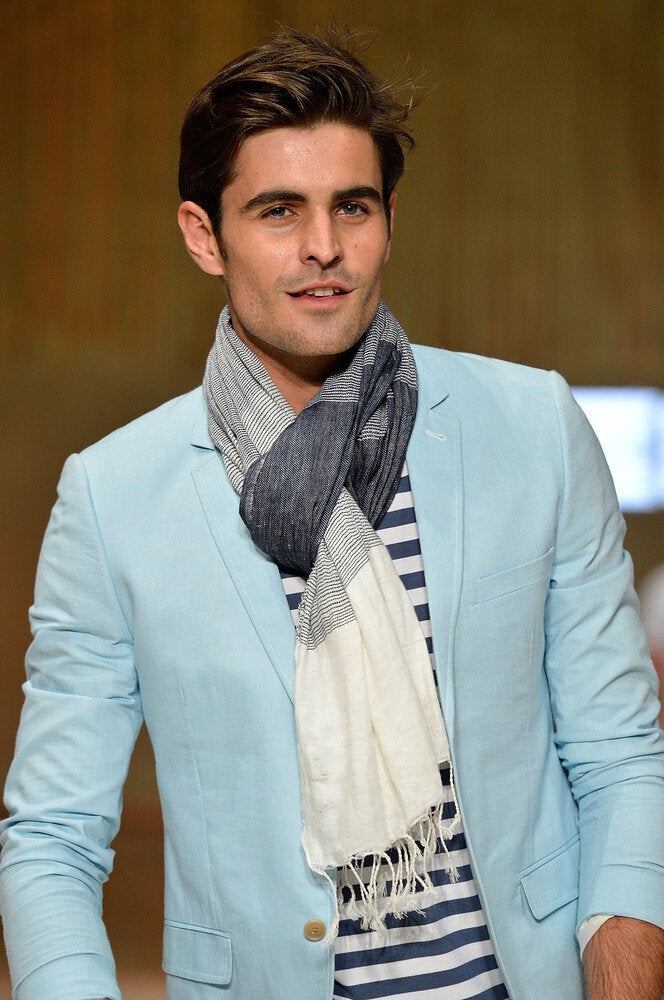 10 Fashion Tips For Men To Look Out For
Navy blue was big for men's clothing in 2012 and blue is still very much in. However, it gets a bit lighter and playful with solid mid-tones that are reminiscent of a crystal-clean lake in Ontario or the mighty Atlantic out on the East Coast.
The emphasis on this 2013 fashion trend is in its plurality, meaning the dudes should get comfortable owning more than just plaid. By mixing and matching two different patterns (three is pushing it and might leave others confusing you with a fabric swatch), men can create an interesting contrast in their look. Try pairing micro-plaid dress shirts with striped ties of similar colours to pull off a fun, business-casual look year round.
Last year's winter was pretty weak with above-seasonal temperatures dominating much of the season. However, environmentalists are predicting a colder winter in parts of Canada this year so it's a good idea to leave those trendy pea coats at home and invest in something that's warm and stylish. Jackets with fur-lined hoods make a bold statement that'll also keep you warm without the use of those awkward-looking ear muffs.
This one's not so much a particular fashion trend exclusive to 2013, as it is a good style practice to keep up: change your watch's wristband. Summer of 2012 saw lots of playful colours - subbing out steel links or leather straps to striped, elastic bands was a trend as hot as the blistering summer heat. But now that summer's over it's time to change back to a strap that suits your personal style.
If anyone saw the 'Expendables 2' this summer, movie-goers will notice how stylish Sylvester Stallone's character was dressed for a mercenary. It's hard to beat the manliness of military clothing (not so much on the camouflage patterning this season) so men can't go wrong with a dark grey or navy jacket. Pair it up with some dark boots and you'll be good to go for a night on the town, just don't be shocked if people mistake you from the nearest military base.
Speaking of footwear, dress shoes are out for 2013 and boots are very much in. Now, these aren't your grandpa's Hunters or swamp waders we're talking about here. What men want to look for are long, leather boots (not winter, not hiking), preferably in a dark black or brown tone (whichever best compliments your wardrobe). They'll add a layer of complexity and versatility to any outfit and won't leave your feet soaking wet when the rain and snow comes.
Cotton is safe but it's boring and as common as a leaf on the ground come October. Instead, some fabrics to try out for 2013 will be tweed and wool. Tweed adds a rustic look to any blazer or sports jacket that will automatically jazz up any outfit. Wool also works with jackets and coats but goes great as part of a sweater with a cotton blend to avoid that itchiness.
Men might shy away from the jewellery department but this is an area where guys can have a lot of fun and really set themselves apart from the crowd. One of last year's most popular accessories was the leather wristband or bracelet. This year, guys will want to work with metals like bronze or brass into rings, cufflinks or tie clips.
One of 2012's defining moments was the London Games and that pivotal event can still be seen in 2013 when it comes to men's fashion. Still running off the high of the Summer Olympics, it's never been a better time for guys to adopt a sporty look. Things like leather varsity jackets in the fall, striped tear-away pants in the summer and stylish windbreakers in the spring are just some of the ways you can incorporate the athletic or sporty look for 2013.
When it comes to suits, a three-button jacket is still very '90s. What's more in line with 2013 is the two-button jacket since the placement of the buttons adds height and creates a slimming look. Also worth noting is the pocket square's explosion in popularity. The rise of the pocket square may have kicked off in 2012 but it's definitely something that men should get used to seeing in 2013. Not only can a pocket square add colour or texture to an outfit, it draws attention away from the belly which can also help with creating a slimming effect.