The Turkish Language Institute (TDK) recently updated the definition of the word "dirty," translated as "kirli" in Turkish. One of the added definitions of the word is "a woman who is menstruating."
Even though the Institute was condemned and a public outrage began on social media, most importantly, it showed Turkish women that menstruation is seen as a taboo. Most upsetting for me, is the fact that something so natural is seen as something to be ashamed of in my own country.
Take a moment to visualize an advertisement for sanitary pads or tampons. It probably involves young, attractive women who happen to be university students or professionals. They feel refreshed and are able to continue enjoying their day thanks to the pads they use. The truth, other than the one depicted in advertising is a bit different.
But why is it so different? Menstruation is universal, it is a part of a woman's identity and is something all women have to go through every single month. What the advertising neglects us to see is the thousands of women out there who have to work under very harsh conditions while having their periods. Most of them not having access to clean and safe sanitary products, and not even clean water.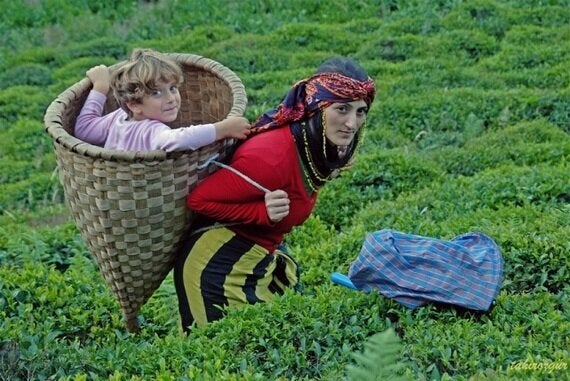 The definition highlights not only a cultural problem about how menstruation is perceived, but a social problem. Seasonal female agricultural workers are just one example of disadvantaged groups across the world and the problem goes unaddressed amongst this social group in Turkey because it is considered a taboo. Every harvest season, these women migrate to agricultural centers with their families, where they work in the fields all day and take care of their children and houses at night, which is ultimately equivalent to an 18 hour shift. Most of them do not even know what a sanitary pad is, they use cloths which cannot be properly cleaned and some even use leaves. In the long run, the limited access to clean water and a lack of hygiene cause serious gynecological health issues and infections.
I highly respect seasonal female agricultural workers who try to support their families under very harsh conditions.
For many countries, agriculture is one of the key sectors for strong and sustainable growth and women make up a considerable portion of this labor force. In order to increase female labor force participation, and pave way for economic growth, the harsh working conditions of women should be improved. A safe working environment would make agriculture more desirable for women, which in turn will bring more productivity and would lead to a controlled yet strong growth in a crucial sector.
This is not only about hygiene, but dignity. Liberating and empowering rural women can only be possible by improving their working conditions and teaching young girls about periods. Small steps like educating women about menstruation and offering them the sanitary products may not help combat the stigma around it, but will help women who are affected by such a label.
Helping women to embrace their bodies and identities, securing their health, even saving their lives by taking some basic measures will make a huge and lasting impact.
I highly respect seasonal female agricultural workers who try to support their families under very harsh conditions. Even though they were not born as lucky as me, they are certainly stronger than me! With the help of G(irls)20 and the lovely women in my family and my community, I want to start a journey to change the lives of many others and I hope with all my heart that I can make this change.
By İlayda Eskitaşcioğlu, delegate representing the Turkey at the 2016 G(irls)20 Summit in Beijing, China.
Follow HuffPost Canada Blogs on Facebook