Justin Trudeau's three kids have been in the spotlight long before he was sworn in as the prime minister. Now past the 100-day mark of his office, Sophie Grégoire-Trudeau says she's relieved to see how her children have adjusted to the media frenzy.
"Yes, of course I try and protect them as much as possible. But at the same time, I don't want to be overprotective. I am trying to find some balance with the whole situation," she said in an interview with The Huffington Post Quebec.
Xavier, 8, Ella-Grace, who just turned seven, and Hadrien, who is almost two, are learning many coping skills from a supportive family who speak openly about mental health.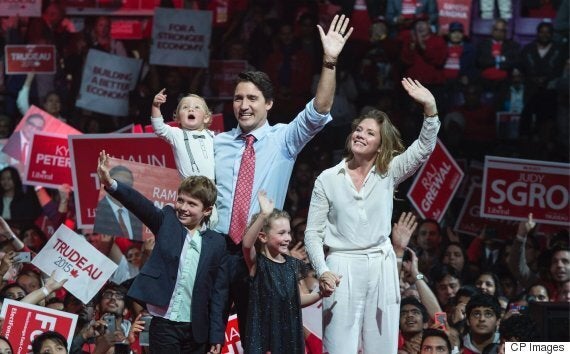 The Trudeau family waves to the crowd at an event in 2015. (Photo: The Canadian Press)
"Eating was my only way of controlling my life, or so I thought," she said in a 2012 interview. "When you are addicted or suffering from a mental illness, you think you're in complete control. But the opposite is true. You are, in fact, completely out of control."
The former TV journalist said, "I lived. I hurt. I had the right support to be strong. I got help. It's been my support network that has made all the difference."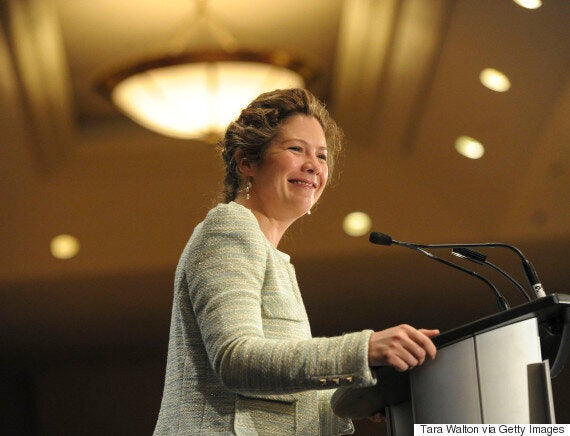 Sophie Grégoire-Trudeau speaks about her experience with bulimia during a 2013 event in Toronto sponsored by Sheena's Place sponsored event. (Photo: Tara Walton/Toronto Star via Getty Images)
Her mother-in-law, Margaret Trudeau, went public with her own bipolar disorder a few years ago and has since become a spokeswoman for mental health awareness.
Justin Trudeau now speaks about his mother's struggles with depression, but in the '70s, it was difficult to find the right words to talk about it, he revealed during a special episode of "The Social" on Bell Let's Talk Day.
It was only when he was in his 20s that the current prime minister made the connection between his mother's mental health and the problems his family was experiencing at the time.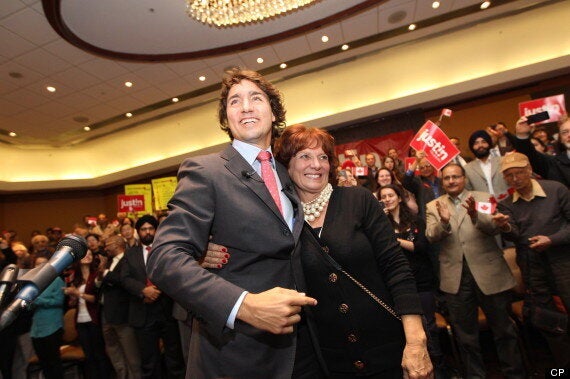 Justin Trudeau is seen with his mother Margaret in 2013. (Photo: The Canadian Press)
Today, mental health is not a taboo subject in the Grégoire-Trudeau household. Despite a busy schedule, they always try and find the time to have "conversations that can sometimes be a little uncomfortable."
Everyone has a role to play in building children's self-esteem, Grégoire-Trudeau told HuffPost. The words and actions of those in a child's close circle can influence them even at a young age.
"Whether teachers, mentors, an uncle, and aunt, close friends, parents, brothers, sisters — I believe we each in our own way send messages based on the image we have of ourselves."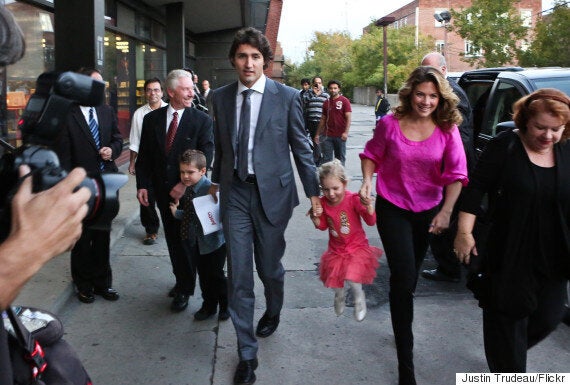 Ella-Grace Trudeau, in pink, skips while holding hands with her parents in 2013. (Photo: Justin Trudeau Flickr)
She tells about a moment when her daughter was flipping through a fashion magazine with her friends. Ella-Grace pointed to each photo, assessing if she thought the model was pretty or not.
Grégoire-Trudeau immediately went to speak to her. "Ella-Grace is so empathetic and compassionate. She is not very judgmental, so when she said that, I thought, 'Oh, OK.' And we talked about it right away."
As a busy mom, she can't control everything people say at home or at school, but she did help her daughter understand that her words could have been hurtful to other people.
"Our children are obviously our treasure. We care for their bodies, we make sure they sleep well, we take care of their nutrition and we are responsible for their brain health as well."
"These are the types of conversations we have on a regular basis with our kids," Grégoire-Trudeau said. "We have to open ourselves to others to understand their pain, their weaknesses. I think to a small extent they are experiencing this openness through the adventure they are now part of, in spite of themselves.
"What I try and do most with my kids is instil in them the idea of respect towards themselves. They're young, but they're already developing the idea that if they work hard enough, if they have courage, if they take care of themselves, if they are aware of their limits, they're able to accomplish what they want."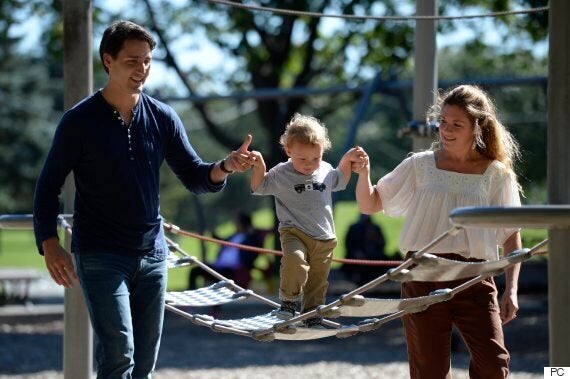 Justin Trudeau and Sophie Grégoire-Trudeau play with Hadrien at a playground. (Photo: The Canadian Press)
As a former spokeswoman for the organization, Anorexie et boulimie Québec, Grégoire-Trudeau believes there should be more programs aimed at prevention and education from a young age, to eliminate the stigma of mental health in general.
She also deplores the "structural" problems faced by treatment centres for eating disorders, reminding that the health-care system is a provincial responsibility.
"In terms of beds for people with anorexia in hospitals, of young girls who should be in therapy ... there are not enough spots, enough beds."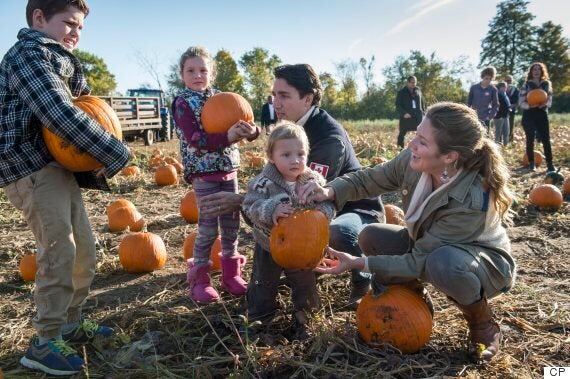 The Trudeau family picks pumpkins in 2015. (Photo: The Canadian Press)
While the Canadian activist has taken on the issue of eating disorders, her American counterpart, Michelle Obama, has focused on promoting healthy eating and physical health.
"I see very close ties [between my causes] and the discussion Mrs. Obama is trying to have with Americans. I find it very inspiring and I'm anxious to meet her!" said Grégoire-Trudeau, who will be heading to the White House with her husband for a state dinner on March 10.
Grégoire-Trudeau intends to use her visibility to reach as many people as possible and continue to spread her message of self-acceptance over the next four years.
"Our children are obviously our treasure. We care for their bodies, we make sure they sleep well, we take care of their nutrition and we are responsible for their brain health as well," she said.
"Whether as a mother or as a woman, I just can't handle the thought that a child is suffering. If I could, I would save them all!"
Young Minds Matter is a new series designed to lead the conversation with children about mental and emotional health, so youngsters feel loved, valued and understood. Launched with Her Royal Highness, the Duchess of Cambridge, as guest editor, we will discuss problems, causes and most importantly solutions to the stigma surrounding the mental health crisis among children.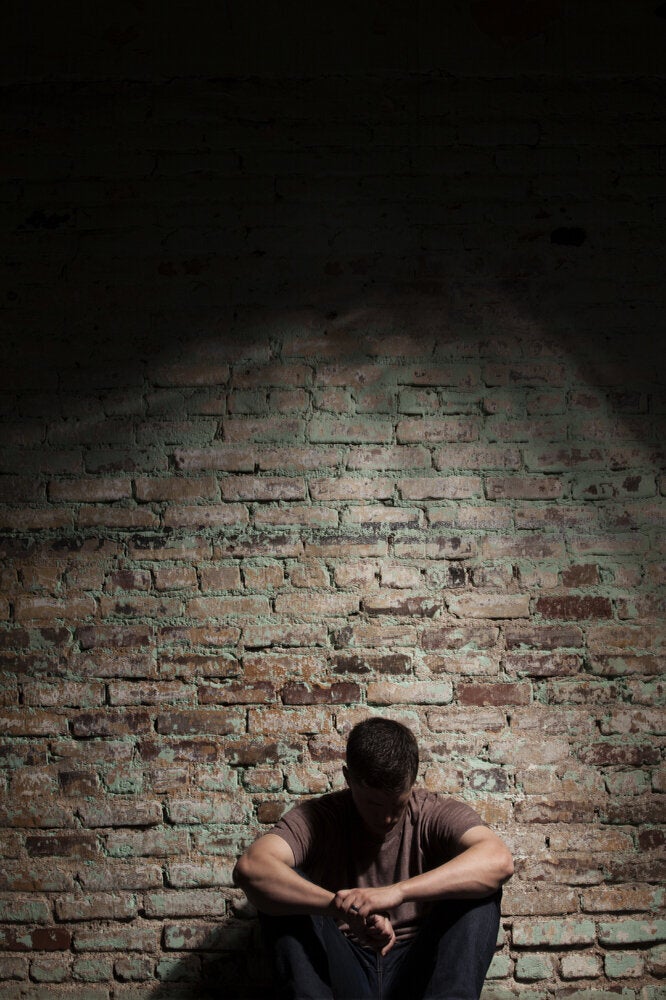 Facts About Mental Health in Canada