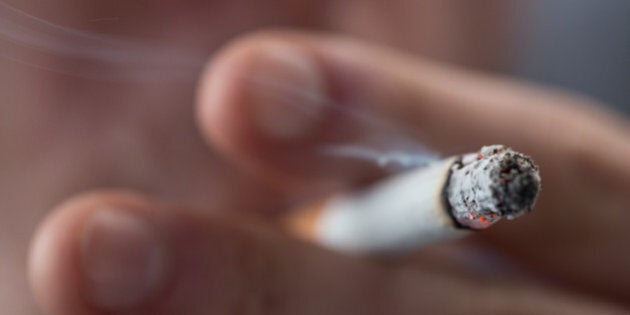 An innovative program for treating people with both mental illness and addictions in Hamilton, Ontario's St Joseph Hospital is proving to be successful. But, what it also demonstrates, in my opinion at least, the extent that those with mental illness alone are being poorly cared for. In a two part series, the Toronto Star described the workings of this new concurrent disorders program. Part One was called Michael's Story, while part two dealt with combining addiction rehab with mental health care.
Smoking is just as much an addiction problem as drugs and alcohol. And, as I've pointed out in a number of blogs, patients who smoke are discriminated against by having separate smoking rooms in hospitals closed. As a result, they are being forced to leave the hospital grounds to smoke if they are not in locked units. In the case of the Centre for Addiction and Mental Health (CAMH) in Toronto, they are banned from even having tobacco in their possession in the hospital.
For people with serious mental illnesses, tobacco may be beneficial and that would account for why so many do smoke. Smoking is believed to be a form of self medication for those with schizophrenia who often have very impaired working memory. This form of memory is important for recalling short-term facts or for performing other cognitive tasks. Studies have shown that when the nicotinic receptors in the brain are stimulated, working memory improves.
Forcing abstinence on those with an addiction to tobacco simply does not work even if you supply the nicotine patch or nicotine gum. In fact, a review of all smoking cessation strategies for people with schizophrenia published in 2013 found, "There was no evidence of benefit for the few trials of other pharmacological therapies (including nicotine replacement therapy) and psychosocial interventions in helping smokers with schizophrenia to quit or reduce smoking."
The new program at St Joseph's recognizes the futility of abstinence for other addictions. Tammy Keddy, a psychiatric charge nurse is quoted in the first Star article making that statement. And, in the second part, psychiatrist and addictions specialist, Dr. Jennifer Brasch, points out that, "It's hard to stop drinking if you're severely depressed. It's hard for anti-depressants to work if you're drinking."
She is then quoted saying that much of the substance abuse is prompted by mental illness because people self-medicate to help calm their anxiety or dull their hallucinations.
Well, the same goes for tobacco. It is hard for patients who smoke to get better when they are denied tobacco and they often smoke as a form of self-medication. Forced abstinence is both cruel and counter productive. It can also be dangerous as was found in Nova Scotia. A patient in Halifax was given a pass to have a smoke but he failed to return to hospital. Instead, he wound up murdering someone and, as a result of a government review, the hospital was forced to provide patients with a smoking area within hospital.
There used to be separate heavily ventilated rooms or outside areas in psychiatric hospitals and units for the smokers which benefited all including those who were in locked units with no in-out privileges. There is no reason we can't have that now.
One of the goals of this new concurrent disorders program is to help destigmatize mental illness. That is also why they've integrated non-mental illness services into the hospital as the Star pointed out. But, what could be more stigmatizing than to have psychiatric patients gathered on the public sidewalk in front of the hospital all smoking? At St. Joseph's psychiatric hospital, that sidewalk is on a busy four-lane road directly across the street from Mohawk College.
Surely the patients deserve more respect and dignity than that. And they deserve to have their self-medicating addiction treated with the same level of respect that they are now starting to treat those with addictions to alcohol and drugs.