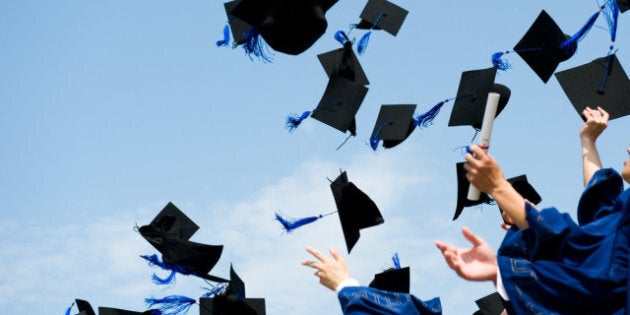 If the world were a perfect place, we'd all be fully recognized, rewarded and appreciated for our hard work -- and talent and perseverance would be the only way to get ahead. But in our fast-track world, does merit always mean success? That's what the MeriTALKracy initiative is all about. Inspired by the motto on the Upper Canada College school crest -- Palmam qui meruit ferat (let he who merited the palm bear it) -- we ask, who deserves it and how has a commitment to earning it shaped one's life? In a series reflecting on this question of merit, prominent UCC alumnae weigh in. We'd like to hear your thoughts too!
The word "merit" is both a word and a noun.
It features in the UCC coat of arms, "Palmam qui meruit ferat" -- He who merits the palm shall earn it.
When I use the word "merit", I think of excellence, laudability, high achievement, well-deserved, praiseworthy and well-earned, sometimes in the face of daunting circumstances.
To give the word more meaning, let me apply it to people who have had a great impact on my life and whose achievements MERIT the use of the word!
Clara Hughes -- a great Olympian, winning seven medals in both summer and winter games. During this span of unparalleled success, she was plagued with periods of severe depression. She now is a great champion to defeat stigma surrounding mental illness.
David Johnston -- our current Governor-General. He has also been an inspirational President for two great universities: McGill and Waterloo. He has earned great admiration in each of these positions. He is also a successful author, educator and corporate board member.
Maurice "Rocket" Richard -- my hockey hero as a kid. The Rocket: an extremely talented hockey player, passionate, electric and winner of many awards. He was unmatched during his career and was the most exciting player of his time.
Rob Prichard -- passionate and committed President of the University of Toronto. He led the university when it raised $1 billion to support expanding its facilities, curriculum and student aid. He continues his success as a leader in the legal profession and in public service.
Dr. Paul Garfinkel -- a highly respected psychiatrist by training, he successfully led the amalgamation of four diverse psychiatric and addiction institutions to form the Centre for Addiction and Mental Health, one of the leading institutions of its kind globally.
These five people are my role models for success. They have achieved success through strong, inspirational leadership and hard work. Some have led by their enthusiastic activities as leaders. Others were quiet leaders, motivating others by their example.
But each earned the success they achieved by using their God-given skills to the utmost. They merited the awards they received. They displayed excellence in every way and were deserving of the gratitude and admiration that came to them. They were each worthy of the merit they received.