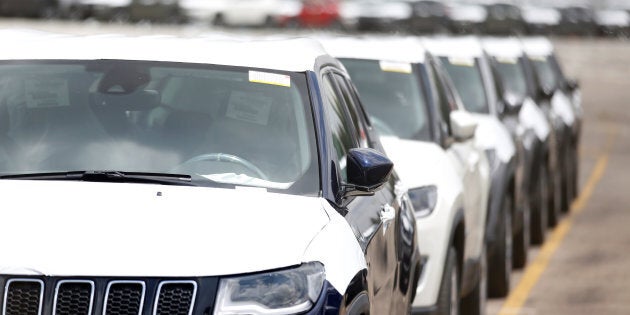 A new analysis suggests Canadian negotiators may want to side with the U.S., and against Mexico, when the auto industry comes up in NAFTA negotiations in Washington, D.C. this month.
And its author, former CIBC chief economist Jeff Rubin, is arguing Canada may have no choice but to follow the U.S. and slap tariffs on Mexican auto imports, if the Trump administration chooses to do so.
The analysis, conducted for the Center for International Governance Innovation (CIGI), paints a good-news, bad-news picture of the 23-year-old North American Free Trade Agreement (NAFTA). On one hand, the deal has allowed consumers to enjoy lower prices on vehicles, and has improved carmakers' profit margins; on the other hand, Canada's auto industry has been losing jobs for years — principally to Mexico.
Over the past decade, the number of auto jobs in Mexico has quadrupled, while Canada has shed 26 per cent of its auto-related positions, the report stated.
The U.S. experienced a similar 28-per-cent decline in auto employment.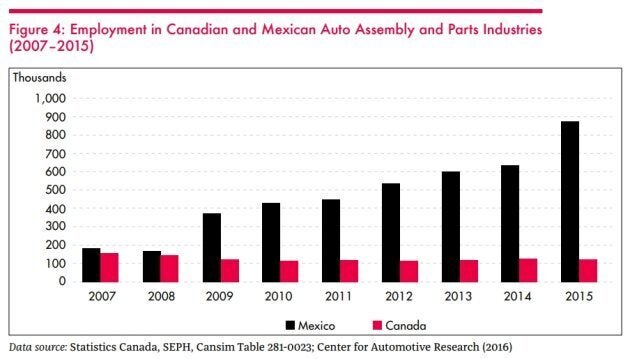 As recently as a decade ago, Canada and Mexico produced roughly the same number of vehicles; today, Mexico produces some 1.5 million more cars annually than Canada.
For Rubin, that's proof it's NAFTA, not automation, that's behind Canada's shrinking position in the global auto industry. The country was the world's fourth-largest auto producer in 1999; today, it has fallen to 10th place.
Automation "has been used as an all-sweeping explanation for job loss," he told HuffPost Canada by phone. But the reality is there has been "a fundamental shift in investment" from Canada and the U.S. to Mexico, he said.
He raised a question about NAFTA that today, in Canadian policy circles, is little short of heresy: "Does this really make sense for Canada's economy?"
See what Canada's politicians are saying about the NAFTA talks:
For automakers, the logic of shifting jobs to Mexico is hard to deny. Rubin's report pegs the average wage at Mexican auto-parts plants at US$2.45 an hour — about one-eighth of what Canadian and U.S. auto workers make.
But Rubin notes that labour accounts for roughly half the price of a car; local costs such as marketing and advertising account for the other half. The implication is that shifting auto jobs back to Canada and the U.S. is feasible, even if it does result in some increase in prices.
Which is why the U.S. may choose to slap tariffs on Mexican auto imports, if NAFTA negotiators fail to come to a new agreement, Rubin said.
He said if that happens, the U.S. will suddenly enjoy a major new advantage against Mexico's car industry, and that Canada "will have no viable option but to follow suit."
Doing so would run counter to what the federal Liberal government has been saying — that Canada will stand by its NAFTA partner Mexico. But Canada's interests are more aligned with the U.S.'s than with Mexico's, Rubin argues.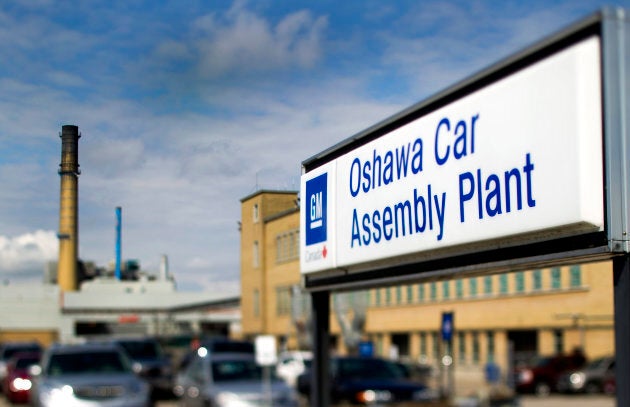 Echoing a now-familiar refrain, Rubin — the author of several bestselling books including "The End of Growth" and "The Carbon Bubble" — suggests Brexit and the rise of Donald Trump are signs that free trade deals have distributed their benefits too unevenly, leading to a backlash.
He suggests unless these issues are addressed, the same anti-free trade sentiment could come to Canada as well.
Rubin points to the hollowing-out of Ontario's manufacturing sector, a phenomenon so severe that The Economist dubbed the region "the new rust belt."
"The same things that have happened in Ohio and Wisconsin have happened in Ontario as well," he said, referring to U.S. states that voted for Trump in the last election.
Popular in the Community