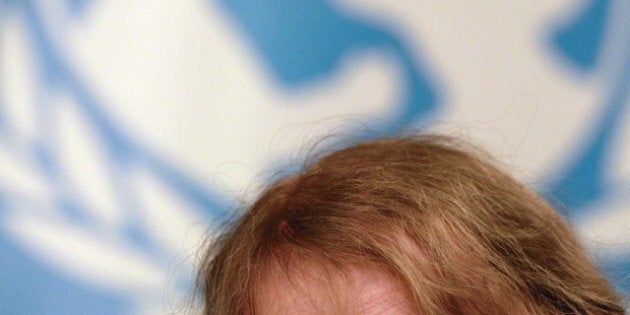 Behind the Headlines: The social causes in current events. In a unique take on daily news hits, Free The Children founders Craig and Marc Kielburger go behind the headlines to explore how the stories you read are connected to the causes you care about. You'll never read the news in the same way again.
For one thing, the president was much shorter in person. Kid President, that is. He's only nine but his YouTube videos make him seem taller.
And we definitely didn't set out to get a lesson on Holocaust history from Mia Farrow. But this is what happened when we asked Farrow about her heroes.
Amidst the chaos backstage, we found a quiet corner to talk with our good friend, the famed actor and activist.
Mia Farrow is fearless. She visited our development projects in Haiti just one year after the 2010 earthquake, while over a million people were still living in squalid tent cities and post-election riots filled the streets. In the Dadaab refugee camps in East Africa, we watched Farrow escort displaced families to medical centres. Her own work in the Darfur region of Sudan, documenting stories from some of the three million genocidal refugees -- children who watched their mothers executed, rape victims -- has brought her to the country 14 times. She heads into conflict zones without flinching.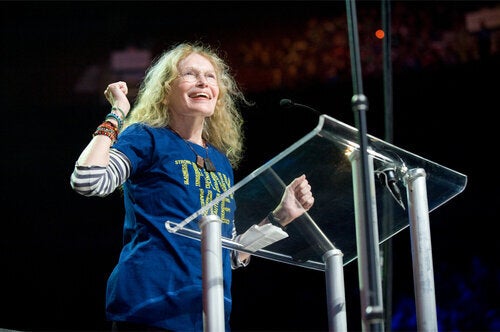 Photo credit: Chris Cameron
We couldn't imagine who she would look up to. So on We Day, a day dedicated to unsung heroes -- thousands of volunteers who've earned their ticket to the celebration -- we asked her.
Anne Frank was "every little girl's hero," including hers. When Farrow got a bit older, she read about Miep Gies, the Dutch woman who hid the Frank family from the Nazis above a shop in Amsterdam during World War II. Gies held onto Anne Frank's diary when the family was arrested.
Farrow went to see Miep Gies. "The big question for me was not just, 'Why did Miep Gies risk her life to do this for people she scarcely knew?' But, 'Why doesn't everyone?'" Miep offered no answers to Farrow, except to say, "Yes, it was hard. But what could I do?"
Farrow just returned from the Syrian border, where more than 100,000 people fled a brutal civil war for the neighbouring country of Lebanon. There, Farrow met Hannah, known locally as the grocer's wife. Over the past year, Hannah, her husband and their two young children, have taken 41 refugees into their tiny, four-room home.
Farrow asked Hannah the same question she'd asked Gies. Why? She responded, "They were in the street and they had nothing. I know that we're not related by blood but I see them as my family."
Farrow explained what those words meant to her: "We're all part of the human family. We should help others. Because in our darkest hours we hope that someone reaches out to us."
We like to say that We Day is the answer to the question: "I'm only one person, what difference can I make?"
Mia Farrow is only one person. Anne Frank was only one person. Miep Gies was only one person. And Hannah, on the Syrian border, is only one person. On different continents, spanning generations, each has stood up to war and conflict. And each is an unsung hero for someone.
Craig and Marc Kielburger are founders of international charity and educational partner, Free The Children. Its youth empowerment event, We Day, is in eight cities across Canada this year, inspiring more than 100,000 attendees. For more information, visit www.weday.com