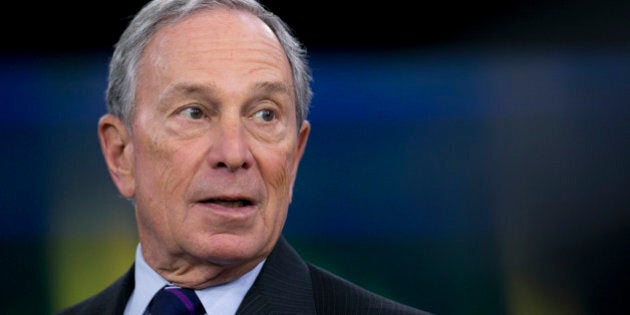 Business magnate and former New York mayor Michael Bloomberg has proposed a solution to the Keystone XL pipeline impasse — but it likely won't be music to Prime Minister Stephen Harper's ears, or to the ears of many climate activists.
In an editorial published at the news service he founded and that carries his name, Bloomberg argues the controversial pipeline has become "a perfect symbol of Washington's dysfunction," but offers a solution he says would allow both sides to declare victory: Get Canada to sign a climate deal with the U.S.
Bloomberg described it as a win-win situation: "Republicans in Congress could declare economic victory, while Democrats could declare environmental victory. The president could declare both…."
The idea that Canada should sign a climate-change pact as a way of softening resistance has been bandied about in Canada for some time. Liberal Party Leader Justin Trudeau has repeatedly suggested that Canada's inaction on climate change has made Keystone approval more difficult.
But achieving a climate deal in exchange for Keystone approval scenario would require surmounting some serious obstacles.
As oil prices have fallen, the Harper government has become increasingly resistant to climate change regulations.
After the environment ministers of Ontario, Quebec, B.C. and Manitoba signed a compact to reduce greenhouse gases last December, Prime Minister Stephen Harper declared the notion of further climate-change regulation to be insane.
"Under the current circumstances of the oil and gas sector, it would be crazy — it would be crazy economic policy to do unilateral penalties on that sector; we're clearly not going to do that," Harper told Parliament.
But climate activists on the other side of the debate could prove just as resistant to the idea. Many say the environmental damage the Keystone pipeline would make possible (damage the industry says would not be inflicted) could not be offset by a climate deal.
Kowalski said any wortwhile climate change deal would effectively make the Keystone XL pipeline unnecessary, because oilsands exports would stop growing.
But many critics say the review is a stalling tactic, noting the U.S. has taken six years, so far, to issue a decision on Keystone.
Republican leaders in Congress and Canadian politicians backing the pipeline said they would continue the fight.
''We are not going to give up in our efforts to get this pipeline built — not even close," House speaker John Boehner said.