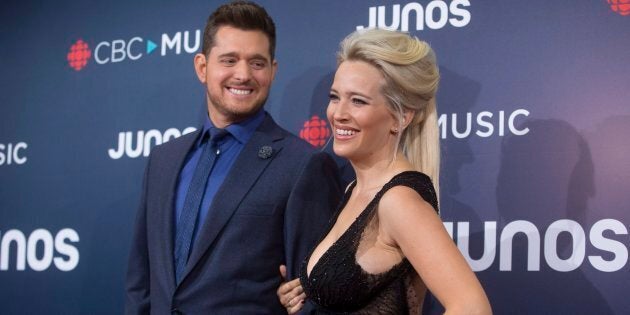 "It's a Beautiful Day" for Junos host Michael Bublé and wife Luisana Lopilato, who walked the 2018 Junos red carpet together on Sunday amid reports they are expecting their third child. The singer later confirmed the happy news himself on stage at Vancouver's Rogers Arena.
"Oops, you did it again — my wife and I are pregnant with our No. 3 ... no, it's not Jim Cuddy's baby," joked Bublé, before adding his trademark sentimentality in a shout out to his wife, "I love you so much, mi amor."
This marks Bublé's second time serving as host for the country's biggest night in Canadian music, having previously done so back in 2013. Lopilato was pregnant with their first son Noah at the time, a point of symmetry that Bublé noted before making his most recent baby announcement.
Bublé' was slated to be the MC for the 2017 ceremony, but had to step down months earlier when Noah, then three years old, was diagnosed with liver cancer. Both Bublé and Lopilato, an actress, withdrew from the spotlight as Noah underwent four months of chemotherapy, and he has since recovered. The two are also parents to son Elias, aged two.
His opening monologue included some similarly heartfelt reflections.
"I wanted to be here last year and I could not make it, and before I continue, I'd be remiss if I did not thank my friends Russell Peters and Bryan Adams for taking over the way you did," said Bublé. "You'll never know what it meant to me. It's been a couple of years since I've been on stage. It means ... it means more than you'll know to be able to come back here in my hometown, in front of my family, in front of my friends, in my city, in my country."
Earlier on, Bublé and Lopilato looked ready to celebrate the big night ahead as they posed for photographers. He looked dapper in a navy blue suit with a cobalt shirt and tie, and Lopilato wowed in a plunging V-neck black-and-sheer gown with an intricate beaded detail and mid-thigh slit.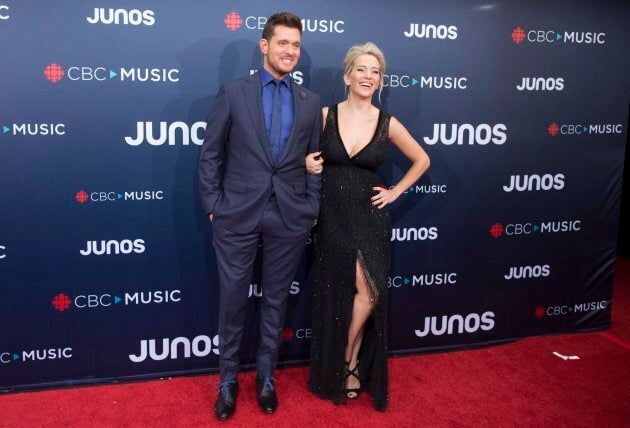 Late last year, Bublé — who hails from Burnaby, B.C. — said he was looking forward to returning to his "happy place" of the Junos stage after his "rough year."
"I thank you so much for giving me the opportunity to handle that again."