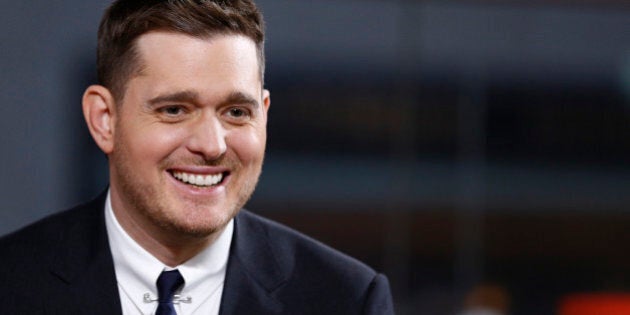 For years, I have enjoyed Michael Bublé's music and especially his Christmas specials. This weekend, for the first time, I had the pleasure of experiencing him live when I joined the crowd at a sold-out Air Canada Centre. I expected a really classy and stylish showman but received that and much more. I am writing this blog post en-route to Montreal where Michael Bublé will be performing at the Bell Centre this week. If his shows weren't sold out, I would see his performance again in a heartbeat.
I write a lot of blog posts for event planners, facilitators and speakers. As the evening unfolded, it struck me that there are some things all singers, actors, keynote speakers, and business presenters who are true masters have in common.
To warm up...no, heat up the crowd, Michael selected Acapela artists Natural7 for his opening act. When they performed their first number, which was a delightful wall of sound, I was somewhat confused. I could clearly hear guitars. The band member behind the curtain, who the audience could only see in shadow, was definitely drumming. "An acapela with drums?" I wondered. Then the curtain dropped. There were no drums, every sound the audience heard from drums to bass guitar was created by the human voice. It was a truly unique ensemble that delivered an exciting and unforgettable performance.
After a brief intermission and set change, the lights were dimmed. Columns of fire shot up dramatically from the stage floor. The curtains pulsated giving the fire projected on them a realistic appearance. Then, the clear and rich timbre of Michael Bublé's voice came wafting from backstage. The curtains, that looked like they were ablaze, slowly lifted to reveal Michael at the top of a long ramp. The crowd roared with appreciation as he sung Fever and slid down the ramp in a style that's unmistakably Michael Bublé. The staging provided an every changing back drop of colours, shapes and configurations.
Michael connected with the crowd early, inviting a member of the audience to join him for a photo. He also displayed an incredible sense of humour that kept the fun coming.
Over the next two hours, Michael took his audience on a musical journey from ballads to Beatles. There were his signature tunes Miss you Yet, Home, and my favourite Everything. Yes Michael, when you sat at the piano and gave generous credit to your musical director, I was able to figure out what song was coming from I heard the first note.
Michael Bublé never stopped once. Actually, he did stop to introduce and share the spotlight with Team Bublé. In an act of true generosity, he showed tremendous respect and appreciation for the incredible musicians that help him work his magic. Not only did he introduce them, he gave each musician, an artist in his own right, space to shine.
Michael moved into the crowd and engaged directly with members of the audience during the transition to his Motown set. He revealed the fact that just as he credited his grandfather, who he introduced to the audience, with his love of Sinatra and other crooners of yesteryear, his love of Motown came directly from his father.
Again, Michael's generosity shone thorough as he had Natural7 join him on a smaller more intimate stage. As he sang Try a Little Tenderness and belted other Motown favourites, he interacted directly with the audience even stopping to take selfies on the smartphone of a fan.
Then it was All you Need is Love as he moved through the crowd high-fiving audience members all the way, the screen was covered with colourful hearts and then, in a sudden burst confetti shaped like coloured hearts filled the air. Michael ended his set with high octane numbers including Burning Love and It's A Beautiful Day.
For his encore, Michael returned in a sparkling black jacket and once again wowed the crowd with an intense and compelling rendition of Cry me a River that ended with another dazzling pyrotechnic display.
Then it happened, The backdrop that had been a dazzling display of changing colours, shapes and designs all night became still and black. Gone were the special effects. Around Michael there was stillness. Unplugged and with no microphone, music or special effects, Michael's voice drifted across the crowd that was hushed by the strength of his presence. All that remained was Michael on stage with the secret ingredient that makes artists true masters...the electrifying power of pure authentic personal connection. Every performer, speaker and presenter would do well to remember this.
Before he ended his first set, Michael, who once lived in Toronto, thanked the crowd by saying "Toronto, you're freakin' awesome!" No, Michael Bublé, YOU'RE freakin' awesome!