OTTAWA — Sparks flew Tuesday after Conservative leadership candidate Michael Chong accused a rival of race-baiting and another of standing idly by while demonstrators chanted "lock her up" about Alberta Premier Rachel Notley.
Chong used his closing statement at the Conservatives' second leadership debate in Moncton to warn against the campaigns of Kellie Leitch and Chris Alexander.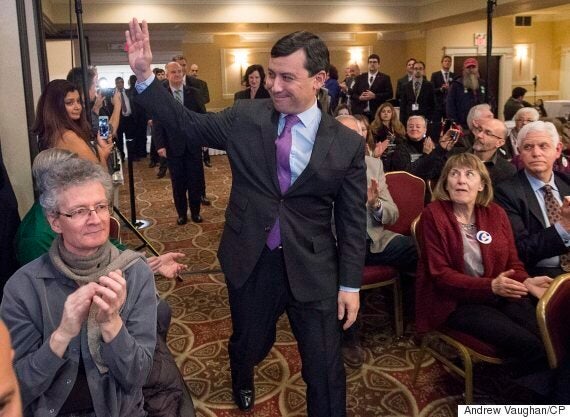 "On one side, we have a candidate who suggests that immigrants are anti-Canadians and who proposed an exam. They insist that it is not race-baiting or anti-immigrant, but just yesterday their campaign was endorsed by a white supremacist group called the Council of European Canadians," Chong said of Leitch.
"We have another candidate who stood idly by while protesters were chanting to lock up the democratically elected premier of Alberta," Chong said, referring to Alexander's smiling presence at an anti-carbon tax rally over the weekend.
"On the flip side, I have another vision," the Ontario MP said. "I want to build a bigger Conservative party that includes younger Canadians, of all races, religions and creeds, from all regions of the country."
Alexander lashed back, telling reporters after the two-hour debate that Chong was being "dishonest" and mischaracterizing his presence at the rally. Alexander, who was savaged by several pundits Monday for tolerating the chants, told the CBC he was smiling during the chanting only because he was trying to think of ways to change it.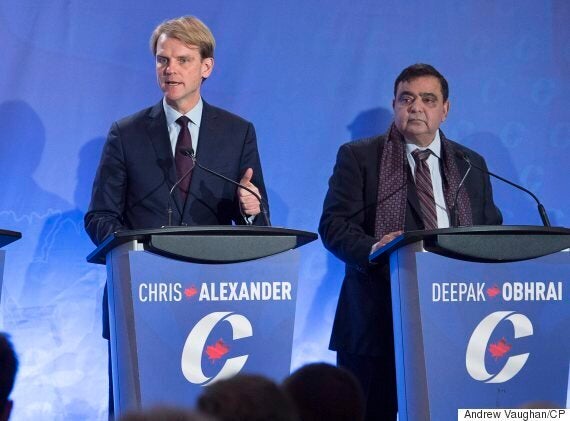 "Michael has good reasons to criticize me for going, because it was a rally against a carbon tax so he wouldn't have been very popular over there," the former Ontario MP said.
Chong is the only Conservative leader calling for a carbon tax.
Alexander defended his inaction, saying that he had never called for Notley to be locked up and that he rejected those words.
"I was there to be in solidarity with Canadians who are suffering and who would be working if there were better federal and provincial policies," he said.
Saskatchewan MP Brad Trost judged the whole Alexander controversy "ridiculous." He tweeted earlier Tuesday that if he could have been at the rally, he would have joined the crowd.
"Rona Ambrose should apologize for being out of touch & calling those grass roots Albertans 'idiots'," the leadership candidate also stated.
Ambrose, the interim Conservative leader, told reporters on Monday that the chants were "not only unoriginal" but "completely inappropriate. We don't lock people up in Canada for bad policy, we vote them out," she said.
"I don't know what to say, people acting like idiots," she added.
The chanters were not literally saying Notley should go to prison, Trost told reporters. "What they were seriously saying was 'We are frustrated and we are upset and someone needs to listen to us and we feel that Rachel Notley is out of touch and elitist' — which is what the argument was in the United States for Madame [Hillary] Clinton," he said.
Chong stood by his words. Alexander didn't denounce the undemocratic chants — and he should have, the Ontario MP said.
"We, as political leaders, need to stand up even in the face of power, even when it involves speaking truth to power in a crowd, to denounce anything that's undemocratic and that undermines the foundations of this country," Chong said.
If the Conservative party gets consumed with U.S. president-elect Donald Trump's style of politics, he added, it isn't a good thing for the country.
"Canada isn't the United States. The Conservative party is not the Republican Party, and Canadians resoundingly rejected the politics of division in the last election," he said.
'Karaoke version of Donald Trump'
Leitch's call to screen newcomers for "anti-Canadian" values drew reproach from other contestants as well.
Quebec MP Maxime Bernier labelled her, several times, as a "karaoke version of Donald Trump in Canada."
In a fundraising email sent to supporters after the debate, Bernier trumpeted the fact that he had called her out and repeated that he doesn't think she believes what she says.
"Her words are hollow," he said. "A few months back, she was on CBC crying because she wished she could take back her words about ending barbaric cultural practices in Canada.
"Now she's pretending she's credible when she campaigns on screening immigrants for Canadian values," Bernier's email said.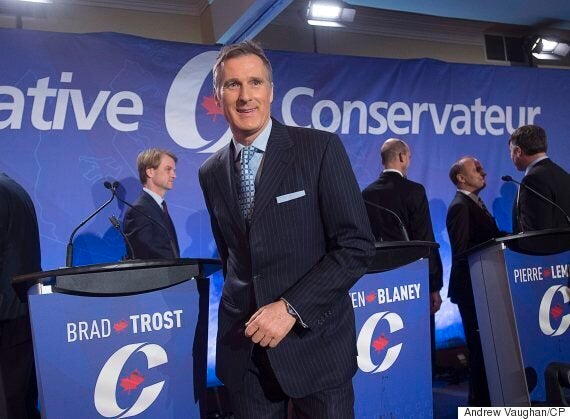 Leitch's campaign makes little sense because Canada doesn't have a problem with illegal immigration like that in the United States, Bernier told the Conservative audience.
The Quebec MP suggested Leitch is just courting media attention.
Alberta MP Deepak Obhrai, a Hindu originally from Tanzania, who had previously lashed out at Leitch for her rhetoric, took a more low-key approach Tuesday.
"Recently, we have seen uneasiness which has become a cause for concern," he told the crowd. "It is important we speak out. Communities must address extremism in their midst," he said, calling on Muslims, Hindus and Christians to stand up to fundamentalists.
"Our country is built on respect [for] the human rights of everyone. This is our core principle," he said, drawing applause as he pledged to stand up for everyone in the country.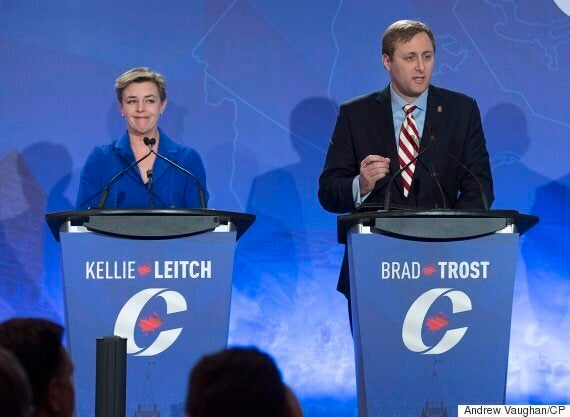 In a blog post Dec. 2, white supremacist Frank Hillard called on like-minded individuals to support Leitch as Conservative party leader, calling her an imperfect candidate but one who deserves support because she is eminently qualified, "pro-life" and her policies would "effectively eliminate true believers in Islam" as well as "screen out Islamist terrorists" and "put a pause on Muslim immigration very similar to the new policy in the United States."
In a statement to Vice News, Leitch said that she had never heard of the Council of European Canadians and that her campaign isn't based in any way on ethnic discrimination. "I did not seek their endorsement. I do not want their endorsement," she said.
At Tuesday's debate, Leitch said her campaign is "not racist, or xenophobic, or anti-immigrant."
"Every country in the world is having this discussion. And just because the media and the elites don't want to have this discussion, doesn't mean we should be afraid of it," she said.
"Just because the media and the elites don't want to have this discussion, doesn't mean we should be afraid of it."

— Kellie Leitch
She is building a movement based on her call to screen immigrants, to cap government spending and to allow women to legally carry mace and pepper spray, she said.
"Many of my colleagues on this stage, I know, are intimidated by the media. But I am going to continue to talk about this, because this is common sense, this is what Canadians want to talk about."
Leitch was asked after the debate by a francophone reporter to address Bernier's attack — but she either didn't understand the question or chose to ignore it. She responded in a broken and almost incomprehensible French that she believes all would-be immigrants need to pass a face-to-face interview with immigration officials.
The Conservatives' second leadership debate was the first with 14 candidates on stage. It was also the first bilingual debate.
Some struggle with French, others propose bold ideas
Several candidates, notably Leitch and Ontario MP Lisa Raitt, showed a great deal of difficulty expressing themselves in the language of Molière. Raitt read often from notes. Each said she is working on her French daily and want to able to converse with all Canadians.
The debate also featured some eyebrow-raising proposals.
Vancouver businessman Rick Peterson, a newcomer to the race, pledged to completely eliminate corporate income taxes.
Obhrai promised that seniors would see their Guaranteed Income Supplement (GIS) and Old Age Security (OAS) cheques indexed to the rate of increase of MPs' salaries.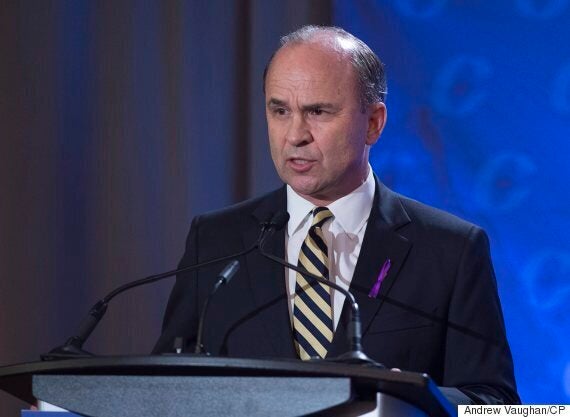 Former MP Pierre Lemieux promised not to shut off debate on any contentious issue, suggesting abortion and same-sex marriage would be revisited if he were party leader — something Trost also agrees with.
Bernier and Peterson said they would fix health care by transferring tax points to the provinces. Dan Lindsay, a Manitoba doctor, disagreed with that plan, saying there would be no way to ensure an equivalent level of service across the country.
The next debate, entirely in French, takes place in Quebec City on Jan. 17.
With files from Ryan Maloney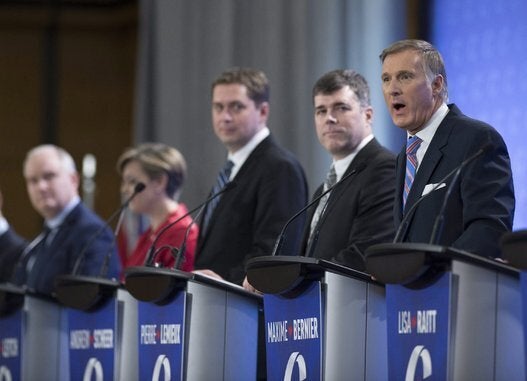 Conservative Leadership Candidates
Popular in the Community