OTTAWA — Ontario Conservative MP Michael Chong has joined the race to replace former party leader Stephen Harper.
"I'm running to win," Chong told The Huffington Post Canada. "I'm running to attract new people to the party, and I'm very excited."
Chong, 44, made the official announcement in Ottawa Monday morning, with his wife, Carrie, and his three young boys, William, Alistair, and Cameron, at his side.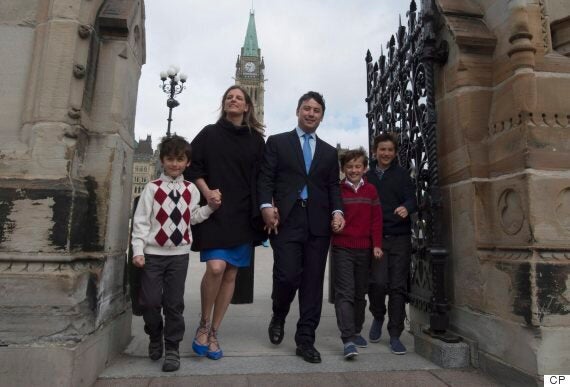 Michael Chong walks with his wife Carrie and sons Cameron (left), Alistair and William (right) to a news conference Monday. (Photo: CP)
In an interview before the announcement, Chong said he views himself as someone who can expand and modernize the party, while doing a better job of telling Canadians how the Conservative party is the best vehicle for their hopes and aspirations.
"I bring a very different life experience to this leadership race. I'm the kid of immigrant parents," he said, noting that his is a story shared by millions of Canadians whose families have arrived in recent decades. He did not say — perhaps he didn't need to — that his story is not one shared by any of the other current, or likely, Conservative leadership candidates.
"Our campaign will be about this new Canada rising."
Canada is becoming an increasingly diverse society, in which pretty soon nearly half of the inhabitants' will be either foreign-born or will have at least one parent who was born elsewhere, Chong said.
"Our campaign will be about this new Canada rising," he said Monday.
One of the things the Conservative party had failed to do during the 2015 election, Chong said was to reach out to those new Canadians. "We need to re-earn their trust."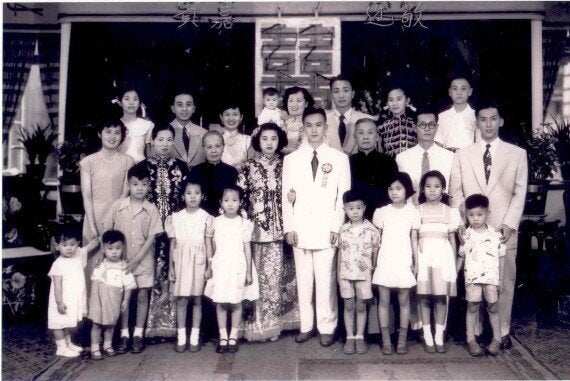 Michael Chong's father's family in Hong Kong, pictured after the Second World War. Paul Chong, Michael's father, is on the far right.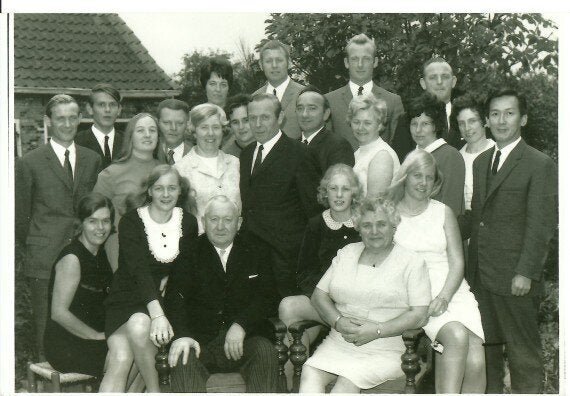 Michael Chong's mother's family, pictured with Paul Chong, Michael's father. (Photos courtesy of Michael Chong)
Chong's father came to Canada from China in 1952, five years after the Chinese Exclusion Act was repealed. His mother, a Dutch immigrant, arrived in the 1960s. Both his father's and his mother's families were defended and liberated by Canadian soldiers during the Second World War, he said.
"My father was a young boy in Hong Kong who watched as Canadian soldiers defended Hong Kong from a pretty vicious assault, and hundreds of those soldiers were killed in actions and many more died in prisoner of war camps during the war," Chong said.
"My mother's family was liberated by Canadian soldiers during the spring of 1945." More than 6,000 Canadian soldiers are buried in the fields of the Netherlands, he added.
"This country has literally given my family everything," he said on the phone, his voice breaking up.
"I owe everything to this country…. It's the reason why I've dedicated myself to public service. It's the reason why I am entering into this race, in order to give something back."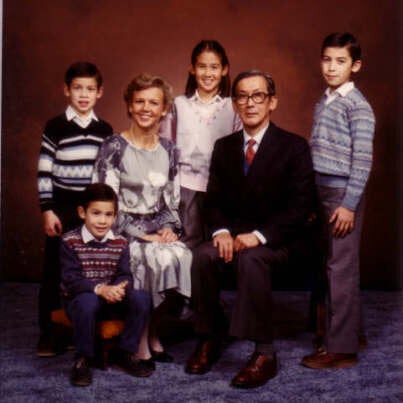 Michael Chong with his parents and siblings. (Photo courtesy Michael Chong)
Chong was first elected as the MP for the Ontario riding of Wellington–Halton Hills in 2004. After the Conservatives won in 2006, Chong was appointed minister of intergovernmental affairs. But his ministerial career was short-lived.
Unable to support a Bloc Québécois motion recognizing the Québécois as a nation within a united Canada, Chong broke ranks with the government and resigned from cabinet that November.
He never regretted the decision, he told HuffPost.
"Not at all," he said. "This is not about me. It's about the issue, and I feel as strongly about the issue today, as I did back then."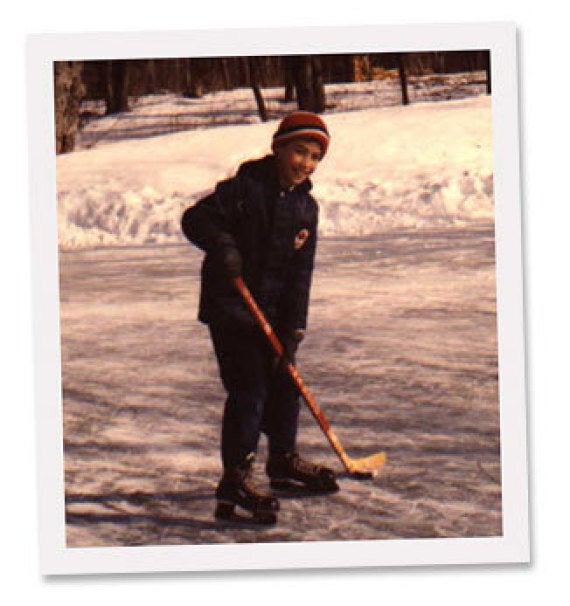 Michael Chong playing hockey in 1980. (Photo courtesy of Michael Chong)
"The way forward is to build together a country of some 36 million citizens based on a common citizenship that shares in a common set of rights and a common set of personal responsibilities," he said. "So for me, the issue is incredibly important, it is about the future of this country and how we are going to move together as Canadians in the 21st century."
Chong said he doesn't believe his refusal to recognize Québécois as a distinct nation will hurt him during the leadership race.
"I have the same position that Justin Trudeau had on this issue in 2006, [and] his position on this issue was not an issue for him during the last federal election," Chong noted. Trudeau won 40 seats in Quebec on Oct. 19, 2015, the most Liberal seats in the province since his father, prime minister Pierre Elliott Trudeau, won 74 seats during the 1980 election.
Disagreements with the Harper government
Unlike some of his colleagues, such as interim leader Rona Ambrose, who reversed her position and came to support an inquiry into missing and murdered indigenous women and girls, and likely Conservative leadership candidate Tony Clement, who said that, in hindsight, he should not have eliminated the mandatory long-form census as industry minister, Chong said he has zero regrets about any of the votes he cast under the previous government.
"Any disagreements I had on policy during the previous government, I made known at the time, so the positions I held back then are the positions I hold today."
At Monday's press conference, Chong said, for example, that he is comfortable with the Harper government's ban on women wearing the niqab during citizenship ceremonies, and he might re-instate it if he becomes prime minister.
But, he told reporters, he would not have introduced the barbaric cultural practices hotline — something his leadership challenger, Ontario Tory MP and former cabinet minister Kellie Leitch announced during the election
During the Harper years, Chong had several disagreements with government but most revolved around one central issue: the idea of empowering members of Parliament at the expense of the party leader's office, even if the leader is prime minister.
Chong took part in the so-called Conservative backbench rebellion, sticking up for his colleagues' right to make a statement before the House of Commons without the approval of the leader's office. More famously, however, Chong spearheaded the Reform Act, legislation designed to give MPs the ability to dump their party leader and loosen that person's control over their caucus.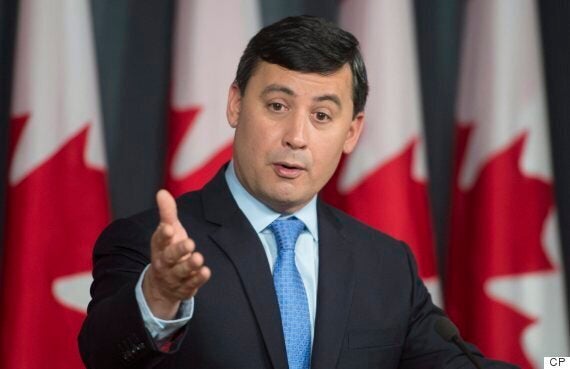 Michael Chong announces he will run for Conservative Party leader May 16, 2016. (Photo: CP)
Chong suggested party caucuses should have the right to elect and remove their caucus chair, remove and reinstate misbehaving MPs, and select a new interim leader. He also called for a new process to approve candidates — taking that power out of the direct hands of the party leader.
A watered-down version of his bill became law in 2015, but none of the party caucuses has decided to apply all the new powers the act allows. The Liberals decided to kick the matter over to party members for discussion at their upcoming end of May convention in Winnipeg at the end of May.
Chong said his candidacy will focus, of course, on policies designed to curb the power of the prime minister and of party leaders to control elected MPs. But he will also call for balanced budgets and lower taxes, a renewed focus on individual liberties and the need to protect citizens from an overly intrusive state, and a strong environmental policy that takes into account carbon pricing.
"Those are ideas that I think will attract new people to our party," he said.
Chong will be calling for a reform the tax system, to make it flatter, lower and simpler.
"Any disagreements I had on policy during the previous government, I made known at the time, so the positions I held back then are the positions I hold today."
"The complexity of our personal and corporate income tax system is a drag on economic growth and on wage growth, and that's an area we need to look at," he told HuffPost.
Specifically, he wants to decrease the number of personal income tax brackets from the current five to three.
He'll continue to support the soon-to-be-scraped Conservative balanced budget legislation. In an era of economic growth — including meagre growth such as now — Chong said governments should balance their budgets. When unforeseen events happen, such as the 2008-2009 global crash, then exceptions can be made, he said, to run deficits to stimulate the economy.
"Today, we're in an era of growth, and racking up deficits and debt, isn't a solution."
Individual liberty, decriminalizing pot, tax cuts
On his renewed the focus on individual liberty, Chong said he'll call for a truly independent Commons committee to review the government's security and intelligence activities — something akin to the Liberals' electoral promise to deal with the Tories' controversial anti-terrorism bill, C-51.
"I think it's incredibly important that when governments receive additional tools and powers to combat terrorism … [and] to surveil and gather intelligence on the activities of its citizens, that along with those additional powers should come increased oversight," he told HuffPost.
While Chong said he made his views known before the debate on C-51, records show that he voted in favour of the bill despite the lack of an oversight committee.
As for marijuana, Chong said he is favour of decriminalizing the possession of small amounts of pot for personal consumption. "It's clear that the current Criminal Code prohibition on marijuana are not working. They are not working in terms of reducing marijuana usage in Canada. They are not working in terms of prevent organized crime from benefiting from the sale of marijuana."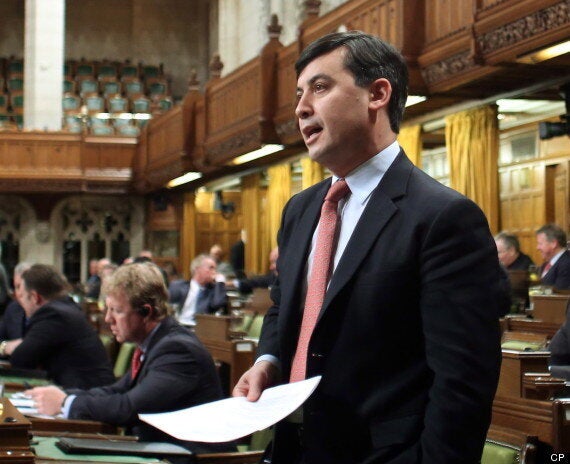 Michael Chong in the House of Commons. (Photo: Canadian Press)
While the government should still go after organized crime and large-scale trafficking, he said the Criminal Code should be updated with civil remedies — fines, smoking bylaws, injunctions against loitering, for example — to try to discourage young people from using the drug. Chong points to the government's public awareness campaign and civil remedies aimed at reducing cigarette smoking over the past several decades.
"To me, that's the model to look at, to use a combination of tools to reduce the incidence of marijuana smoking while at the same time acknowledging that people should have a degree of liberty to make their own choices."
On the environment, Chong told HuffPost he supports the current climate change targets — the ones established by the Harper government.
"The targets agreed to in the Paris Accord … are ambitious targets and will be difficult to achieve and so, no, I'm not advocating for more ambitious targets than the 2020/2030."
Under the UN's Paris climate agreement negotiated last December, Canada committed to cut greenhouse gas emissions by 30 per cent below 2005 levels by 2030. Canada is likely to fall far short of its 2009 commitment in Copenhagen to cut emissions by 17 per cent from 2005 levels by 2020.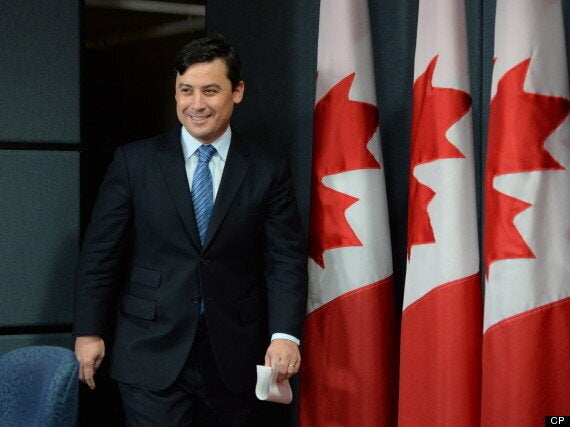 In 2013, Chong broke ranks with the Conservative government and spearheaded the Reform Act. (Photo: CP)
Unlike the NDP, Chong suggested he would not impose a carbon price on provinces that, like Saskatchewan, don't participate in a cap and trade system or have no carbon tax, but he wouldn't say exactly what he would do to force action. He told reporters he wants to see what the provinces agree to do when they and the federal government meet this fall, and then he will respond.
"Those are the types of things that need to be negotiated with the provinces," Chong said. The federal government has a "co-ordinating strategy to play," he said, to ensure that there is a consistent price on carbon, across economic sectors and across the country.
'Nothing more than a tax grab'
Chong said he disagrees with the approach the current government is taking of using money derived from carbon pricing to invest in green technology. "That's nothing more than a tax grab," he told HuffPost. "It's going to lead to misspending …. Governments are terrible at picking winners and losers in our economy."
What he would do, Chong said, is use the new money to cut corporate and personal income taxes.
"We need a vigorous debate … and we will get that if people like Jason [Kenney] and Peter [MacKay] enter the race."
Perhaps, however, the central part of his campaign will revolve around his desire to see power rebalanced in the House of Commons between party leaders and MPs.
Even with significant reforms, Chong said, party leaders and prime ministers would still be very powerful. "British Prime Minister David Cameron doesn't have all the power of a Canadian prime minister, yet he is still very powerful leader of a G7 country."
On electoral reform and the Liberal government's stated desire to see a new method of choosing representatives, Chong said the problem isn't the way members of Parliament are elected to Commons but rather what they do when they get there.
"They are controlled by the party leaders, particularly by the prime minister, and that's the heart of the problem with our democracy."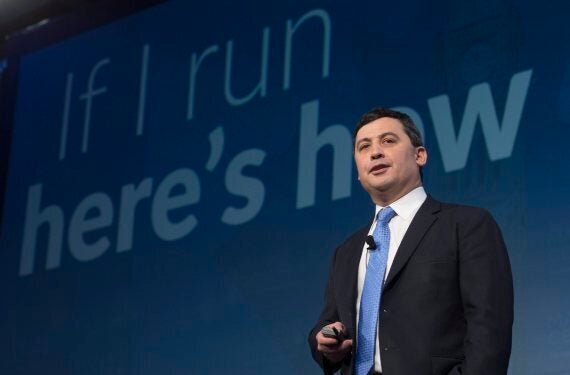 Michael Chong speaks at the Manning Conference in February 2016. (Photo: CP)
While he'll be pushing many of the changes he suggested in the Reform Act, Chong said he'll also be calling for the prime minister to no longer have the power to appoint the speaker of the Senate, giving senators the right to elect their own leader.
Chong declined to say how he would go about fixing the upper chamber, but, he said, he believes the current "chaos in the Senate" is the direct result of Prime Minister Justin Trudeau's not having carefully thought out his policy of booting Liberal senators out of his caucus.
Things are being run in a "very ad hoc and arbitrary manner," he said, and "it's unacceptable in a First World democracy that is based on the rule of law."
Chong said he will also be calling for various policies to modernize and open up the party to help reach younger voters and urban and suburban voters. Looking to the federal Liberals for inspiration, Chong said he believes the Conservatives should have a something similar to a supporter class category, allowing interested Canadians to be informed, partake and donate to the party without being a formal member.
Well-liked, respected candidate
Potential candidates, such as MPs Lisa Raitt, Tony Clement, Andrew Scheer, and Jason Kenney, as well as retired MP Peter MacKay,have yet to declare their intentions.
Chong said he thinks he can beat Kenney and MacKay.
Some Tories believe the preferential ballot used to select the new Conservative leader could help Chong — a well-liked and respected candidate who is known for sticking up for his principles. They suggest Chong is more likely to win second-place support from backers of other candidates than Kenney, for example, who may be seen as too polarizing and partisan and have less room to increase his support.
"I hope many more people jump into the race, including Jason Kenney and Peter MacKay. They would be strong candidates in their own rights," Chong said, declining to comment on the preferential ballot. "We need a vigorous debate … and we will get that if people like Jason and Peter enter the race."
"This country has literally given my family everything. I owe everything to this country.... It's the reason why I am entering into this race, in order to give something back."
Chong, however, is firmly opposed to suggestions that Ambrose, the current interim party leader who has garnered rave reviews from some of her MPs, should enter the race.
"I think the rules of the race that were established should remain in place till the end of the race, and I think that's only fair for everybody involved," he said.
Ambrose has said she has no plans to enter the contest.
While several of his colleagues encouraged him privately to run, Chong told HuffPost no one has yet come out in support but that he hopes many will in the coming 12 months.
Conservatives choose their next leader on May 27, 2017.