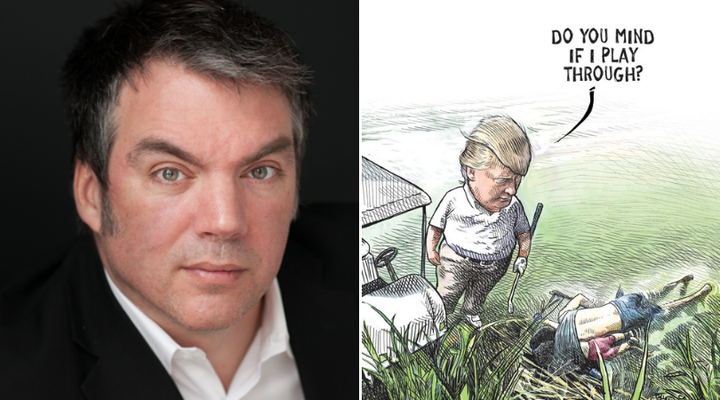 The Canadian cartoonist who drew a viral depiction of U.S. President Donald Trump and the border crisis is defending his own credibility after his contract was terminated by a newspaper publisher.
"It sounds corny, but I have a personal code of conduct. It's kept me employed for 20 years in a business that's been dying for 10," Michael de Adder wrote on Twitter on Monday.
He posted a cartoon last week which shows Trump standing by a golf cart, asking "Do you mind if I play through?" while standing above two bodies. The image recalls the drowning of Óscar Alberto Martínez Ramírez and his 23-month-old daughter, Valeria, in the Rio Grande River as they tried to cross the Mexico-U.S. border.
De Adder told HuffPost Canada on Sunday that speculation his contract end was linked to the viral Trump cartoon was "hitting it on the nose." He expanded on those thoughts on Twitter Monday.
In his 20-year career, he said he was careful not to burn bridges with any employer, regardless of disagreements. He noted the 17 years he has worked with Brunswick News, which is privately owned by the Irvings, one of Canada's richest families.
But De Adder said he felt he had to defend himself "reluctantly" because he felt "cornered." He added that the recent death of an uncle put the job loss in perspective.
De Adder said that every cartoon featuring Trump that he submitted for consideration was rejected "to the point where I didn't submit any Donald Trump cartoons for fear that I might be fired."
In denying accusations that de Adder's contract was killed over the viral Trump cartoon, Brunswick News said, "This is a false narrative which has emerged carelessly and recklessly on social media."
In a statement on Sunday, the company stated that negotiations had been "ongoing for weeks" to bring back another cartoonist to its pages.
Brunswick News controls nearly all of the newspapers in New Brunswick, including three dailies, and several French and English weekly publications. It has been accused of shying away from publishing stories critical of the Irving Group of Companies (its parent owner) and its subsidiaries.
The companies — which include oil and gas, shipping and transportation — are worth an estimated $10 billion.
On Monday, De Adder said the Trump issue is a "distraction from the big picture," pointing out that much of his work actually focuses on Canadian politics, including N.B. Premier Blaine Higgs.
UPDATE - July 2, 2019: Brunswick News released a follow-up statement about "false information spread widely across social media." In referencing "an era of fake news," the company reaffirmed that de Adder's contract cancellation was not linked to the viral Trump cartoon.
However, Brunswick News did not respond specifically to HuffPost's question about de Adder's claim that any critical Higgs cartoon he drew was "systematically axed."
"BNI's opinion pages remain a place of balanced debate, with a focus on local issues affecting New Brunswickers," said the statement.
Also on HuffPost: Jim Carrey is earning a reputation as a political cartoonist