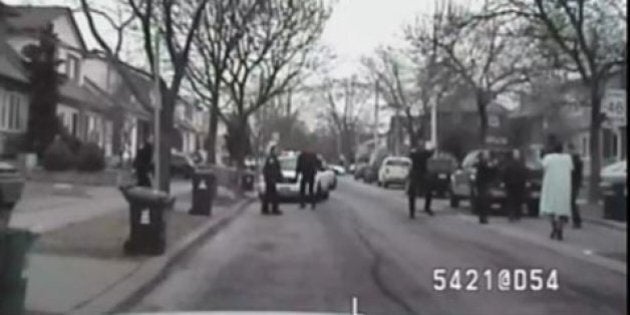 Video of the disturbing last moments of an escaped mental patient who was fatally shot by police has been released to the public.
The video, captured by a police dashboard camera shows officers screaming at escaped mental patient Michael Eligon before shooting him dead.
The video, captured in Toronto's east end on Feb. 3, 2012, shows Eligon walking toward a line of officers, wearing a hospital gown and a pair of scissors in each hand.
Officers are heard shouting at the 29-year-old to drop his weapons, before one of them yells, "Back up, back up!" to colleagues.
Eligon presses forward, coming within just a few feet of the officers before a constable says, "Shoot him."
Three gunshots later, Eligon crumples to the ground.
Earlier this week, police officers testified at an inquiry into the fatal shooting, along with two other police confrontations that ended in death.
WARNING: This video contains graphic images.
In Eligon's case, police witnesses were asked why they kept shouting at the man — rather than try calming him down.
"I couldn't even remember my own name at the time," Const. Scott Walker reportedly said in Wednesday's testimony. "This is a situation where a guy's coming at you with scissors trying to kill you and you're trying to create rapport?
"No. This is not a situation where you can have a nice leisurely chat. We're not psychiatrists."
Eligon had been getting treatment for depression at Toronto East General Hospital, the Toronto Sun reports, before walking out the very day he was shot to death.
Shortly afterwards, police received reports that he had stolen a pair of scissors from a convenience store and stabbed someone in the hand.
The Toronto Star reports Eligon suffered from depression with psychotic features — symptoms that intensified just before his death.
"He felt like the walls were closing in on him," Monique Garrow, his former case worker at St. Joseph's Hospital, told the inquiry. "He was troubled. He was paranoid. He kept wondering why people are doing this to him."
At least eight officers on the scene are expected to testify at the inquest