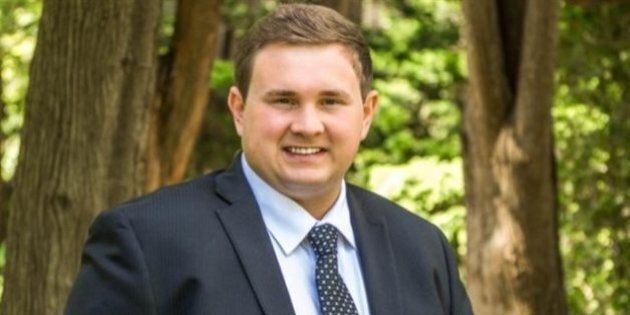 He's a 20-something political novice who won't speak with reporters, but a new poll suggests Michael Ford — or "Mikey," as his uncles Rob and Doug call him — is on his way to becoming a Toronto city councillor.
The survey from Forum Research for The Toronto Sun, conducted on July 23, put Michael Ford at 43 per cent support in his bid to capture the Ward 2 seat in Etobicoke North that will be left vacant by Doug Ford. The seat was previously held by Rob Ford for 10 years before his successful run for mayor in 2010.
Community organizer Andray Domise is arguably Michael Ford's top challenger for a seat in the heart of the so-called Ford Nation, and 24 per cent of those surveyed supported Domise. Seventeen per cent of respondents said they plan to vote for "someone else" and 15 per cent haven't made up their minds.There are currently 13 candidates running in Ward 2.
Forum Research's president, Dr. Lorne Bozinoff, said in a release accompanying the poll that "name recognition is everything" in municipal politics.
"There are no party policies, no leaders, so people vote for the names they've heard of," Bozinoff said. "In Ward 2, that name is Ford, no matter which one it is."
Bozinoff also suggested in The Sun that because the patriarch of the Ford clan, Doug Ford Sr., also represented the community as a Progressive Conservative MPP, Michael Ford has an edge.
"It's a Ford dynasty," he said.
Very little is known about Michael Ford, who registered to run for council on July 18. He is an account executive with Deco Labels and Tags, the Ford family business, and graduated from high school in 2010. Multiple reports say most of his work experience has been as a counsellor at Camp Kandalore in Haliburton.
He is the son of Kathy Ford, the mayor's sister who has had a number of run-ins with the law over the years, particularly surrounding drugs. His father, Ennio Stirpe, killed Kathy Ford's former boyfriend years ago and was sentenced to 18 years in prison after brutally attacking a woman while on parole in 2009, The National Post reports.
According to provincial records, Michael Ford legally changed his name from Michael Douglas Stirpe to Michael Douglas Ford in February.
"The media is nasty," Doug Ford said.
Domise, meanwhile, is clearly in the race to win.
"The idea that there's someone to keep the seat warm for the family or establish a political dynasty in my neighbourhood is not something to take sitting down," Domise recently told The Globe and Mail.
Last month, Domise wrote a popular blog about confronting Rob Ford about his past use of ugly racial slurs. The mayor has blamed his past racial, homophobic and misogynistic remarks on his addiction issues.
Toronto voters head to the polls on Oct. 27.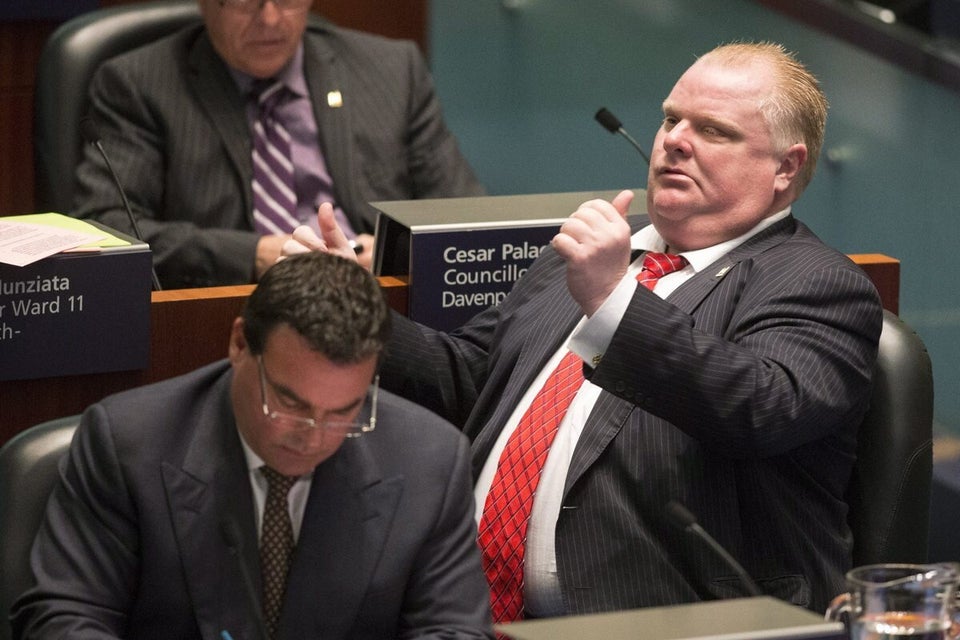 The Many Faces Of Rob Ford