United States Olympic swimmer Michael Phelps and his girlfriend Nicole Johnson have tied the knot!
The couple jetted to Mexico without a word for a destination wedding in Cabo, Saturday. They posted photos to Instagram the next day, and they are gorgeous.
Johnson wore a stunning Julie Vino Bridal dress with a intricately cut-out bodice, sweetheart neckline and a high slit in the skirt. Instead of a veil, she donned tiara-like headband.
Her now hubby wore a light-coloured suit and pale blue tie for the beach wedding.
The couple had been closed-lipped about their nuptials. They were actually legally wed earlier this year in June, but didn't share the news until Thursday in a Facebook Live video.
But now, the athlete's bride changed her Instagram handle to "Mrs. Phelps" and the couple are slowly sharing more of their celebration from this weekend.
All we know is they better not stop at just these two shots, and some better include their son, who was born in May.
If we don't see photos of baby Boomer Phelps grooving at the reception, the wedding basically didn't happen, as far as we're concerned.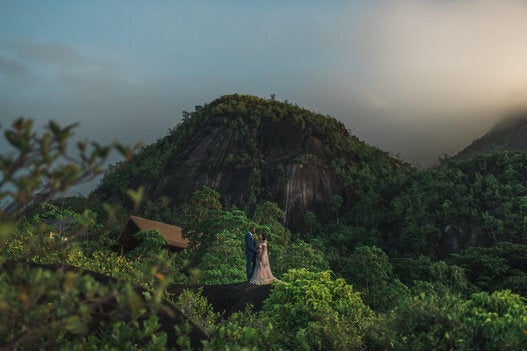 Best Destination Wedding Pics 2016