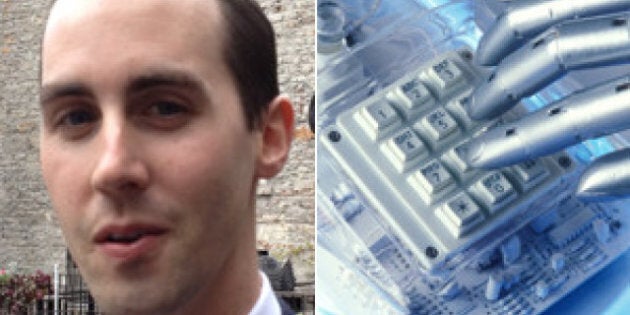 Elections Canada has filed a charge against Michael Sona, the ex-Conservative staffer fingered by the Tories in the so-called robocalls scandal, The Huffington Post Canada has learned.
While Elections Canada initially did not confirm the charge, detailed Tuesday in a provincial court filing in Guelph, Ont., HuffPost learned he is charged under section 491.3(d) of the Canada Elections Act, which relates to willfully preventing or endeavouring to prevent an elector from voting. The date of the alleged offence is April 30, 2011 — two days before the last federal election day.
The charge relates to phone calls made to some voters in Guelph, purporting to be from Elections Canada, that instructed them to cast ballots at non-existent polling stations.
Sona worked on Guelph Conservative candidate Marty Burke's campaign in 2011.
A court staffer confirmed a charge was filed against Sona Tuesday.
In a statement, Sona's lawyer, Norm Boxall, called the charge "disappointing" but added it will afford his client the opportunity to address the allegations in court, rather than through the media.
"I cannot help but comment, that if the government was interested in the public being fully informed and the issue of robocalls being properly addressed, a full public inquiry would be called, rather than a charge laid against a single individual who held a junior position on a single campaign and who clearly lacked the resources and access to the data required to make the robocalls," he said.
Sona was unavailable for comment. He is due to appear in court May 3 at 9:30 a.m. So far, it appears only Sona has been charged.
STORY CONTINUES AFTER SLIDESHOW
Elections Canada initially refused to comment.
The charge was filed following the advice of Yves Côté, the commissioner of Elections Canada, who's been investigating thousands of illegal robocalls made in Guelph on election day, May 2, 2011.
In a statement sent Tuesday evening, Côté said deliberate action to misdirect electors and interfere with their constitutional right to vote was a serious offence.
"The strong public reaction to the fraudulent telephone calls made to electors in Guelph during the May 2011 general election shows how deeply disturbed Canadians were by what happened," Côté said. "I hope that the charge we filed today will send a strong message that such abuses under the Canada Elections Act will not be tolerated."
Sona could face fines up to $5,000 and up to five years in prison if the Crown chooses to prosecute the charge as an indictable offence. The Crown, however, could chose to issue a summary conviction, which could result in a fine of up to $2,000 and up to one year in jail.
Sona, now 24 years of age, told HuffPost last October that he had no access to the Conservative database, the constituent information management system (CIMS), which is widely believed to be the source of the telephone numbers used in the robocall affairs.
Elections Canada began its investigation into the voting irregularities in Guelph nearly two years ago.
Conservative Party spokesman Fred DeLorey used the news of Sona's charge to reiterate past statements that the party was "not involved" with the illegal robocalls and did not engage in voter suppression.
"The Conservative Party of Canada ran a clean and ethical campaign and does not tolerate such activity," DeLorey said in a statement.
Calls to the Director of Public Prosecutions, Brian Saunders' office were referred back to Elections Canada.
Popular in the Community