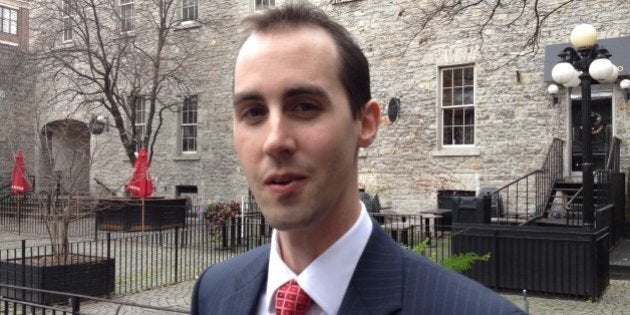 There was Sun host Brian Lilley on the office TV reporting that the Conservative Party had launched an internal investigation into so-called "robocalls" made during the last federal election in Guelph, Ont.
Sona's ears perked up. He was a young, ambitious political staffer who had come to Ottawa as a Tory intern in 2009, made an impression on the party brass and moved to the capital a year later to work for a junior minister.
He had also worked on the Guelph campaign for Tory candidate Marty Burke as communications director in 2011, and had made headlines before election day when he was accused of grabbing a special ballot box.
So Sona listened closely as Lilley announced that an internal Conservative probe was focused on a staffer believed to be responsible for the illegal calls, which had reportedly involved several thousand residents of the riding who were misleadingly told their polling station had changed.
Something was going on. Just the day before, Postmedia reporter Stephen Maher had called Sona to ask about the robocalls in Guelph. He told Maher he knew nothing about it.
"I thought, wow, someone is going to get it, probably someone from the opposition," Sona recalled. "And then, all of a sudden, Lilley said, 'The staffer in question is a young man named Michael Sona.'"
Sona said his jaw dropped. He was dumbfounded. He said he couldn't believe what he was seeing.
"It was pretty shocking. ... No one had called me," he said.
STORY CONTINUES BELOW SLIDESHOW
Just 23 years old, Sona was suddenly at the centre of a national political scandal, the alleged mastermind behind thousands of illegal robocalls, and the focus of intense media scrutiny as the party for which he had worked so hard cut him loose.
In the eight months that followed, he has kept silent, shunned by former friends.
In one of his first interviews since being thrust into the national spotlight, Sona said he is fed up with living under a cloud. He wants his named cleared and his life back.
In his version of the story, Sona is a scapegoat, an innocent player who was thrown under the bus, first by the Conservative Party and then by Elections Canada, which he says muddied his name.
Now 24, he is an eloquent and lanky young man who wears suits slightly too big for his frame. Staring into a glass of 12-year-old Macallan single-malt scotch — he drinks it neat with a bit of water on the side — Sona recalled for The Huffington Post that February day when his life turned upside down.
Immediately after the Sun News report, he offered his resignation to his boss, MP Eve Adams. He was new to her office, having just started as communications and parliamentary affairs manager two weeks earlier.
He said he felt his presence on the Guelph campaign would negatively affect her. But she initially refused.
Soon after, Sun News reported an exclusive statement it had received from Jenni Byrne, the Conservatives' director of political operations. Byrne said the "party was not involved with these calls and if anyone on a local campaign was involved they will not play a role in a future campaign." It was "convenient" timing, Sona thought.
Sona called Conservative Party headquarters in Ottawa but said he was met with obfuscation. A few hours later, however, Arthur Hamilton, the party's lawyer, called him back.
"He asked me flat out — did I do it. And I said, 'Of course, I didn't do it,'" Sona said. "He said, 'Do you know who did?' And I said, 'No. I have no idea who it would be.'"
According to Sona, Hamilton assured him he would be fine, but half an hour later, Byrne called Adams, who then called Sona and said she had to accept his letter of resignation.
"She was decent about it. I can't really fault her. She was in a very difficult situation," Sona said, shrugging his shoulders. He wrote his letter, left it on her desk, and packed up. All his stuff fit in a single envelope.
Avoiding the foyer of Confederation Building where journalists had congregated, Sona went home alone. He called his parents. The next day, he took a train to Guelph. It was a previously-planned trip but he hoped to escape the controversy.
His face was in the papers. The media showed up in droves and camped outside his family's home. "My parents couldn't even go get the mail without someone jumping out of a van with cameras and trying to get a conversation going," he said.
No one from the party called him or told him to just lay low for a bit, he said.
Sona said he could have spoken out but didn't. "I figured it was best for me to keep quiet."
He realizes now that was a mistake, he said. "It's not like they took care of me."
Sona couldn't find a job. He had no severance. Finally, a friend offered him a contract position with a security and transportation firm that helped pay the rent.
At times, Sona appears to believe party officials fingered him before they knew all the facts.
"They jumped the gun ... and I'm the one who had to pay the price for that unfortunately," he said during a recent lunch at Ottawa's Social restaurant in the ByWard Market.
But at other times, Sona said he suspects the Conservatives set him up to take the fall.
It was "incredibly convenient" the way Byrne''s statement came out minutes after his name was leaked, he said. "I find that very convenient, considering all the bureaucracy that we have inside of our party to release statements."
Conservative Party spokesman Fred DeLorey would not comment on the party's role regarding Sona's departure.
DeLorey said the Conservative Party had proactively reached out to Elections Canada and continues to assist them by handing over any documents or records that may assist them. "We will not comment on specifics as we do not want to compromise any part of the investigation," he said in an email.
After all the long hours, the seven-day weeks and family vacations spent on the BlackBerry, Sona still seems bewildered by his treatment. "I put a lot on the line, I sacrificed a lot and this is how you get ... this is how it goes," he said.
"Any other place, any other company, if you've given so much for the company, chances are if something bad happens, at least you'd be given the benefit of the doubt."
Sona said the last eight months have been brutal. He has discovered who his real friends are, he said, his blue eyes staring off into the distance.
The people who hurt him the most, he said, were those who told him, "'Yeah, we know you didn't have anything to do with this, this is ridiculous, but until this blows over, we really don't want to be associated with you.'"
His best friend and former roommate, a staffer in Intergovernmental Affairs Minister Peter Penashue's office, cut off contact.
"He wouldn't pick up the phone. I called his work number, I called his personal number, I sent him a text on his personal phone, I sent him a BlackBerry message — he read the message, it had a little 'R' next to it — but he didn't respond."
He wasn't the only friend who shunned him.
"Couple of people I ran into on the street, when the story was just happening, it didn't matter what part of the street it was, they would just cross over to the other side. Just like that. It's like being a leper. That's really what it is like."
A handful of Conservative staffers and several MPs came to his side. Sona won't name those people, but says he's tremendously grateful.
"In this city, you've only got one thing and it's your reputation. And when you lose that, whether it is true or not, when you lose that, you don't have anything. And when you've got nothing, when someone is willing to be there for you, that means everything."
Although he describes himself as stickler for rules and said he's "obsessed with optics," Sona readily acknowledges he was willing to get his hands dirty in order to help his candidate win during the last election.
He admits he called a senior Conservative staffer at the party's headquarters to find out how to organize untraceable calls highlighting Liberal incumbent Frank Valeriote's, "flip-flopping" positions.
Sona said Burke's campaign was tired of unidentified calls attacking their candidate's position on abortion and they wanted to fight fire with fire. He insists Burke's team never went ahead with the planned calls because a senior Tory staffer never returned his call.
The Guelph campaign had organized legitimate robocalls with RackNine, the same company used by the now infamous Pierre Poutine, to urge constituents to vote Tory. But Sona wasn't responsible for those calls — that account belonged to another campaign worker.
So how did Sona get implicated in the robocall scandal?
He believes he was a convenient target.
During the 2011 campaign, Sona garnered national media attention after he reportedly grabbed a ballot box at a special poll at the University of Guelph. That, he believes, placed him in the firing line.
Sona emphatically denies he ever tried to grab the ballot box. He said he went down to the university after Burke's campaign learned the special ballot had not been registered with Elections Canada headquarters and was therefore illegal. He admits he got into a war of words with the returning officer, but said allegations he grabbed the ballot box were invented by a student on her Facebook account.
Elections Canada later acknowledged the special ballot in Guelph was not sanctioned, but it let the votes count. Days after the story emerged in the national media, the Conservative Party also came out with a statement saying Sona had acted appropriately, but he believes the damage was already done.
"I think that is part of the reason why my name got involved in this [the robocalls scandal] because it was an easy story to sell," Sona said, his fingers fidgeting with the back of his red maple leaf pin on the left side of his lapel.
"You know, here's a guy who obviously has no respect at all for democracy, no respect for Elections Canada, he's gotten in trouble with them before, what do you know? It's a habit. Right?"
Sona is also upset with Elections Canada.
He said a damning quote investigator Al Mathews included in court filings tarnished his reputation.
Mathews claimed a Conservative staffer had informed him Sona had called headquarters to inquire about setting up a campaign of disinformation.
And several months later, Mathews acknowledged in a footnote of another production order, that the quote in question had never been said.
"Of course, that was not released on the front page of the newspaper, that was released in a footnote, 30 pages down in a 36 page court document from Elections Canada," Sona said, visibly upset.
He wants a public apology but he knows he's unlikely to get it.
"I'd like my life back. I've had to put my life on hold for eight months, I've lost a lot of things. And ... there is only one person that can actually..." his voice trailed off. "I know I will never get back everything I have lost but I'd settle for getting my reputation back."
WHO'S RESPONSIBLE?

So could Michael Sona be responsible for the illegal robocalls?

Sona, of course, says no. If, as some speculate, the Conservative Party's constituent information management system (CIMS) was used as a source of phone numbers for robocalls, then Sona said his innocence is proven because he had no access to the database.

If CIMS wasn't used, then Sona said the only way he could be guilty was if he had driven around Guelph, made note of political lawn signs, cross-referenced addresses on a web phone directory and built his own database.

"I don't think that anyone with half a brain really believes that a then 22-year-old staffer managed to cook up this entire affair," he said.

"Look, I'm an ambitious guy and I am very motivated, okay, but I'm going to be really honest with you," he said, "It's a pretty technical case and I'm not a tech guy at all. I mean so I don't think anyone believes that."
CORRECTION: A previous version of this story indicated Sona made headlines on election day when he was accused of grabbing a special ballot box. The story actually made headlines before election day, as the vote in Guelph was before the May 2 general vote.
Like Huffington Post Canada's Ottawa Bureau Chief Althia Raj's reporter page on Facebook and follow her on Twitter for all the latest news from Parliament Hill.
Popular in the Community