CBS Evening News tweeted just before 1 p.m. that the dead shooter was Michael Zehaf-Bibeau, a Canadian who was born in 1982.
It was later confirmed by CBC News that Zehaf-Bibeau was the man in a photo that had circulated on social media throughout Wednesday.
The Twitter account "Military Studies" tweeted the photo early Wednesday and said it was initially posted on social media by terrorist group ISIS.
But police sources told La Presse said that Zehaf-Bibeau was a "lone wolf" and had no affiliation with Islamic terror groups.
Author Denis Lessard wrote in French that the suspect was mentally unstable, but that his name does not appear on a list of people that police are monitoring for terrorist ties.
A Quebec-raised Muslim convert, Zehaf-Bibeau was born as Michael Joseph Hall but later changed his name, U.S. government sources told Reuters.
Canadian authorities had considered him a "high-risk traveller" and his passport was taken away, according to The Globe and Mail.
Montreal court records indicate that a man of the same name and birth year had a criminal history in the city, The Gazette reported.
A resident of the Villeray-Saint-Michel-Parc Extension area for a time, he had been convicted of possessing PCP in December 2004 and received a 60-day prison sentence. He received an additional one-day sentence for possessing marijuana, and was also convicted for not complying with release conditions.
The man didn't show up in court for a marijuana charge in 2006 but later pleaded guilty to it in 2009, receiving an absolute discharge under the name "Michael Bibeau-Zehaf."
And he appears to have had a record right across Canada.
He later pleaded guilty to uttering threats and spent one day in jail, which came in addition to 66 days of credit for time served.
His mother, Susan Bibeau, is a federal government worker who lives in Montreal, CBC News reported.
- With files from The Canadian Press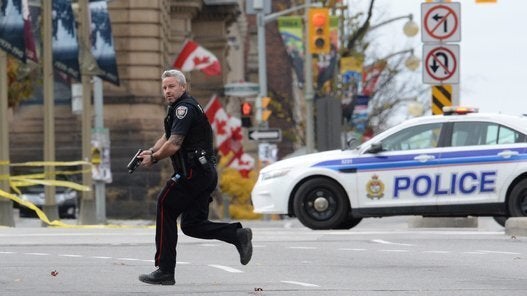 In Photos: Ottawa Shooting
Popular in the Community