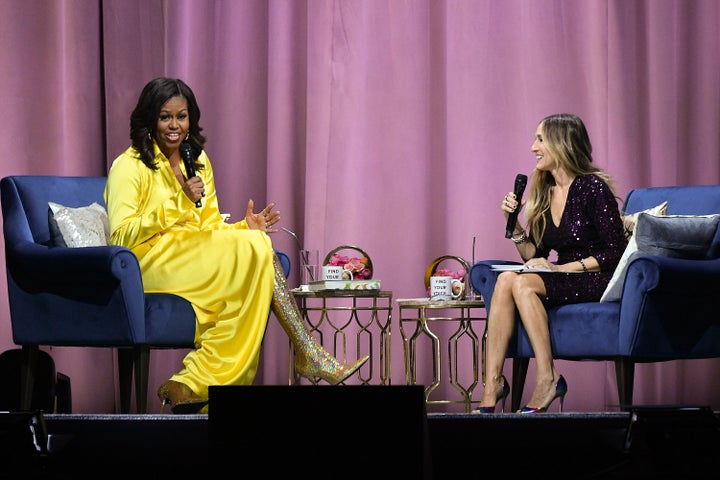 Some people just exude cool. It's a kind of cool that hangs about them like their own personal weather, that exits from their pores and forces everyone around them into a state of absolute wonder.
If you happened to miss that one, all hope is not lost. It's just been announced that the former First Lady will be returning to Toronto to headline a tech festival on Sept. 24.
Watch: Some of Michelle Obama's greatest and most inspiring moments. Story continues below.
"We are honoured that Mrs. Obama has chosen Elevate as her first Canadian engagement following her incredibly successful book tour," said Razor Suleman, co-founder and CEO of Elevate, in a press release.
"She has championed women and young people, inspiring millions across Canada and around the world."
Obama has officially entered a very small and cramped genre of political celebrities in which she seems to (read: absolutely does) reign supreme. In fact, a new poll just announced that Michelle Obama is now the most admired woman in the world. (She just dethroned Angelina Jolie for the spot.)
Which is why it's no surprise that the mayor of Toronto has also been mesmerized by Obama's cool factor. "You know what's going to put Toronto on the map in 2019? It's not the NBA championship; it's Elevate," John Tory said in the Elevate press release.
Of course, Obama isn't the only speaker at this year's event.
The annual conference is known for bringing together some of the best and brightest world leaders in the technology sector, and this year's 200-speaker lineup includes Girlboss CEO and founder Sophia Amoruso, astronaut Chris Hadfield, TIFF co-head and artistic director Cameron Bailey, and, of course, the one and only Akon.
The conference is expecting about 20,000 guests to be in attendance, and Obama's appearance will be ticketed separately from the rest of the festival.
Tickets, which you can find on the website, are discounted before August 16. General admission goes for $425 plus tax, and that just includes "access to purchase Michelle Obama tickets." Patron tickets, which cost $2,500 plus tax, are the only ones that "guarantee Michelle Obama tickets in the lower orchestra."
UPDATE - July 24, 2019: This post has been updated to better reflect Cameron Bailey's official title at TIFF.