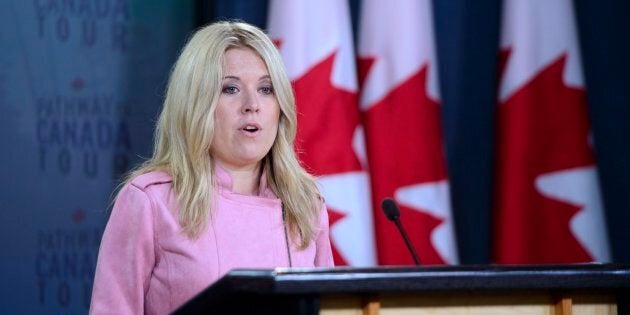 The federal Conservatives' immigration critic says Maxime Bernier needs to decide who he wants to see as prime minister next year.
"My colleague has a choice to make: does he want Andrew Scheer to win or Justin Trudeau to win?" Michelle Rempel said at a press conference in Ottawa Wednesday.
The Tories used the presser to outline their priorities on immigration ahead of the party's policy convention in Halifax this weekend. Rempel said the Conservatives under leader Andrew Scheer would focus on encouraging economic immigrants, family reunifications for victims of genocide, and ensuring the viability of support systems for humanitarian refugees.
On Twitter Tuesday night, Bernier said he'd like to see fewer immigrants accepted in Canada.
His immigration plan, outlined during his failed leadership bid, calls for 250,000 migrants to be accepted, what he said was the average under former prime minister Stephen Harper's governments.
"So, after disavowing me last week for raising the issue and telling me to shut up, my colleagues have just realized that this is something Canadians find important and want to hear about? Great example of strong leadership!" he wrote.
Scheer has distanced himself from Bernier, the man he narrowly beat in last year's Conservative leadership race and has since booted from his shadow cabinet. Scheer has stressed that Bernier has no official role in the caucus and speaks only for himself.
Rempel and Quebec MP Gérard Deltell echoed those sentiments Wednesday when repeatedly asked about their renegade colleague.
But Rempel took things a step further by suggesting Bernier's piqued interest in immigration was a new development.
"Very bluntly I've been shadow minister for citizenship and immigration in my party for almost three years. I've had many caucus colleagues — many caucus colleagues — come to me and talk about immigration concerns in their riding, case work, potential policies, things that they've heard across the country, public sentiment," she said. "In fact, it's a very busy job because immigration is a very hot issue. And I love having those conversations with my colleagues.
"Maxime Bernier has not been one of the colleagues that has had a conversation with me on that issue."
Rempel later said Bernier has "never come to talk to me about immigration," even though she has sat in on his committee work.
She downplayed the suggestion that Bernier was publicly undermining her work or taunting Scheer. Conservatives have a "healthy culture of debate," she said, but typically those conversations happen behind closed doors.
Rempel called on her caucus colleagues to work together to help Scheer win a majority government in the 2019 election.
She would not say if she would support a movement to boot Bernier from caucus.
"I've made my choice. I would like Andrew Scheer to win," she said.
Scheer can't just boot him
Unlike Liberals and New Democrats, the Tories decided after the 2015 election to allow their MPs to decide who can be removed from caucus. A review of Bernier's status could be sparked if 20 of the party's 97 MPs call for it. A majority vote by secret ballot would determine if he can stay a party of the Tory team.
The federal caucus is expected to meet Thursday in Halifax. That would be the earliest Bernier could be kicked out.
The Conservatives' convention runs from Aug. 23-25.
With files from Althia Raj
Popular in the Community