Speaking Thursday to Evan Solomon, host of CBC's Power and Politics, Rempel said the event, tweeted out by Trudeau Wednesday and Thursday, is an example of "pink sandbox politics," and is degrading and patronizing to women.
The event, dubbed "Justice Unplugged," pictured Andy Warhol-inspired photos of the Liberal leader and provided sample questions (in cursive script, no less) he might be asked, like "What's your favourite virtue?" or "Who are your real life heroes?"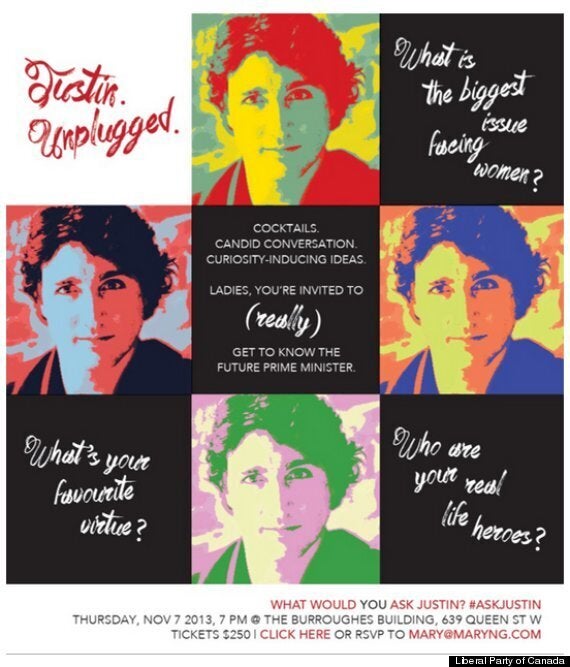 "All issues are womens' issues and the questions that were put in there I don't really think are really designed to get that public engagement, which is why I think there was such a visceral reaction across party lines on this one," Rempel told Solomon.
Story continues below the slideshow
The sexist undertones of the event obviously struck a nerve with Rempel, who has been speaking out about sexism in Canadian politics this week.
"We have made gains in Canada in electing more women to all levels of government across our country," she said in a statement before question period Friday morning, iPolitics.com reports.
"However," she continued, "as new communications media, such as Twitter, change how we talk to each other and as more women choose to run for office, we must continue to stand vigilant against sexist vitriol that is geared to objectify and belittle women in office."
Rempel faced blatantly sexist backlash on Twitter from several male users after tweeting her frustrations with the Trudeau event. Users criticized her Twitter profile photo, where she appears perched on the arm of her chair in the House of Commons.
"I shouldn't have to respond to those types of comments."
"This is not acceptable. If someone came and yelled this to my face in the street, there'd be outrage. So why is it acceptable here? It's not," she told iPolitics.
Rempel isn't the only female politicians to speak out about the Trudeau event - and the larger problem of sexism in Canadian politics.
"This isn't just demeaning, it's stupid," NDP MP Megan Leslie said on her Facebook page. "Stupid stupid stupid. All issues are women's issues. And you know what, we can wear pants and drive cars and vote and have jobs and we can have political opinions. The economy is a women's issue, Justin. Health Care is a women's issue, Justin. And you know what? Keystone XL *ahem* is a women's issue."
Transport Minister Lisa Raitt also took objection to it:
"It does not look like a standard political invitation — that was our goal," she told the National Post.
"These are not sexist questions. These are questions, among others, meant to provoke conversation and inspire interesting dialogue. The intent was not to offend anybody."