It's no secret there's a lack of Asian-American actors and actresses in Hollywood. Lucy Liu and Jamie Chung may be household names, but aside from that, Asian women in film are few and far between.
"Only women who had a certain skin colour and eye shape were really allowed on screen, right?" she writes. "To this day white people are cast as Asians, deepening the message that Asians just aren't wanted."
And though she had doubts about whether or not she could pull it off, the results of her work are pretty impressive.
On her blog, Villemaire says her Hepburn recreation was the most difficult to shoot as she "didn't want to disrespect the queen" and "trying to recreate one of our greatest actors' expressions while that actress's face has been tampered with [tape to make her eyes look more Chinese] is just some crazy gymnastics."
"I considered calling this post Wictor Wictoria because it occurred to me that I was an Asian woman trying to be a white woman trying to be an Asian woman," she writes.
But, by the time she shot the last image in the series (she as Stone in "Aloha"), she felt a sense of accomplishment.
"In my own way, I'd rewritten these stories adding an element of authenticity that was missing. It felt really good," writes Villemaire.
She concludes her post by saying, "This photographic journey is a love letter to all my Asian brothers and sisters out there trying to break into a tough business. I feel your struggle. But please keep fighting the fight. You are talented. You are beautiful. And goddammit, we belong in the picture."
You can check out the full "Correcting Yellowface" series on Villemaire's blog.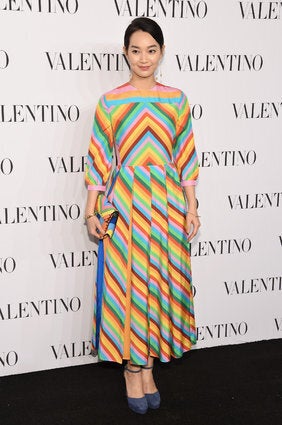 Asian Actresses With Incredible Style