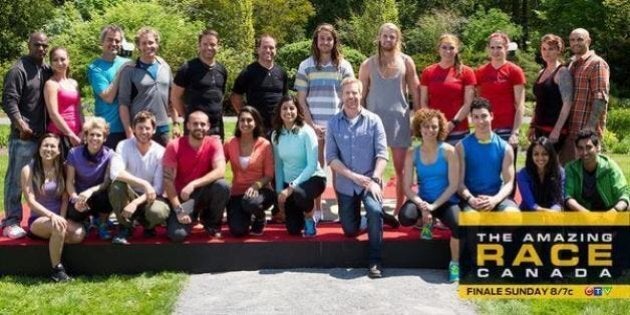 Easy, breezy, and grungy — those are just some of the qualities a pair needs to win season two of "The Amazing Race Canada."
Congratulations, Mickey and Pete! The Muskoka, ON-based team of best buds may have earned seven podium finishes during the race's first 11 legs, but they beat the others to the mat where it counted, in Ottawa.
Taking out seven-time first place finishers Natalie and Meaghan, the chilled out bros raced to the end through Rideau Hall to greet Jon and the other, previously-eliminated teams. After realizing they won, the twosome quickly disrobed and revealed their celebratory underwear dance, which was something they had in store since the race kicked off in Jasper National Park.
"If we even win one leg, we'll strip down, but it never came!" said Mickey, explaining his and Pete's stripping technique to Jon.
But despite their also-ran record, this win is no surprise given each partner's particular Renaissance Man-like set of skills. Mickey may own and operate an environmentally-friendly wakeboard park, and Pete works in construction, but both have demonstrated a mastery of accounting, hair braiding, dancing and cosmetology — no easy feat. Plus, Mickey and Pete also proved back in Montreal that when it came to eating grilled cheeses, they could defeat the Olympians. Though this was no eating contest, the hockey players crumbled under the pressure of the final tasks, and physical demands of kayaking through the Rideau Canal, and climbing up the Canadian Nature Museum atrium, by rope. Meanwhile, Ryan and Rob, the Vancouver bartenders, never had a chance in this neck-and-neck battle, having gotten lost at the beginning of the leg.
In addition to the glory of winning the title of "The Amazing Race Canada," the laid back duo will also take home $250,000, free gas for life from Petro-Canada, two Chevy Silverado High Country editions, and 10 round-trip tickets for two to anywhere on Air Canada's travel roster — in business class — for a year.
Sounds like a radical reward for travelling up to 40,000 kilometres across Canada, Macau, Hong Kong and France.
What did you think of the season finale of "The Amazing Race Canada"? Did your favourite team win? Sound off in the comments below.
A more thorough recap of this Season 2 finale is coming shortly.
Popular in the Community