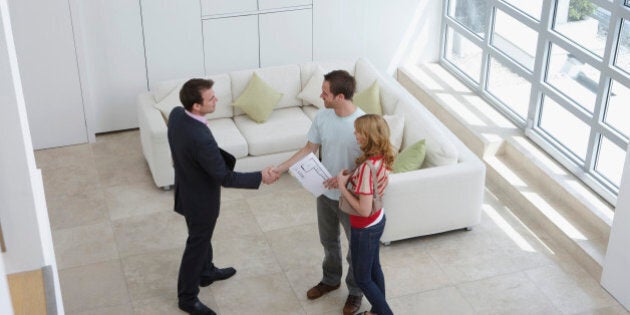 Are micro condos still a thing, or a novelty? Well, if you've been keeping up on real estate prices in Canada, then you already know that condo is king. So the real question is, how "big" is small-space living?
Housing costs continue to soar in Canada's priciest real estate markets -- in spite of provincial and federal action to slow housing activity in Toronto and Vancouver. This has left many hopeful home buyers priced out of the average detached home market. Even larger condo units are picking up speed in price.
Housing costs rising, lowrise construction falling, and the come-back of condos
According to ReMax, 2016 saw the average home price (across all housing types) increase 13 per cent in Greater Vancouver to $1.02 million, and 17 per cent in the GTA to $725,857. The average detached home in these markets is well over a million. Those numbers are only expected to climb in 2017.
What's falling, is the number of new single-detached homes being built in Canada, which have been trending downward since 2009 according to Canada Mortgage and Housing Corp. (CMHC). High demand coupled with low supply leads to rising costs.
CMHC predicts condo construction starts to drop in 2017, due to an increase in completed and unsold condo units in 2016, and a smaller pool of first-time homebuyers - a result of more stringent mortgage lending rules. But looking ahead to 2018, the national housing agency calls for a rebound in condo construction starts, thanks to growing demand for this more affordable housing option.
According to Barbara Lawlor, president and CEO of Baker Real Estate Inc., condos will always be a hot item in expensive housing markets like Toronto and Vancouver - all sizes and configurations, but particularly micro units, thanks to their micro price.
Lawlor points out that Canada is fairly new to the micro-living concept. "In places like Hong Kong, Japan and Europe, developers have been offering micro apartments for many years. In addition, some cities in the U.S. including San Francisco, Boston, Washington and Austin are home to numerous micro suites. I saw online that in Seattle, there is a 90-sq.-ft. micro condo, which makes 300 sq. ft. sound pretty spacious."
Whether by choice or by force, Millennials have adopted the prevailing "less-is-more" lifestyle. "Today's young people are used to a more minimal existence than their parents and grandparents, and new immigrants are used to compact apartment-style living," Lawlor notes. The result is smaller vehicles parked in the smaller parking spaces of smaller homes. On a grander scale, it's a shift in thinking by end-users and real estate developers alike.
Developer Urban Capital launched downtown Toronto's first micro condo a few years back, with great success. Urban Capital's David Wex agrees that the rise of the micro condo is a direct response to affordability issues, and it has led to a new way of life.
"It's basically about redesigning the elements in our condos to make sure they are highly efficiently designed, in order to make small spaces work as best they can, allowing them to feel and function like larger spaces. The goal is to deliver super-efficient spaces at an affordable price."
Wex adds, "you can see all elements around us changing to suit this new reality."
From homes to home décor...
Jane Lockhart, principal of Jane Lockhart Interior Design, has branched off in this micro direction as well, with her own line of Jane by Jane Lockhart condo furnishings. So, how does designing "small but sweet" differ from the old mantra of "bigger is better"?
"One word: multifunction," Lockhart says. Like the homes themselves, and echoing Wex's sentiments, "Furniture in small spaces can serve more than one purpose. Benches, ottomans, even chaises can be adapted to hold storage; chairs can become single beds. Reconfiguring and readapting to serve more than one function is the way of the future."
Whether we're talking tiny homes, or the miniature tables and chairs to fill them, looks like the micro industry is here to stay.
Follow HuffPost Canada Blogs on Facebook
Popular in the Community