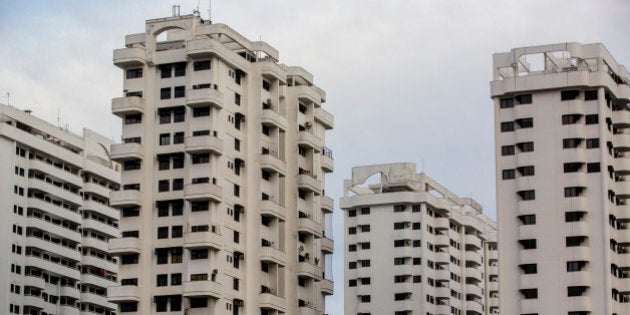 Healthy food or prescription medications? Transit fare or school supplies? Those are the choices families are forced to make when the cost of rent and utilities add up to half of their income.
Families can clip coupons for groceries, purchase clothing second-hand, or scrimp on transportation costs to make ends meet. Housing, on the other hand, is an inflexible cost. Households can't "trim the fat" on rent, which is why it's often the first bill paid each month. As rental costs rise, families have less room in their budgets for other necessities.
Using data on rent and income in communities across Canada, housing advocates have launched the Rental Housing Index, an interactive tool that maps average rental costs and incomes in communities across Canada. The tool shows voters and policy makers what renter households are paying and how much of their income is going towards housing costs.
In Ontario, the Index shows that 42.3 per cent of renting households are spending more than 30 per cent of their income on housing costs, making it difficult for them to afford unexpected expenses or save for a rainy day. One in five (19.8 per cent) renter households spends more than 50 per cent of their income on rent and utilities, forcing difficult choices between other basic needs and putting them at risk of eviction if their hours are cut or an illness keeps them away from work.
When we talk about housing affordability, we usually assume that it's a problem that affects low-income people living in big cities like Toronto and Ottawa. The data shows us that middle-class families are also struggling and over-extending themselves to pay for housing that's too expensive, too crowded, or in poor repair. It's not just a downtown problem, either: Milton and Vaughan have some of the highest rents in Canada, and rural and cottage country communities have the largest share of households spending above the "30 per cent rule."
This isn't sustainable. If we're committed to building a strong middle class -- and each of the political parties says they are -- we must demand safe, quality housing that's affordable to families in all tax brackets.
Our federal government has focused on programs that help reduce the cost of home ownership. But for most people, purchasing a home isn't their first step. New Canadians, entry-level workers, mobile professionals, young families and downsizing seniors all need options for affordable rental housing.
In many communities, these homes are getting harder to find. Between 1996 and 2006, Ontario lost 86,000 rental units to conversion and demolition. Today, close to 30 per cent of Ontario households rent, yet only six per cent of new housing is for rental. With land and construction costs rising, the rental housing that does get built is more likely to be luxury than affordable. Without policy and tax incentives, the private sector is unlikely to begin building the modestly-priced rental housing that Ontario needs.
Affordable housing is a national issue. Forty years ago, our federal government invested in social housing and provided tax incentives to encourage the private sector to build new rental housing. In the 1990s, the Feds gave responsibility for housing to the provinces. In Ontario, the buck was passed to municipalities, who have limited revenue tools. With little leadership from the top and declining funding, it's no wonder that so much of our province's social housing stock is aging and in need of repairs.
For Canada, investing in affordable housing is smart economic policy. When renting and construction are factored in, housing is responsible for 20 per cent of Canada's GDP. Research shows that investments in social housing help to create jobs and stimulate local economies.
If the government elected this October is serious about strengthening the middle class, then it must commit to addressing housing affordability and supporting the growth of the rental housing market. An affordable home is the foundation all families need to succeed. Vague promises won't be enough to help Canadians who are burdened by high housing costs.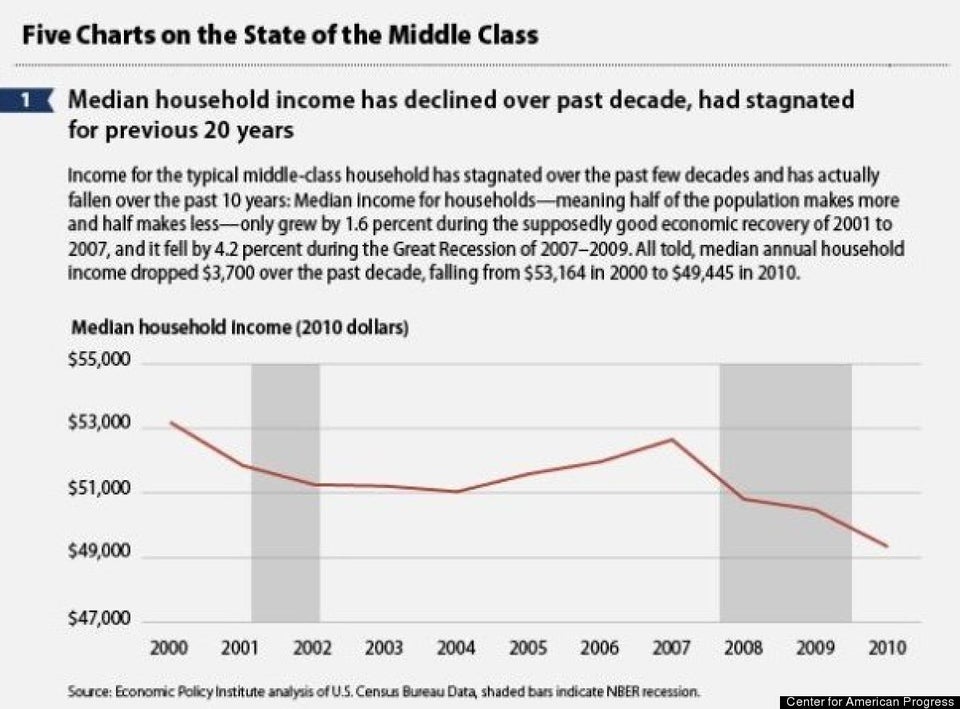 5 Sad Charts About The Middle Class