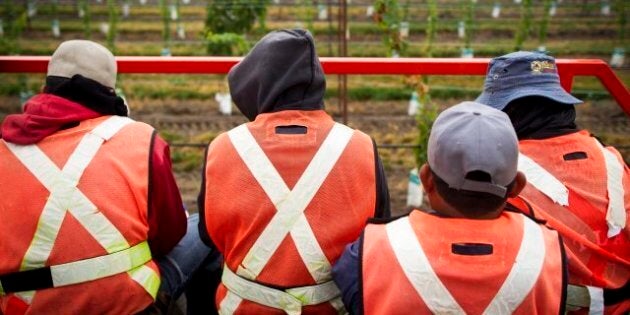 They pick our fruit, care for our children and wash dishes in our restaurants.
But without an adequate legal framework in place to protect their rights, a new study warns, the growing number of lower-skilled migrant workers employed in Ontario face systemic exploitation and "permanent insecurity."
Released Monday by the Toronto-based Metcalf Foundation, the report examines the laws surrounding the recruitment and employment of lower-skilled migrant workers in Canada's most populous province to show how they are particularly vulnerable to abuse and confront "tremendous barriers" to claiming the rights they do have. It also outlines a series of concrete recommendations geared at enhancing the protections for the workers.
"This is a made-in-Canada problem," study author Fay Faraday, a lawyer and adjunct professor at Osgoode Hall Law School in Toronto, told The Huffington Post.
"The risks that these workers face, the conditions that shape their work, need to be taken seriously, because we are creating real human suffering with this process," she said.
The report notes that the number of lower-skilled migrant workers employed in Canada — which includes live-in caregivers, seasonal agricultural workers and other low-wage employees — has more than tripled in the past decade, growing from fewer than 25,000 in 2000 to nearly 88,000 in 2010.
The numbers of more-skilled migrant workers have also increased significantly during this period, but they have more rights. Professional, managerial and skilled migrants may be eligible for permanent residence in Ontario and can bring their spouses and dependents with them, benefits that are not afforded to most classes of lower-skilled migrant workers.
The only exception to this rule in Ontario is live-in caregivers, who can apply for permanent residency upon completion of two full years of work within a four-year period. According to the report, more than half of all live-in caregivers admitted to Canada each year land in Ontario. From 2001 to 2008, the total number of live-in caregivers in the province ballooned from about 4,000 to 21,000, an increase of almost 400 per cent.
While these workers may have a path to residency, they are also vulnerable to abuses in a system in which enforcement "relies largely on migrant workers to come forward to make formal complaints," the report contends.
When she arrived in Toronto from Uganda in 2008, Lilliane, one of several migrant workers profiled in the study, said her employer seized her work permit and passport. Made to share a bedroom with one of the children she was caring for, she said she had no private space or time off and was forced to work longer hours — for much less compensation — than she had been promised.
"When I went to the hairdresser my employer told me I was not allowed to be out of the house on
my own and that she would call Immigration and Immigration would give me two weeks' notice to leave," she said. "I was treated like rubbish but my employer knew I had nowhere else to go."
By the time she quit after two years of work, she said she had been paid a total of only $2,100.
"These profiles are not selected to illustrate 'worst case' scenarios," the report notes. "The exploitation is not isolated and anecdotal. It is endemic. It is systemic. And the depths of the violations are degrading."
It makes more than 20 recommendations intended both to improve the system and to help migrant workers defend their rights. They include:
extending legislation to guard against the charging of recruitment fees;
making sure migrant workers are not paid less than the prevailing wage;
amending provincial rules to allow migrant workers in all sectors to unionize and bargain collectively;
establishing an independent Office of the Migrant Worker Advocate to provide information and advice to migrant workers free of charge.
The report also recommends that all migrant workers should be able to seek permanent residency.
"Migrant workers are not inherently vulnerable," Faraday said. "We've created a system that leaves them open to exploitation, but we can fix that."