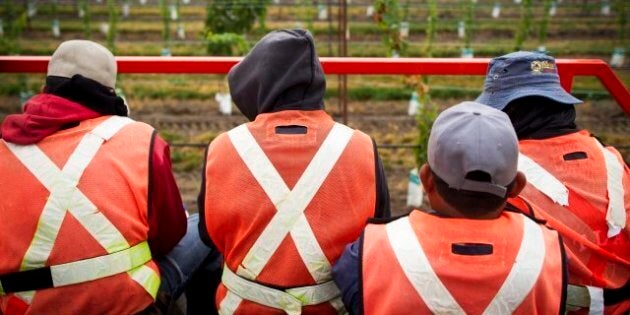 The Canada Border Services Agency just announced that it had deported 16,511 people in 2011-2012, dubbing it a "milestone year."
"It is really chilling," said Mary Foster from Montreal's People's Commission which successfully advocated to have Adil Charkaoui's security certificate struck down and get Abousfian Abdelrazik back in to Canada. "It's the moral equivalent of a mob killing someone and then jumping on their bodies in triumph."
Deportation to death is not just an analogy. The case of Veronica Castro and Grise have made national headlines in the past years, women who were denied refugee status, were told that they were making up their refugee claims and deported. Both of them were murdered upon their return just as they feared.
These numbers, however, are only part of the forced removals story.
Every year tens of thousands of migrant workers are coerced to leave after getting hurt on the job or because their work permits are revoked or have been completed. This is euphemistically called "repatriations."
According to government statistics, 3,709 migrant farm workers were deemed AWOL in the program between 1996 and 2011. A further 1,198 were sent home for medical reasons during that period, and 2,923 were flown back due to "breach of contract." These are, in essence, deportations.
Winston Morrison is one such worker. In his own words:
"I was injured while working on a farm in Ontario on June 25, 2011. I had an operation on my knee on the 14th of September, 2011. They put a plate in. I was sent home to Jamaica and I went to the doctor there because something was wrong with my knee. The doctor gave me antibiotics. Then I went to another doctor and I kept telling him I wanted to go back to Canada to get treated, but my doctor wouldn't give me a letter saying that I should go to Canada. In February, the second doctor opened my leg to see what was wrong. He said I had a tumour and I should go back to Canada to have it operated on.

I got to Canada in May for a surgery and the doctor cut off my whole leg. The doctor told me that if I had been back in Canada a few months earlier, they could have saved my leg. The doctor in Canada could not tell me if my leg had a tumour or not. He cut off my leg because of the infection that I had because of the plate in my leg.

WSIB cut me off my compensation because they say that my leg was cut off because of the tumour and not because of my first injury. The Jamaican government has also cut me off benefits.

I am here in Canada and I am treated like a dog. We pay into the system, so why do we not get the same rights? I worked every day for eight months. This country gets so much from us and then they throw us under the bus. "
Though Winston was able to come back, many other workers that leave the country after being injured don't. Most never see a penny of compensation for their workplace injuries.
Injured workers are one egregious part of the missing picture. Other migrant workers or people in other immigration streams that want to stay but leave because of the terms of their contract or permits should be counted as forced removals. Including those would significantly increase the numbers from the 16,511 that CBSA has currently announced.
"State designed immigration policies make it impossible for migrant workers to stay in Canada," says Chris Ramsaroop from Justice for Migrant Workers, one of 13 member organizations of the Migrant Workers Alliance for Change. "There are significant amount of workers that are repatriated who want to stay in Canada. That's part of the human face behind these partial deportation numbers."
Canada is implementing a revolving door immigration policy, with high deportations and a shift to migrant work. It is clear to see who is paying the cost of these policies. Are we okay with this? It's time we slow this down.