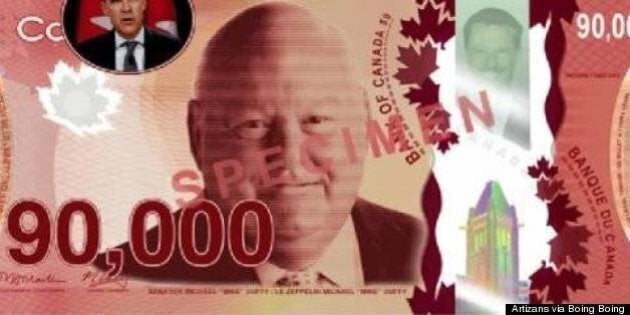 An earlier version of this post appeared on Ariel Katz's blog.
You would think that in a constitutional democracy such as Canada, people would feel free to comment on current events and criticize politicians and senior officials by referencing common symbols, such as images of banknotes, to drive home their message. You would think so, but apparently, the Bank of Canada does not. It turns out that the Bank of Canada has taken upon itself an extraordinary mission: to control what people think about the Canadian currency.
The Times Colonist reports that a B.C. newspaper cartoonist had to pull down a cartoon after receiving a threatening letter from the Bank of Canada. According to the story, Dan Murphy created a cartoon looking "like a $50 bill, except it's for $90,000 and features a picture of Mike Duffy." His syndicate then pulled it down as per the demand of the Bank of Canada, after the Bank insisted that permission was required before reproducing a banknote image, and that "the bank will not approve requests where the reproduction tarnishes or diminishes the importance of currency to Canadians."
Apparently, the Bank of Canada's has a Policy on the Reproduction of Bank Note Images. The policy cites s. 457 of the Criminal Act, which I don't think is relevant to this case at all, as well as the Copyright Act. The policy states that
"Although the Bank is the copyright owner of the images used on Canadian bank notes, it recognizes that currency is an important symbol of value in Canada. Accordingly, people may wish to reproduce images for appropriate reasons. The Bank will ordinarily consent to such reproductions if

i. there is no risk that the reproduced image could be mistaken for a genuine note or misused by counterfeiters; and

ii. the proposed use does not tarnish the dignity and importance of currency to Canadians."
If the Bank relies on copyright law to censor Murphy's cartoon, then its claim has very little merit. Even if a bank-note is a "work" for the purpose of copyright (conventional wisdom is that obviously it would be considered an "artistic work," but it might not be that obvious), s. 29 of the Copyright Act permits fair dealing with a work for several purposes, which include "parody or satire." Murphy's cartoon is clearly a parody or satire, and his work would probably satisfy the factors of fairness quite easily. Therefore, no permission is required, and whether the Bank would grant it or not is irrelevant. Period.
Even if, or when, permission were required, the Bank of Canada surely has some obligation to respect freedom of expression, a fundamental right guaranteed to all under the Charter of Rights and Freedoms. The Bank's failure to recognize that is probably more damaging to Canada than any cartoon.
Nevertheless, it seems that an animated audio-visual version of the cartoon is (still?) available on YouTube. Watch it while you can, and then answer the following question:
Who has greater respect for the Canadian currency?
The good news is that meanwhile, Dan Murphy's syndicate, Artizans.com, has decided to restore the cartoon, and requested that the Bank of Canada specify exactly how the cartoon contravenes the Copyright Act. Whether Murphy or his syndicate will hear back from the Bank of Canada remains to be seen. However, as grotesque as this incident may seem, it is in fact reflective of a more troubling attitude by the government.
Unfortunately, this is not the only time that the government and Crown corporations have relied on dubious copyright (and sometimes trademark) claims to interfere with legitimate expressive activities of Canadians. In 2007, for example, the city of Toronto launched a campaign demanding that the federal government share some of its national sales tax with cities. Toronto's campaign included handing out posters, bumper stickers, and buttons, bearing the slogan "One Cent of the G.S.T. NOW," and a photo of a Canadian penny. The Royal Canadian Mint demanded that Toronto pay license fees of $47,680, claiming that the "one cent" slogan infringed its trade-marks and the penny images infringed its copyright. Fortunately, Toronto refused to pay and the Mint backed down.
Other Canadians were less fortunate. Last year, Canada Post filed a copyright infringement lawsuit against the operators of GeoCoder.ca, a website that provides free access to a crowdsourced compiled database of Canadian postal codes, and other geocoding services. Canada Post's lawsuit was based on the dubious claim that postal codes are protected "works", and that their reproduction infringes its copyrights. Earlier this year, it amended its complaint to include the equally dubious claim that uttering the term "postal code" infringes its trademarks.
Granted, the government should have the power to combat counterfeiting of Canadian currency, and it has that power. The government should also have the power, when necessary, to prevent the disclosure of sensitive documents, and it has that power. The government should also have the power to raise revenue for different purposes by imposing taxes and other levies. It has this power too. Nevertheless, those powers, while important, are typically limited on Constitutional and other grounds. What the government cannot and should not do is rely on dubious intellectual property claims to limit or interfere with the freedoms of Canadians, find new sources of revenue, or silence their criticism.
This is just as offensive and disrespectful of Canadian citizens and taxpayers as Senator Duffy's expense claims.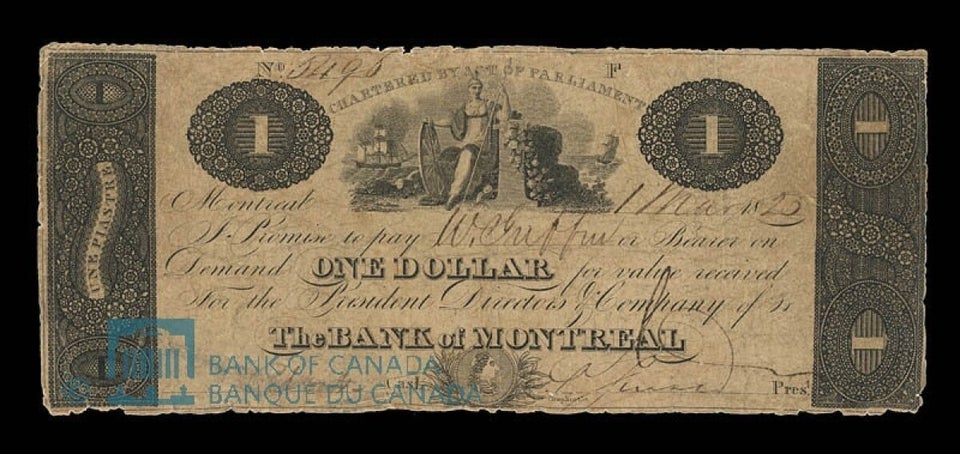 Evolution Of The Canadian One-Dollar Piece