A star witness of the Mike Duffy trial cited a Bible passage to explain a "for you only" comment he made in an email about who paid the embattled senator's bills.
"Yes, my view, I think I mentioned yesterday, my view is it was I was helping out, I was doing a good deed and sort of Matthew 6, right?" said Nigel Wright to an Ottawa courtroom on Thursday. "This is, you should do these things quietly and not let your left hand know what the right hand is doing."
Wright, the prime minister's former chief of staff, made the statement while under questioning from Crown attorney Jason Neubauer. He was specifically asked about one line from a March 2013 email he wrote to another staffer in the Prime Minister's Office.

Screengrab of the March 8, 2013 email from Wright to Woodcock.
"For you only: I am personally covering Duffy's $90K," read the email Wright sent to former senior PMO staffer Chris Woodcock.
Different versions of the Bible print various iterations of the verse Wright cited.
Here's how Matthew 6:3 appears in the New International Version:
Be careful not to practice your righteousness in front of others to be seen by them. If you do, you will have no reward from your Father in heaven.

So when you give to the needy, do not announce it with trumpets, as the hypocrites do in the synagogues and on the streets, to be honored by others. Truly I tell you, they have received their reward in full.

But when you give to the needy, do not let your left hand know what your right hand is doing, so that your giving may be in secret. Then your Father, who sees what is done in secret, will reward you.
Wright testified on Wednesday that the prime minister was not aware of who paid Sen. Mike Duffy's outstanding expenses and legal costs related to an expense scandal.
Duffy has pleaded not guilty to 31 charges that includes bribery, breach of trust, and fraud. Among those charges, 18 are related to expense claims the embattled senator made after travel to attend partisan fundraisers.
Wright is expected to be cross-examined by his lawyer Donald Bayne later in the day.
With files from Althia Raj and The Canadian Press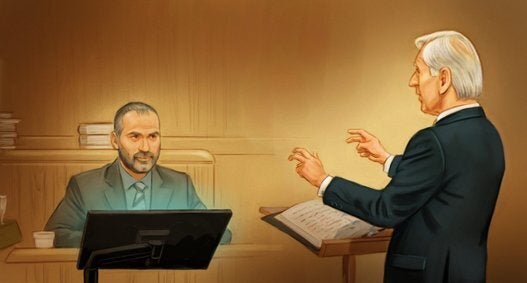 Mike Duffy Trial: Artist's Sketches
Popular in the Community