OTTAWA - Senator Mike Duffy earned high praised from Prime Minister Stephen Harper as one of his "best, hardest-working appointments ever," an Ottawa court room heard Thursday.
Duffy's lawyer Donald Bayne introduced a photo of Harper and Duffy together to try to explain the now disgraced senator's allegedly illegal travel expenses.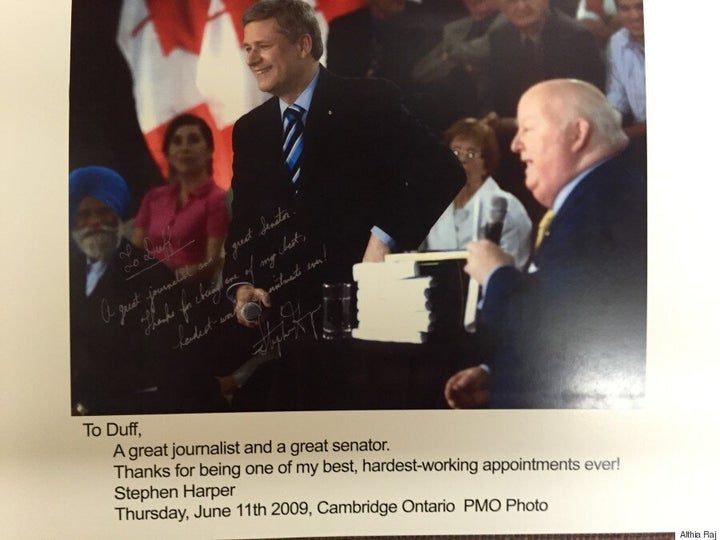 There's a handwritten note from Harper, stating:
A great journalist and a great senator.
Thanks for being one of my best, hardest-working appointments ever!"
It is signed: "Stephen Harper."
The photo was taken on June 11, 2009, in Cambridge, Ont., at a campaign-style event where the prime minister provided an update on the government's plan to help the economy rebound from the recession. It was later revealed that the one-hour event cost more than $100,000.
Bayne was trying to make the point that the former television journalist was on the road a lot, travelling for partisan events and on Senate business.
Duffy is charged with several counts of fraud and breach of trust as well as one bribery count for accepting a $90,000 cheque from Harper's then-chief of staff Nigel Wright. In addition to questionable contracts and living expenses, charges have been laid regarding thirteen inappropriate travel claims.
None of the expenses related to the June 11, 2009, event, however, are under dispute.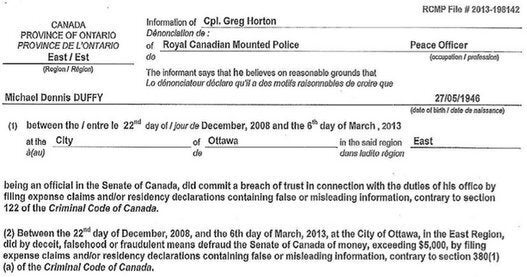 The Charges Against Mike Duffy