After 20 years of helping others battle their addictions, Mike Pond succumbed to his own.
It was 2008, and he had lost everything to alcoholism: his psychotherapy practice in Kelowna, his wife, his three sons, his house, even his driver's licence.
"I was a high-profile individual in my community, so as my drinking progressed I really had to hide it," Pond, now 60, recalls. "I was in my office all day, doing my therapy with families and couples, and by about three or four o'clock all I could think about was getting a drink. And then I would finish, close up the office, and go down the back door and find my bottle that I had stashed. I had this real double life."
In the throes of his disease, Pond hopped on a Greyhound to Vancouver, eventually landing at an unlicensed, unregulated, rat-infested recovery home in White Rock. It was there that he slept on what the home called the Couch of Willingness, a dirty old sofa that smelled of urine and puke, thus beginning his long and painful road to recovery.
"The shame and the stigma that's associated with this is probably the main thing that kept me drunk," Pond, originally from New Brunswick, told The Huffington Post B.C.
Pond, who will be five years sober in August, said he hopes sharing his experience will get people talking about something that's often shrouded in secrecy — as well as highlight issues that face Canadians seeking help under the current system.
Overcrowded, unlicensed homes
He said there are over 200 unlicensed recovery homes in the Lower Mainland like the one he stayed at. These places are often overcrowded and run-down, but are the only option for many addicts who can't afford licensed treatment.
"We had two guys within five weeks hang themselves," he said of one of the homes.
"One of the young guys had hung himself from an old, rusty child's swing in the backyard. He'd strung himself up with a yellow plastic rope and I cut him down. We did CPR for a long time but he was gone. It was horrific. I'm not saying [all unlicensed recovery houses are] like that, but there are so many like that."
Recovery homes in B.C. used to be licensed like seniors' care homes, but the Liberal government rescinded that requirement in 2002, according to The Vancouver Sun. There is a 67-page government guideline for operators of recovery homes.
Last year, the province began registering the facilities, but there are no licensing requirements.
"There are unregistered homes in B.C. that may call themselves supportive recovery, but they are different from registered houses, and would not provide the same level of services," health ministry media relations manager Kristy Anderson told the newspaper. "For example, unregistered supportive recovery homes should not offer the level of medical or counselling support offered at registered houses."
Pond wants to see the federal and provincial governments taking these unregulated homes — and addiction in general — more seriously.
'Families suffer so terribly'
He also wants people to realize that while 12-step-programs like Alcoholics Anonymous work for some, it's not the only way to get better. The psychotherapist emphasizes that involving loved ones is significant in the recovery process.
"Families suffer so terribly," he said. "It breaks my heart to know what my sons had to go through."
Pond knows all too well what that feels like, as both his grandfather and his father were alcoholics. His grandfather died at age 58 while drunk; his alcoholic father, who eventually got sober, died just a week ago.
Pond now has a thriving practice once again, this time in Vancouver; he also found love again. His partner, Maureen Palmer, who he met on Plenty of Fish, co-wrote the book with him.
Now that he is sober himself, Pond wants to change the dialogue surrounding addiction, eradicating the shame that envelops people suffering with alcoholism.
"It's a tough road, but I think we've finally reached a tipping point," Pond says. "In fact, I think we're tipping over."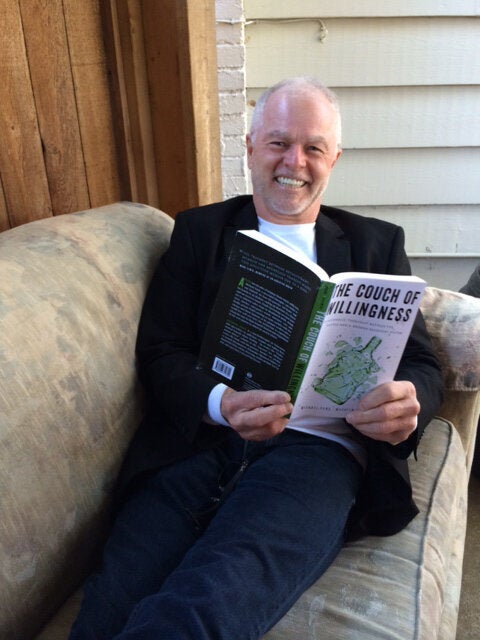 Like this article? Follow our Facebook page

Or follow us on Twitter