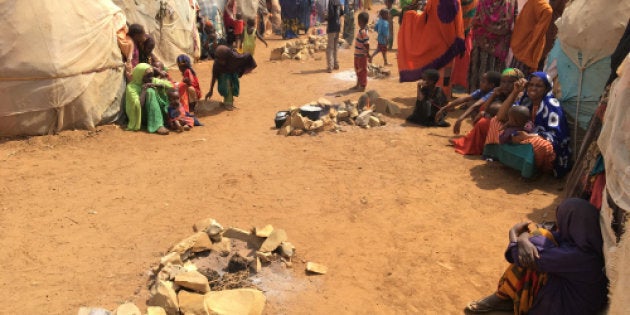 Jamie McIntosh leads World Vision Canada's international humanitarian, development and advocacy work as VP of Programs and Policy. As hunger roars through Africa, he writes about the importance of not letting this be a forgotten crisis. Follow his reflections on Twitter.
On a recent trip to Somalia, I visited Baidoa, called the "City of Death". Contaminated with conflict and facing its third wave of famine in two dozen years, my visit to the capital of Somalia's South West State showed me why it has earned its grim title.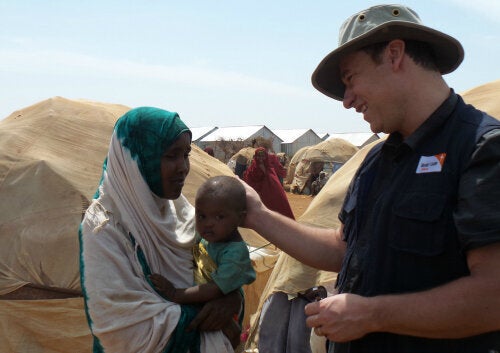 The author with a mother and child in Somalia. (Photo/World Vision)
In Baidoa people are on the move in search of food. The deserts are littered with animal carcasses. Families often flee in the dead of night with the hope of evading militants. They trek across scorching plains riddled with gunmen. This is the daily reality for people who are literally starving to death.
Each morning World Vision teams would meet family members who had made it through the night, drained and sick with their babies and sparse belongings in tow. We'd register their names at the edges of the swelling displacement camp and screen them for critical health needs. We did so with the knowledge that they were the lucky ones. They were the ones who had survived.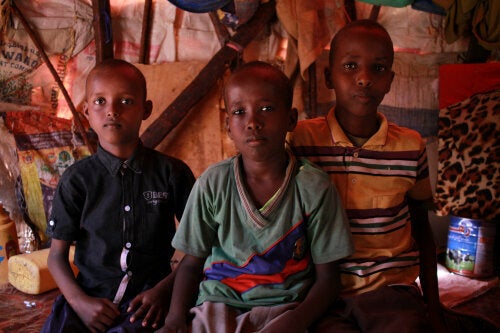 The two children on the left and right moved into an informal IDP camp after their family's animals died of starvation and thirst. (Photo/Max Moser)
Helaule was a father I met who managed to get three of his five children with cholera symptoms to our ward. There, they were slowly revived through critical care treatment on adjacent stretchers. Distress etched the father's face as he shared their ordeal, and spoke of his two other children who didn't make it to the camp, but had succumbed to acute diarrhoea.
Their despondent grandmother hovered over the beds, lovingly caressing the children's faces with tears streaming down as they recovered. Her tears were mingled with my own.
Despite the widespread hunger that is driving people to leave their homes, famine hasn't officially been declared in Somalia. This month the UN reported that outright famine had ebbed in nearby South Sudan, but that millions are still at risk of starvation.
For famine to be declared, widespread death and starvation must be occurring. Hunger, even lots of it, isn't enough. Declaring famine isn't a signal of what's to come. It's a desperate sign of the tragedy that has occurred.
But the world's ears don't perk up at the word "hunger", they perk up at the F-word. When famine is declared people think, "Wow it must be bad." But my trip to Somalia convinced me of just how bad things can get before the official F-word is declared.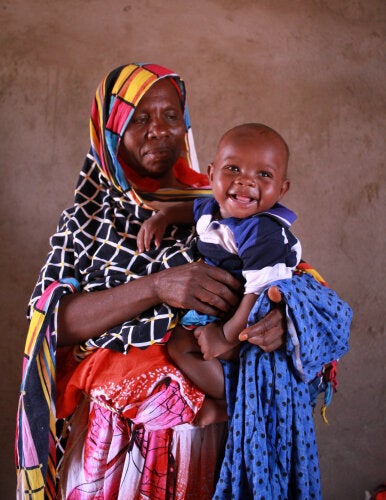 This woman and her child are living in a house built by World Vision during the 2011 famine. Several families are sharing the dwelling, as a hunger crisis once again threatens their lives. (Photo/Max Moser)
Somalia is all too familiar with this: when famine was officially declared in 2011 tens of thousands of people, half of which were children, had already perished. Those lives could not be saved by the millions of dollars that poured in only after the declaration was made.
Famine means that what was an emergency has now tipped into a catastrophe. It's a signal of failure. Somalia is roaring to the edge of that precipice, and anything we do now to slow down or divert its path will have a measurably greater effect than if we wait for catastrophe to set in.
Almost half of the population of Somalia – 6.2 million – stand in dire need of immediate humanitarian assistance. That's equivalent to the entire population of the metropolitan area of Washington, DC.
Across East Africa the debilitating impact of climate change, conflict and recurring terror attacks have people alarmed and on the move, desperate to escape becoming prey to conflict, drought, or both. At this moment, 22 million lives are at risk of starvation in South Sudan, Somalia, Ethiopia and Kenya. Tens of thousands of children are not only malnourished but displaced.
Earlier in June, Canada's Minister of International Development and La Francophonie penned an Op-Ed that urged Canada to act and prevent the starvation of people across Africa and Yemen. She then travelled to South Sudan to personally witness the food crisis. Even as the world struggles to respond to Africa's hunger crisis, Canada has contributed more than $120 million to assist famine-affected countries.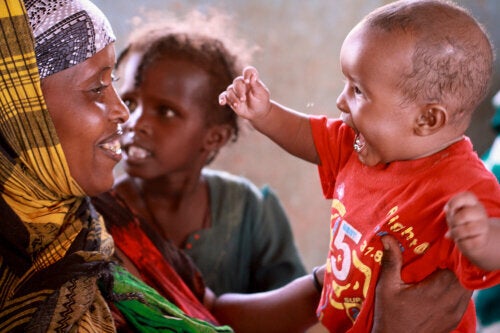 This mom and her child are pictured at a Mobile Emergency Health Clinic where nutrient-rich food was distributed to children suffering from malnutrition. (Photo/Max Moser)
This week marks the last days of Canada's match fund to end famine. The Canadian government has pledged to match every dollar that you donate to help development organizations cope with Africa's hunger crisis. We urge you to join us in this fight.
In Africa, as communities fracture to go in search of food, children are at risk of being separated from their families and exposed to violence. The need for our interventions grows bigger day by day.
Often the funding of international assistance mechanisms grind far slower than the sweeping speed of hunger and conflict. But I believe that this time there is hope.
World Vision and the Canadian government have already long been on the ground providing resources to stave off hunger and malnutrition. Now we just need the world to wake up before famine marks the beginning of the end for more families.
Follow HuffPost Canada Blogs on Facebook