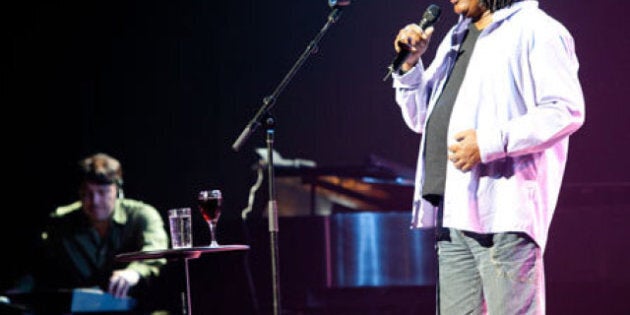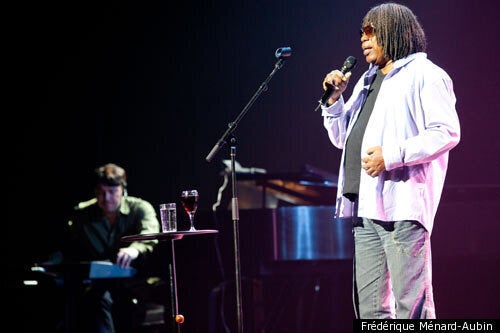 On Saturday night, when the Brazilian singer, songwriter and guitarist Milton Nascimento walked onto the stage of Théâtre Maisonneuve to perform at the 32nd Montreal International Jazz Festival, he didn't have to warm up the crowd.
Outside, some of the nearly 3000 performers who play in the 10-day festival had already taken over the Quartier des Spectacles. Inside, the people wanted Milton.
Nascimento waddled over to the microphone, shifting his weight slowly and deliberately from one foot to the other. Coloured lights enveloped the stage, creating a dark purple mist around him. As he began singing "E a Gente Sonhando" ("And Us Dreaming"), the title track from his latest CD, I wondered what the already dark theater looked like through the sunglasses perched on his wide nose.
Nascimento is so comfortable on stage that you can almost tell he has been performing since the early 1960s. He emits a serenity when he sings that seeps into the audience. After several tunes, he sang "Lilia" from the 1974 album Native Dancer by Wayne Shorter, and I felt like David Foster Wallace watching Roger Federer play tennis -- this was a religious experience.
At times I could hear Antonio Carlos Jobim, the father of bossa nova, coming through the microphone. Other tunes flirted with Latin American and African beats, and at one point Milton turned around and started salsa stepping with his guitar player. Somehow all the styles melted together into the kind of music that puts a smile on your face and makes you feel at peace with yourself.
After the show, I went backstage to talk to the band. I asked Wilson Lopes, the guitarist, what it's like to play with one of Brazil's greatest singers.
"I love Milton," he told me. "In 1994, when I came for the first time, I had already played with Milton around the world. But Montreal is my favorite festival. The energy, the good vibrations, the quality of artists."

"When Milton plays, he creates a trance [in the audience]. He makes it happen. He is the bruxo," Lopes added.
"Bruxo?" I asked, wishing I spoke Portuguese.
"Clown? No. Big hat?" said Lopes, searching for the right word with his hands. "He is the Harry Potter..."
"Yes. Milton is the wizard," Lopes said without even a hint of humour. He took my hand and led me through the crowd that had gathered backstage into Milton's dressing room. Milton was sitting in a chair, seemingly oblivious to the number of fans trying to catch a glimpse of him.
"This city is fantastic," Milton told me. "Full of people on the streets. The other times I've come here, I love watching the other concerts. There is a band playing in every corner. The last time I was here, I found Celia Cruz singing in one of those corners."
I looked through my bag for a pen to write down what he was saying, but found nothing. I was a writer without a pen. Realizing my embarrassment, Milton handed me his as he continued speaking.
"Today I saw something like a circus here," he said, referring to the gymnasts and stilt walkers entertaining the crowds outside between performances. "That, mixed with music -- only here. That's what makes it special."
"Would you come back?" I asked him.
"Of course. Just call me."
Later that night, walking through the Place des Arts, I took out my notebook to jot something down. I reached into my bag and pulled out Milton's pen. I froze on the sidewalk, realizing that I never gave it back. Should I return it? What would I say? I would sound like a desperate woman who leaves something in her lover's apartment just for an excuse to return. "I stole your pen," I could say. "We should have lunch sometime."
Then I looked at it. Between the gold ends was shiny blue enamel decorated with sparkling gold stars and crescent moons. He really was a wizard.
Popular in the Community