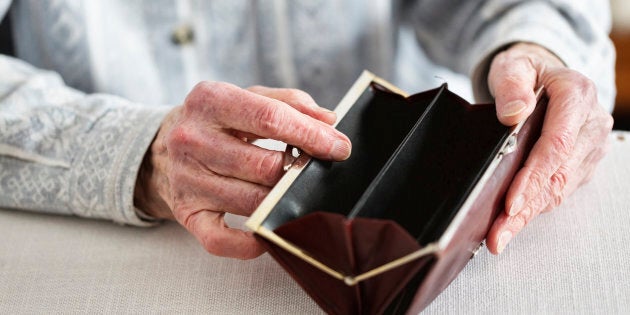 Ontario's proposed increase of the minimum wage to $15 an hour is "long overdue" because half the province's households have seen their wages shrink since the start of the century, a new report says.
The report from the Canadian Centre for Policy Alternatives (CCPA) found that inflation-adjusted earnings fell for the bottom five deciles of Ontario households, or the bottom 50 per cent, between 2000 and 2015.
At the same time, those in the top 50 per cent saw their real earnings increase, meaning Ontario has seen income inequality widen since the start of the century.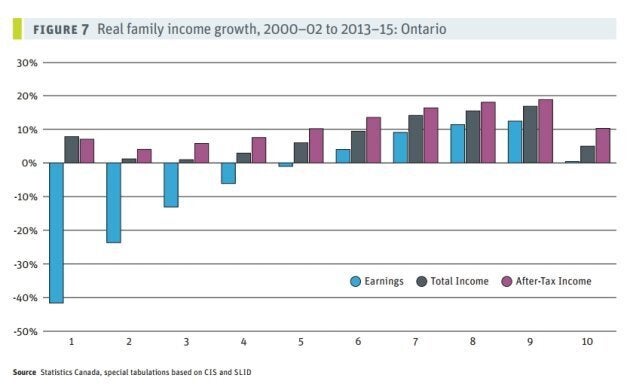 Those in the bottom 10 per cent of earnings saw their inflation-adjusted earnings fall by 42 per cent, though this group gets most of its income from government transfers. Those in the next-lowest group saw their real earnings drop by 24 per cent.
The province's situation is "dramatically worse" than the Canadian picture overall, the report states. For Canada as a whole, families in all income deciles saw their incomes rise since the start of the century, the study found.
"The pain of Ontario's earnings stagnation has not been shared equally across all income groups," study author Sheila Block wrote.
Block blamed the trend on the decline of manufacturing jobs, which hit Ontario particularly hard, as well as "the rise of precarious work" — contract jobs and "gig economy" jobs such as driving an Uber.
"The experience since the turn of the century clearly indicates that Ontario needs a raise," Block wrote.
She described the government's proposed minimum wage hike as "long overdue."
More about Ontario's minimum wage:
Ontario's governing Liberals introduced a package of labour reforms in May that includes increasing the province's minimum wage to $14 an hour on Jan. 1, 2018, from $11.40 currently, and then to $15 an hour in 2019.
The labour reforms also include a new rule that part-time workers must be paid at the same rate as full-time workers for the same work. They also expand vacation entitlements, to a minimum of three weeks of vacation after five years of service.
"Change in the workplace isn't just on the horizon, it's here," Premier Kathleen Wynne said at the time. "People are working longer, jobs are less secure, benefits are harder to come by and protections are fewer and fewer. In a time of change like this, when the very nature of work is being transformed, we need to make certain that our workers are treated fairly."
Its share of workers who earn minimum wage grew five-fold between 1997 and 2015, according to an earlier CCPA study, going from one in 40 employees earning minimum wage, to around one in eight.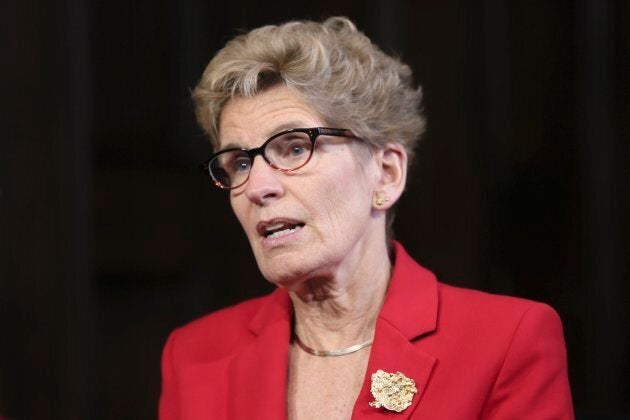 But the proposal to raise the minimum wage has garnered a lot of opposition from businesses groups, many of whom argue businesses will be forced to lay workers off if their payroll costs rise.
"The changes presented in [the labour reform bill] will have dramatic unintended consequences that include putting close to 200,000 jobs at risk and seeing everyday consumer goods and services increase by thousands of dollars for each and every family in Ontario," said Karl Baldauf, a spokesperson for Keep Ontario Working.
He describe the provincial government's reforms as "too much, too soon."
Popular in the Community