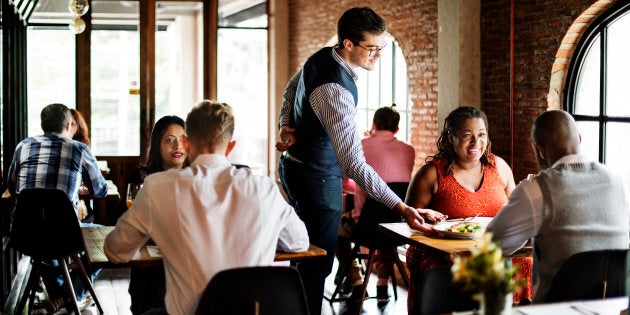 It may come as little surprise, but Ontario's consumers are shouldering at least some of the burden of the province's minimum wage hike.
The cost of eating at a restaurant in Ontario spiked the most in decades in January, a clear sign that business owners are passing on their higher labour costs to customers.
The price index for restaurant food in the province jumped by 1.9 per cent in January, the most since 1991 and nearly double the rate of any other province, according to data in Statistics Canada's consumer price index.
Watch: 3 easy tweaks to curb your spending for a big return
"If you were to think that was the result of Ontario's minimum wage, you'd be correct," Bank of Montreal senior economist Robert Kavcic wrote in a client note.
He described it as "an entirely predictable response" to the wage hike, which saw the province's minimum wage jump from $11.60 to $14 an hour at the start of the year.
For liquor servers, the minimum wage increased from $10.10 to $12.20 per hour. The province is on track to hike the minimum wage to $15 per hour, and to $13.05 per hour for liquor servers, as of Jan. 1 of next year.
The cost of child care and housekeeping services — two areas where employees tend to earn minimum wage — also accelerated, with prices rising by 5.9 per cent in the space of a month, compared to zero per cent in all other provinces.
"The impact of minimum wage legislation in Ontario was hard to ascertain in the January employment report, but easier to see in the price data," TD Bank senior economist James Marple wrote.
Ontario experienced a sharp drop of 51,000 jobs in January, sparking speculation that the minimum wage hike was prompting businesses to shed staff. But an analysis from Scotiabank concluded there is "little evidence" that the wage hike caused those job losses.
In essence, the job losses were in the wrong place to have been caused by the wage hike, Scotiabank argued. Some low-paying fields saw hiring improve in the month, while job losses were concentrated in higher-paying areas.
Inflation cooling ... or not
Even as restaurant prices jumped in Ontario, Canada's overall inflation rate cooled to 1.7 per cent on a year-over-year basis in January, down from 1.9 per cent in December, Statistics Canada said.
But analysts say that beneath the headline number, there is evidence of growing inflationary pressure — and that means the Bank of Canada is likely to continue hiking interest rates.
"The Bank ... may look through the one-time impact of higher minimum wages, but it cannot ignore the broader evidence of price pressures that are becoming apparent," Marple wrote.
Here are Canada's inflation rates by city (previous month in brackets):
St. John's, N.L.: 1.0 per cent (1.5)
Charlottetown-Summerside: 1.7 (2.0)
Halifax: 1.3 (1.5)
Saint John, N.B.: 1.8 (3.0)
Quebec: 1.1 (1.6)
Montreal: 1.6 (1.9)
Ottawa: 1.9 (1.6)
Toronto: 2.4 (1.9)
Thunder Bay, Ont.: 1.2 (1.0)
Winnipeg: 1.9 (2.7)
Regina: 2.6 (3.6)
Saskatoon: 2.6 (3.6)
Edmonton: 1.5 (2.2)
Calgary: 1.4 (2.0)
Vancouver: 2.7 (2.5)
Victoria: 1.5 (1.3)
With a file from The Canadian Press