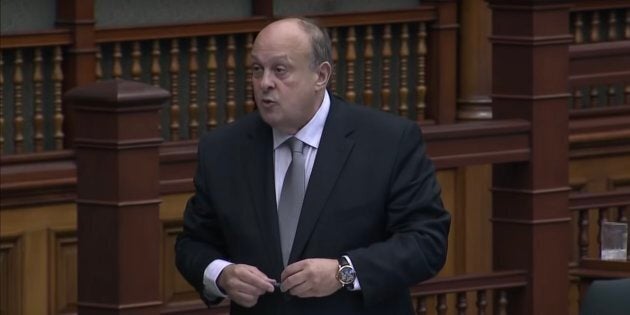 An Ontario cabinet minister toted his take on a favourite phrase of gun-rights activists during question period at the legislature on Thursday.
"It's not guns that kill people," Minister of Community Safety and Correctional Services Michael Tibollo said. "It's the people who have guns illegally that kill people."
Gun rights organizations often say, "Guns don't kill people. People kill people," putting the onus on criminals and people with mental health issues, and diverting attention away from gun control laws.
It's not guns that kill people. It's the people who have guns illegally that kill people.Minister Michael Tibollo
Tibollo was responding to Scarborough-Guildwood MPP Mitzie Hunter, who asked the government if it would support Toronto's call to ban the sale of handguns within city limits.
The Minister added that his government has invested $25 million to help police and courts fight gang violence. The province made the announcement after a string of high-profile shootings in Toronto, including the Danforth shooting that killed 10-year-old Julianna Kozis and 18-year-old Reese Fallon, and the Scarborough playground shooting that sent 5 and 9-year-old sisters to hospital.
It's impossible to know what proportion of guns used in homicides in Canada are possessed illegally. That type of data isn't collected nationally, a spokeswoman for the RCMP told HuffPost Canada by email.
Gun-related murders are on the rise, however. In 2016, the last year statistics are available for, 223 Canadians were killed with firearms, 44 more than the year before. It was the third year in a row to see an increase.
The vast majority of gun-related deaths in Canada are suicides. Of the 13,168 Canadians killed by guns between 2000 and 2016, 75 per cent shot themselves intentionally. There are also accidents — about a dozen people die in Canada every year after being shot by accident.
Hunter said she was shocked by Tibollo's answer to her question.
"I feel like this minister and the Ford government is not listening," the Liberal MPP told HuffPost Canada in an interview.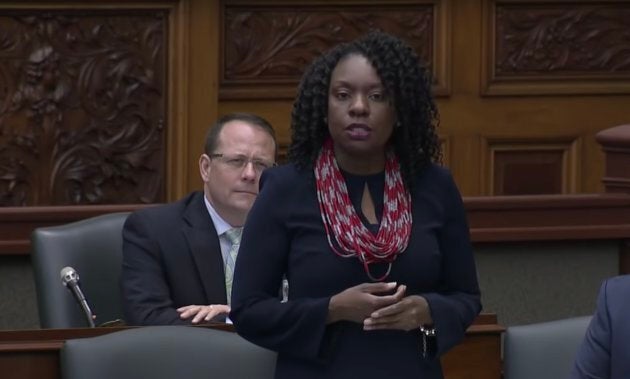 The day before, 18-year-old Elliott Reid-Doyle was killed in a shooting in Hunter's borough. Reid-Doyle was the 83rd Torontonian to be killed in a homicide this year. A funeral for another teenager shot dead in Toronto, 15-year-old Mackai Bishop Jackson, was also held Wednesday.
The government's investment in police and crown attorneys is too little, too late, Hunter said.
"That's after the fact. We need to stop this issue at its source and at its roots."
She asked Tibollo if he'd support a bill she brought forward, which would let Toronto and other municipalities ban the sale of handgun ammunition within their boundaries. He didn't answer her question, but called gun violence a "menace" to Ontarians and said the Progressive Conservatives are the only MPPs committed to taking it on.
Tibollo looks at gun violence with too narrow a lens, Hunter said.
"Gun violence is not just about gangs. Gun violence is a public health issue. It's used in domestic violence, it's used for suicides, things like that. The government and the minister can look at this much more broadly."
With files from the Canadian Press