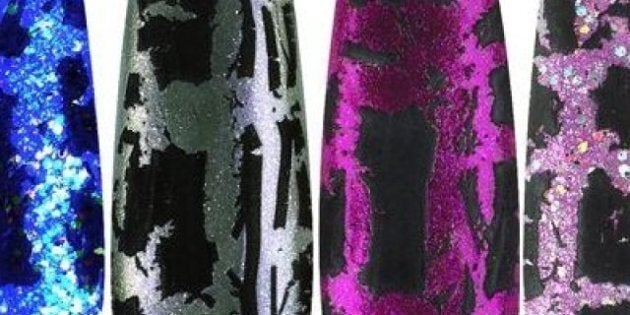 By definition, trends are fleeting. They're ephemeral. And each day we see our fair share of looks we'd like to remove from our sartorial lexicon. So join us, each week, as we analyze a trend that's had its 15 minutes of fame. These looks are well into their Minute 16, folks. It's time to usher them toward stage left.
The Trend: "Shattering" or "cracking" is a nail polish trend that cropped up in 2012 -- basically, you apply a top coat to a base coat of coloured nail polish; the top coat then "cracks" exposing the colour underneath. Essentially, you are creating cracks on your nail bed, which raises only one question: why?
Chief Offenders: Celebrities like Lucy Hale, Katy Perry and Fergie have all donned this look. But celebrities aren't the only ones: nail polish brands like China Glaze, Maybelline, Sally Hansen and Color Club all released their own lines of cracked polishes.
What's Wrong With It: Sure, nails have become accessory and conversation pieces, but do you really want people to be confused about whether your manicure's a #win or a #fail? This nail effect leaves nail tips looking faded from a distance or bad and blotchy up close. And some "cracked" colours are ridiculous. Yellow and bright pink, for example, are bright enough they don't need to be paired together. Most trends fade and it's fair to say the crack, shatter, shred -- or whatever other kitchen term you want to associate with it -- has come to an end.
May We Suggest: Just because we don't like to shatter, doesn't mean we don't like to experiment. If you're looking to create statement nails this spring, we recommend trying the magnetic nail or playing up gradient colours. This season is all about accessorizing as well -- the nail bed that is. Gems, stones, sparkle and glitter can easily be transformed into nail art with a few brushes of top coat nail polish.
Is it time for the crack trend to shatter into a million pieces? Let us know in the comments below or on Twitter @HuffPostCaStyle. Check out five nail trends to try this season instead.