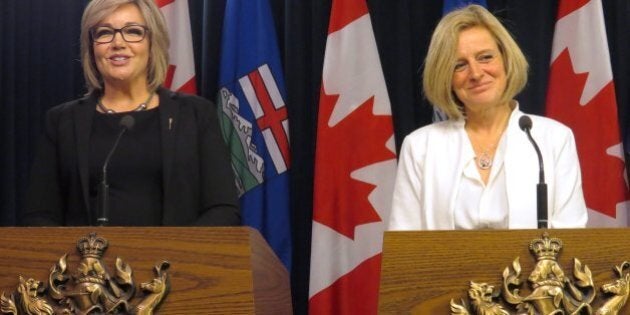 The progress of women in politics -- something this country very much needs -- has been painfully slow and this month it took another step backward.
One-time Alberta Progressive Conservative leadership candidate Sandra Jansen crossed the floor of the provincial legislature to join the governing NDP, and gave a stunning first speech as a newly appointed NDP member. Her speech was stunning for the honesty revealed about the ugly abuse hurled at her after she announced her intention to cross the floor.
Jansen relayed that she was called a "traitorous bitch" and "dead meat" on social media, and she was told "she should stay in the kitchen, where she belongs." The relaying of misogynistic abuse went on and on, sometimes dragging Premier Rachel Notley into the fray with degrading and demeaning comments such as, "Now you have two blond bimbos in a party that is clueless" and "Another useless tit goes NDP."
It was ugly, hateful and abusive incident that reminds of the pain and violence that words can have. The incident, however, is a stain on the state of political discourse and women's equality in this country.
Around the globe, women in politics are subjected to a level of abuse rarely experienced by their male counterparts.
Jansen is certainly not the first woman or the first woman politician to face such abusive and threatening language, and that just makes it all the more terrible. Other women in politics have endured similar abuse and too often many suffer it in silence. Despite the gains made by women in electoral politics, I am shocked by the utter misogyny that has also grown public courage, like:
After she was elbowed by Prime Minister Justin Trudeau in the House of Commons and complained about it, NDP MP Ruth Ellen Brosseau was told to "stop acting like a crybaby or get the fuck out of Ottawa" and threatened with "the biggest bitch slap of your life."
At a golf tournament for oil executives last June, a photo of Notley in the crosshairs of a rifle was set up as a target for participants to hit with their golf balls. A video later came out showing two of those executives running over the Notley target in their golf cart.
Two weeks earlier, a Wildrose MLA got a slap on the wrist from his party after posting on Facebook that he was "Proud of having constituents like you!" when a voter posted a message containing the line: "the truth about Mr. Wynne or whatever the hell she identifies as needs to be put out there for everyone to see..." after Ontario Premier Kathleen Wynne addressed the Alberta legislature.
It goes on and on. Around the globe, women in politics are subjected to a level of abuse rarely experienced by their male counterparts. Conservative MP Gord Brown, for instance, grabbed by Trudeau in the same incident as Brosseau, was comparatively ignored on social media, unlike his female colleague.
Herein lies the problem. When women are missing from politics, their lived experiences are missing -- naming the issues and coming up with solutions, identifying barriers and revealing the breadth of experience with violence.
With more women in politics, we could hope that such vital issues would not be allowed to be ignored for so long in the future.
There are those working hard to level the playing field for women. Equal Voice, for instance, does great work to promote the role and place of women in politics, and today it will announce the last of the 338 young women chosen from every federal riding in Canada to help promote women in politics.
On March 8, International Women's Day, those women will come together in Ottawa to represent their communities and express their vision for Canada -- a new vision that puts women and women's voice in the electoral process. Equal Voice's Nancy Peckford, who spoke at Unifor's Canadian Council last year, will explain more about this important political project at Unifor's Ontario Regional Council this weekend.
Young, diverse, racialized, indigenous, trans and queer women -- these are voices that must be heard, but to ensure representation and safe space much more is needed.
Men, in particular, have a vital role to play. Men need to make it clear to other men that such abuse, such sexism is not acceptable, it certainly is not funny and we will not tolerate it. Any man who witnesses such actions needs to call it out and help put an end to it. If we want change in this country it must start today, bystanders can no longer be silent.
We simply can't afford to allow half of the best and brightest of our population feel like they are not welcome in politics.
This is one of the reasons why I am so proud to sit on the board of the Halton Women's Place, which runs two shelters where women can escape and be provided sanctuary from a violent household. I also work hard for good jobs for all and ensure women are supported to get their share, working with companies such as Coca-Cola, Irving, the Detroit Three automakers and others to create more opportunities. It is also why I work hard against the politics of division of any kind, and support the inclusion of women of all stripes in politics.
It can't stop there. Beyond making it clear that bullying women online and threatening violence is unacceptable, which is the bare minimum men can do, men also need to support efforts that help women play a more active role in all of society -- including their own places of work and in civil society.
Measures such as accessible child care and programs to help women battle domestic violence (including the current call for paid days off work to escape abuse) help to keep women active in society and able to take their rightful place in politics.
Currently, only 26 per cent of MPs are women. This means two things. First, we need to do better as a society to support women in politics. Second, the other 74 per cent of MPs who are men need to step up and support polices to help bring more women into politics.
Canada and the world face many challenges. We simply can't afford to allow half of the best and brightest of our population feel like they are not welcome in politics. Our country needs them.
Follow HuffPost Canada Blogs on Facebook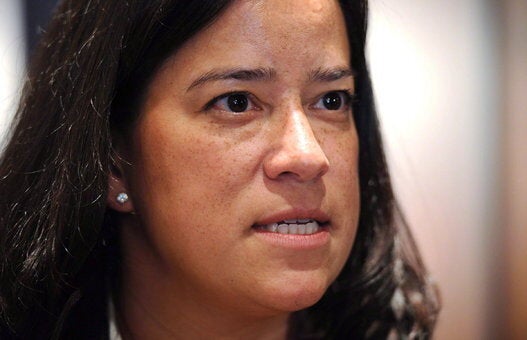 Liberal Women Appointed To Cabinet