After winning Miss Jamaica in August, Myrie told BET her hairstyle expresses her culture.
"I lock my hair because I identify with it," Myrie says. "I am very much rooted in that Afro-centric nature, where we as Jamaicans are rooted. It's my expression. The only thing to eclipse the natural beauty of Jamaica is the spirit of its people... one of strong resilience, creativity, and ingenuity."
And it gets better — Myrie had received third place in the performance portion of Miss World, Miss World Talent. Her performance was a dance centered around the theme of breaking free from slavery.
In a statement on Miss World's website, Myrie states that her dance was titled "Exodus" and was about Caribbean citizens.
"It [Exodus] tells the story of us going from slavery to freedom and breaking the shackles of physical or mental entrapment," Myrie explains.
If you're not convinced Myrie is a flawless human being, the Kingston native works as a doctor and spends her free-time volunteering as a counselor.
"I'm a medical doctor and dancer because I believe medicine and arts are the two greatest forms of healing," Myrie says in a Miss World profile. "Medicine heals the mind and body, and dance heals the soul."
After her loss, Miss Jamaica took to Instagram, wearing black heels and a beaming smile.
"While I may not have won the the title my heart is still smiling. My aim was to inspire young women from all around to the world to become the greatest versions of themselves ....That's the best victory I could have gotten. Congratulations to Miss World 2015,may you continue to inspire many ! #Homebound #MissWorld2015 #SanyaChina," Myrie wrote.
This isn't the first time Miss Jamaica's hair was in the media spotlight. In 2007, Miss Universe Jamaica and crowd favourite, Zahra Redwood sported the 'do and made history for being the first Rastafarian to compete for the title.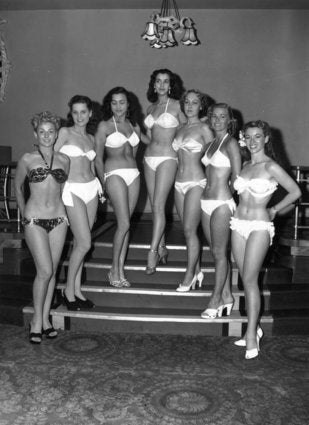 Miss World over the years