I know a lot of people feel that pageants like Miss Universe and Miss World have no place in modern society. I see it differently and if you'll indulge me for a moment, I'll share my reasons.
First, let me state up front that I have had an opportunity to judge a pageant and, as a young lady, I was a finalist in Miss Jamaica of Montreal. It was a rewarding experience. I learned more about my culture, got practice in networking (a skill that I still use in business today), and developed more confidence at a time when I really needed it. (There was no swimsuit competition or I would not have entered.)
You see it wasn't easy growing up in a neighbourhood with few people of my race or cultural heritage. As children, no one paid attention to race. Children of all ethnic backgrounds played happily on the streets of Montreal. However, as soon as the pre-teen years began and throughout high school, the inevitable issues of rejection emerged. It can be devastating and really shake your confidence for years.
In case anyone thinks that this is a fluff issue, if young people do not find inclusion through positive channels, they will find validation in other ways. It could be in the arms of the first person who pays attention to them, resulting in early pregnancy. On a very serious note, a sense of disenfranchisement can make young people vulnerable to involvement in crime, gangs and, as we have seen from recent headlines, even home-grown terrorism. This may sound heavy but it's true. Young people who do not feel good about themselves and who feel hopeless about their future can make some very bad decisions in the quest for acceptance.
For me, a loving family, involvement in the church, volunteer work, getting first prize in a teen modelling course, and participating in a pageant helped repair some of the damage to my self-esteem. Fast forward to today, pageants also have the benefit of providing:
scholarships for young ladies
the opportunity to give back to the community through charities
opportunities to hone public speaking skills
a chance to showcase talent
With respect to the swimsuit competition, at one time, the swimwear was more modest. Last night the swimsuits were modest compared to other years. I am also glad that the preliminary lingerie photo shoot has been eliminated. I would like to see the return of this modesty or the elimination of the swimsuit competition altogether as Miss World has decided. A talent portion is of much more value.
Above all, it is important for pageants to be wholesome. Skimpy and revealing attire devalues the whole experience and they are best left in the realm of Vegas showgirls.
While I believe that pageants have many benefits, last night's Miss Universe pageant again underscored some disturbing concerns.
For some time now, I have been concerned about this trend towards longer and longer hair as a pre-requisite for winning. Often, the hair is a weave, even for some of the White contestants. (This tend is also evident on prime time TV, in commercials and, of course, music video.)
I was proud to see Kaci Fennell of Jamaica make it to the top 5. The crowd booed and Twitter erupted in protest after the announcement that she was in 5th place. Right after the winner was crowned, half of the contestants showed their support for Kaci (Miss Jamaica Universe) by surrounding her and lifting her up. I have never seen a reaction like that in ANY pageant. It speaks volumes The consensus is that she was robbed and I agree.
Kaci represented Jamaica with grace and elegance but that is not the main reason I applaud her. I really give her props for raising the issue of hair in her opening video. There is no doubt in my mind that if she had given into the pressure all contestants face and worn a weave, she would have been crowned Miss Universe or 1st runner up.
This will come up in the comments so I realize I need to address it up front. Kaci Fennell, is clearly of mixed racial heritage. Jamaica is a diverse nation and our motto is "Out of Many One People". The diversity in her family is present in many Jamaican families in which one sibling may be darker complexioned than another.
Of course, the trend has been for darker complexioned contestants who reflect the majority of women in the Jamaica to have a hard time being crowned as Miss Jamaica. Clearly, this imbalance needs to be addressed and corrected. (Jamaica is not the only country that has had issues in this area.) However, issues of systemic bias and imbalance should never be taken out on the individual winners. It is perfectly appropriate for Jamaicans of all races and colours to represent the country in sports, pageants and other international events.
An issue of even greater concern is that, last night, not one African or Caribbean contestant who was not clearly of mixed heritage made it to the top 15, not one. This is 2015 not 1955. What message did last night's Miss Universe pageant send to young ladies or young men for that matter? If you're not White or near White and you don't have long hair you're not attractive or desirable?
The judges really need to park their own biases at the door. If they can't then care needs to be made to select judges who don't have racial biases and a rigid idea of what beauty looks like. It is disturbing that, in 2015, these leaders in the fashion and entertainment industry who have a major impact on what we see on runways, in magazines, and our screens, cannot move beyond stereotypes of beauty. As Kaci Fennell so eloquently put it "....as you can see I don't have long trestles like everybody else....there is no standard look to anybody....you don't have to look a certain way....I feel like I represent that". It's time that pageant organizers and judges realized that pageants need to reflect this diversity.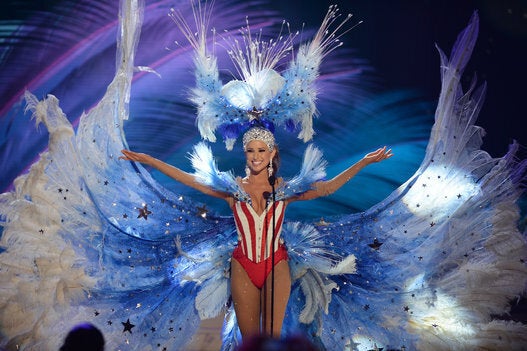 Miss Universe National Costumes