Following the backlash Miss Universe Canada, Paola Nunez, received for her "totem goddess" costume for the pageant's "National Costume" round, the organization released a statement via Instagram, defending her attire.
The costume, which was created by Dominican designer, Keyther Estévez, came under fire for being "culturally insensitive," with its eagle headdress and rhinestone-embellished oversized totem pole loin cloth. Both are sacred symbols to First Nations peoples.
However, the Miss Universe Canada organization dubs the controversy a "tremendous MISUNDERSTANDING," claiming the Nunez did not misrepresent Indigenous culture, but was "embracing her ethnic heritage of being a Dominican-born Canadian."
"If the post was read correctly, then the reader would be able to decipher that the statement that was made, 'Miss Canada embracing her native culture', was that Paola Nunez was embracing her ethnic heritage of being a Dominican-born Canadian," reads the statement on Instagram.
"Yes, there are many different totem poles, NOT just First Nations totem poles. Apologizes (sic) to anybody who may have been offended."
But the organizations explanation clashes with the designer's — as Native American Fashion blog, Beyond Buckskin notes, Keyther Estévez was trying to honour Canada's Aboriginal population through the garment. Estévez did not mention Dominican inspiration in the explanation he posted on Instagram, but rather included an extensive write-up on the significance of totem poles in Native American culture.
"From reading the designer's meaning behind the costume, it is clear that he genuinely tried to do research...and he found significance in the totem pole," writes Beyond Buckskin. "He writes, 'honouring these tribes which we pay tribute to the inidgenous peoples of these Nations."
Ashley Callingbull-Burnham, the Enoch Cree woman who was crowned Mrs. Universe in 2015, also weighed in on the ordeal, commenting on Beyond Buckskin's Facebook post.
She explains, "The thing that people don't understand is that all the contestants in Miss Universe go above and beyond with their "National Costumes" as they call it...These girls know their culture and some still over sexualize the outfits because of TWO things.... RATINGS and VOTES. The more extreme the better it is."
However, she does think there should be a "cultural advisor" on hand to avoid the creation of offensive outfits and says she hopes "enough letters, calls and education on the matter will change the directors mind in what he gets designed in the future."
"I know people are angry but we need to educate with kindness because showing anger makes these people ignore us and they'll keep doing it more and more," she concludes.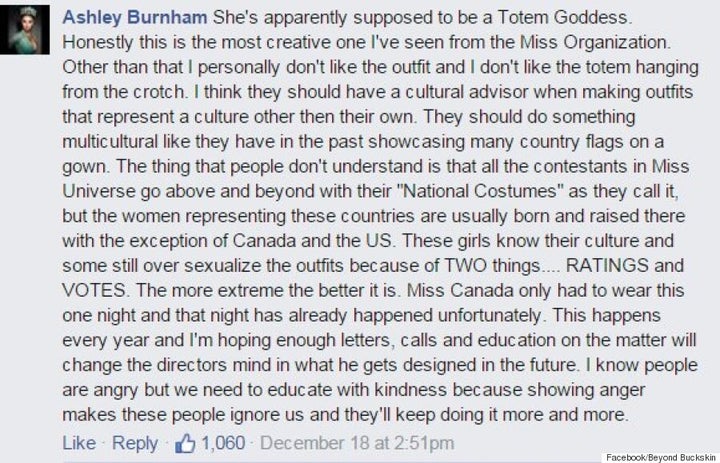 So far, Nunez has yet to say anything on the controversy.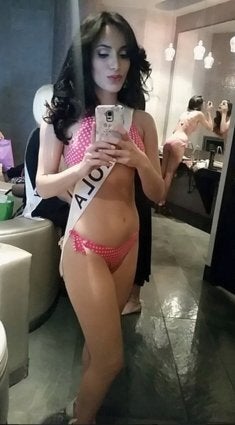 Miss Universe 2015 Paola Nunez Valdez
Popular in the Community