Demand for gold and brass accents has thrust mixed-metal palettes into the spotlight. The timeless combination of silver and gold, and even a little sprinkling of copper, can form the basis of a whole design or just one piece of a larger puzzle. Whether you love Art Deco glamour or just a little contemporary sparkle, follow these tips to get a gold-medal look in any room of the home.
When mixing metals, as with mixing colors in a color palette, it's best to choose a dominant tone and a secondary tone to give the room a sense of visual structure. In this example, various items carry steely tones (the chest, chair legs, curtain rods, lamp), while only a few thin pieces are in gold.
There's no one mathematical formula for how much of each metal to use, but 70 per cent and 30 per cent is a good starting point for making sure one tone is dominant and the other is present enough to not feel misplaced.
In a large room with many elements, using accessories to carry metal finishes to multiple points makes them feel integrated throughout and keeps the eye moving.
When working with metal tones, don't forget that fabrics in metallic finishes and hues can add a lot of variety and help spread your palette throughout the space.
Using just one large object to anchor your dominant tone and then smaller accents to bring it elsewhere is generally a safe bet, especially since you can always change the pillow cases later or for different seasons.
While any favourite metal can be the dominant tone, I often recommend using more gold and less silver. Silver tones tend to be brighter and sparklier than gold ones, so this formula lets the few hits of silver shine without swallowing up the gold.
In this space, the chair legs (likely steel or aluminum) and silver-flecked mirror hold their own while letting the collection of golden sunbursts be the star.
It's possible to coordinate more than two metal tones in one room, but you should first consider the size of the room. In a wide open space, using small dashes of silver, gold and copper adds life and personality without feeling cluttered.
In a smaller room (less than 500 square feet), play it safe and pick only two metal tones to avoid looking like an overstuffed antiques shop.
Sometimes the best way to make finishes coordinate elegantly is to make none of them truly match at all.
In this dreamy bedroom, the stool, nightstand and accessories show different metal finishes in varying shades from cool crisp silver to pewter to pale gold, with cooler tones dominating.
Besides being mismatched tones, the objects are varying finishes (super-polished, brushed, aged), so every piece becomes a special part of an eclectic story.
However, notice how the rest of the room is dressed in soft gray and white neutrals, so the contrast of metal tones is the focus and the space still feels calm.
Divide and Conquer In the Kitchen
In a kitchen, the easiest way to mix metals cohesively is to divide them by category — separating the metal items into functional versus decorative categories and assigning one finish to each.
For those concerned about resale value, sticking to classic cool finishes on the more fixed elements and saving warm metals (like copper, gold, brass or bronze) for a few changeable accents like lights makes it easier to reset the space in 10 to 20 years for broad appeal and updated trends.
Pendant lights aren't the only way to add a little golden glow to your space, however. In this personality-filled kitchen (which happens to be in my home), the appliances are actually the only pieces in stainless steel, while all the other metals are brass or warm bronze.
Stainless steel appliances are almost a wild card of kitchen design. They have a classic appeal that allows them to match with anything, so you don't have to fear pairing them with other metals in any proportion.
Divide and Conquer in the Bathroom
A divide-and-conquer strategy also works well in the bathroom. Choose one finish for your faucets and shower fixtures (which are best perfectly matched from one manufacturer if possible), and then dress the other accents like handles, lights and mirrors in a second finish.
It's best to play it safe here and match your accents closely to achieve a clean, orderly look, as this designer did with the similar aged-gold finishes. The contrast between the polished silver tones and more matte gold is beautiful.
In smaller bathrooms (especially powder rooms), keeping everything neutral will avoid an overwhelming look. Here, a silvery wallpaper and gray-veined marble form a cohesive palette with the steely lights and faucet, so the showstopping gold mirror becomes the singular contrasting element. A saturated color on the walls probably would fight for attention. Instead, a single pop of green from a leafy plant is just the only other accent.
In a space where metals won't be the focus (such as a bathroom with dramatic tile), try two finishes that are similar.
This makes the contrast more subtle, so the eye can appreciate the other elements first and then let the sophisticated palette unfold.
This can be tricky to pull off, so if you don't feel confident, stick to just one metal for a classic look and save the decor alchemy for a larger room.
For those of you who crave color in your palette, consider blue as an accent to mixed metals. Blue is the closest to neutral colors, and it pairs beautifully with gold, silver or copper. If you're looking to add a little more spice, a cool blue is the perfect place to start.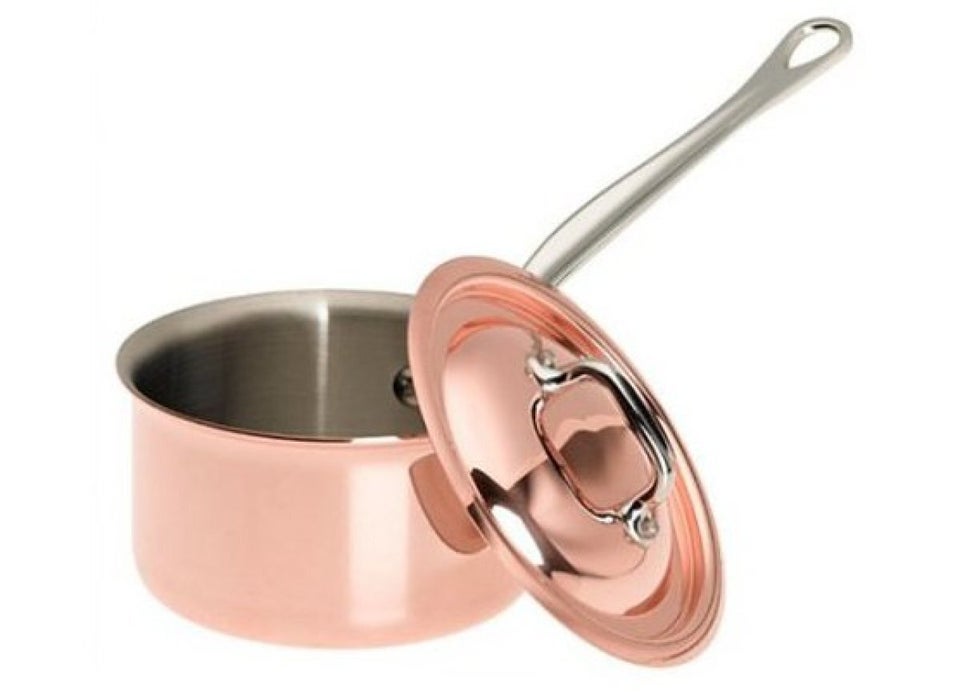 The Right Metal For Your Cookware
Popular in the Community