It's the awards show dubbed the "biggest block party" of the summer, and the stars clearly incorporated that philosophy into their red carpet style at Sunday's 2016 iHeartRadio MMVAs.
With sartorial choices ranging from the cotton message tee — July Talk's Leah Fay opted for an "Unfu Ck The World" top while Mississauga, Ont. rapper John River picked a black-and-white "Stop Blaming Muslims" longsleeve — to bright and bold looks with plenty of sequins — Lilly "Superwoman" Singh's teal and orange Hayley Elsaesser ticket dress stood out above the rest — the celebrities were certainly making some daring fashion picks.
But iHeartRadio MMVA co-host Gigi Hadid took her Canadian emcee duties literally, and sported a patriotic red pantsuit for the event, complete with a long fishtail braid. Hadid hit the MMVAs for her second year in a row, having attended in 2015 as a presenter. However, with a bigger title and more responsibility, she knew how to up her style game for the big show.
Of course, other stars brought it too.
Model and fashion designer Amber Rose told E! host Chloe Wilde she picked her Herve Leger MMVAs jumpsuit "because it's tight" while Pickering, Ont. native Shawn Mendes kept it cool and crisp in a white oxford shirt.
Tegan and Sara also got the black and white memo, opting for a graphic top and an oversized black blazer.
MMVA favourites Marianas Trench took the summer note to heart, too. The band made their marquee entrance in a golf cart before insisting they're going to keep "trying to play through" the rest of their urban golf course.
"What can we say, we clean up great?" joked the band's frontman Josh Ramsay, who, like the rest of his bandmates, was dressed in over-the-top golf gear.
Ultimately, the stars chose to beat the heat and express their sartorial individuality by steering clear of any red carpet style theme.
The MMVAs presented a choose-your-own chic fashion adventure for all attendees that was equal parts ostentatious, loud and casual cool.
Who is your pick for Best Dressed of the night? Sound off in the comments below: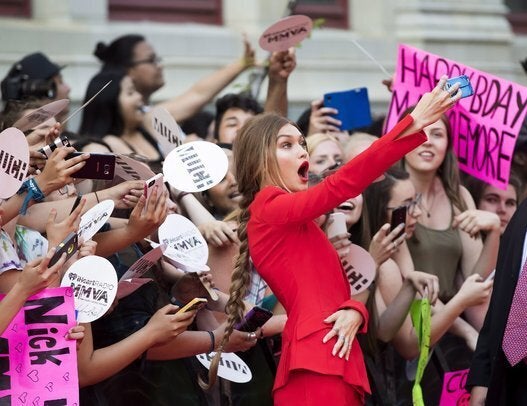 iHeartRadio MMVAs 2016 Red Carpet Photos