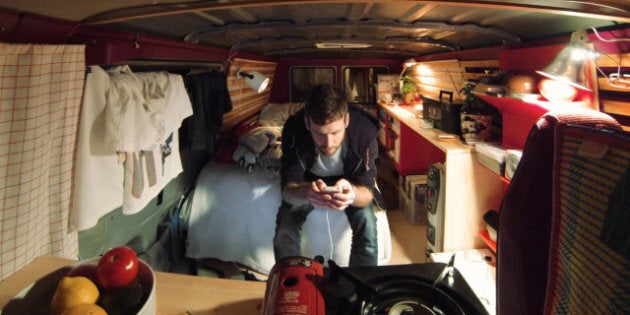 Mathew Arthur ditched a renovated laneway house he shared with his two brothers to live in a cheap 45-sq. foot 1987 Dodge Ram Prospector for the next year. He's part of the growing "van dweller" community in Vancouver, where sky-high housing costs have forced many to get creative.
The contemporary nomadic community describes itself as an "island of misfits, a family, a tribe" on a popular Yahoo! forum. Some have embraced mobile living out of necessity, while others like Arthur are doing it to challenge themselves.
"I had a good design job, but in no way found engagement in my life," Arthur told The Huffington Post B.C.
The 30-year-old wanted to challenge his notion of comfort by engineering a personalized living space that would test his creativity.
In early December, Arthur bought a $500 used van off Craigslist from a farmer in the B.C. Interior. With the help of his family, the vehicle was gutted, cleaned of mice feces and rebuilt with $400 worth of furniture, wiring and insulation.
In the small space, the van has four main areas: the kitchen and sink, work space, storage and bed. Without a personal toilet or shower, he has a daily excuse to go to yoga for exercise and to use the studio's facilities.
The difference has shown in his savings: his monthly rent has reduced from $850 to a $200 parking fee plus $50 for hydro.
Story continues after the slideshow: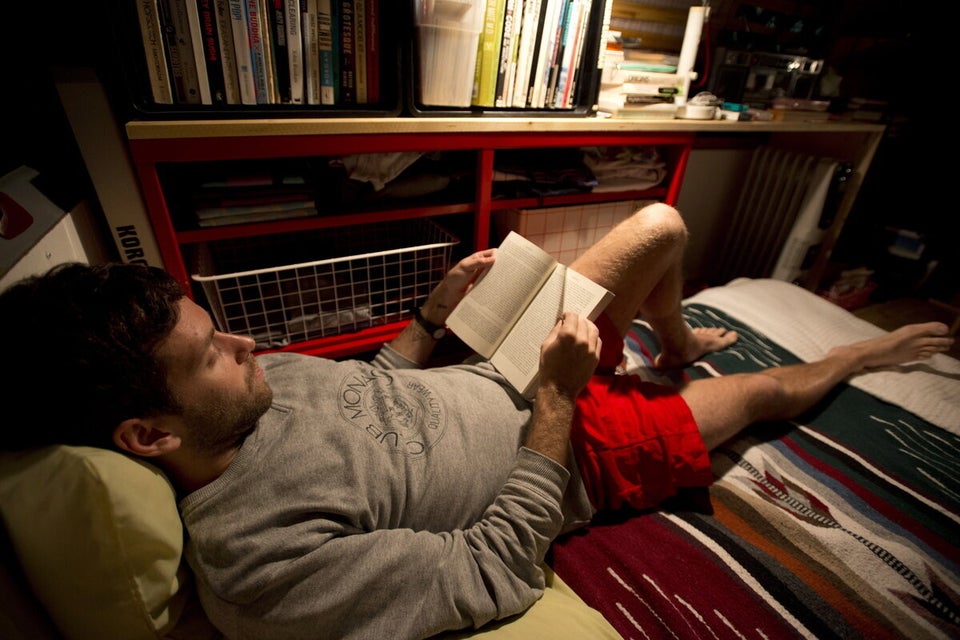 Mobile Living - Mathew Arthur
The tiny living space has forced Arthur to be mindful of his use of resources; he's producing less garbage by preparing simple, fresh foods, and is using less water and electricity overall.
"The one thing that I took for granted was the freedom to move room to room," said Arthur of living in a house. However, the shift from a 700-sq. foot house to a van parked in an East Vancouver alley has its quirks.
More people go through the alleyway than he anticipated. He's befriended a middle-aged woman named Edie who periodically strolls through collecting bottles from the neighbourhood's recycle bins. The occasional drunk lovers' midnight fight is also easily audible through the van's walls.
On the city's west side, two UBC journalism students interviewed Angela, a Vancouver senior who has been living in her RV for over nine years, surviving on $500 per month. Unlike Arthur, Angela is part of the city's working poor – those whose incomes fall below the poverty line.
"Regular people cannot afford to live or buy homes in Vancouver," she told reporters Aleksandra Sagan and Calyn Shaw, citing the rising cost of real estate and frozen wages in the city.
Because she's an older woman living alone, she hasn't received any trouble from the police. In fact, they helped her locate a safe spot to park overnight in a public parking lot by a beach. She's not the only one living there. There's a whole community of van and car dwellers sprinkled throughout the city's west side.
"They like us, because we're their eyes on the ground," said Angela of her experience with the authorities. The city hasn't given her any trouble either.
Vancouver's high rents have also pushed students to live in their vans.
In 2012, the Globe and Mail reported on UBC master's student Anna Baignoche and her decision to live in her van to after she was wait-listed by the university's residences.
With bear-spray by her futon, Baignoche slept in her van during warm months and opted for cheap sublets come wintertime.
She was able to save around $600 per month.