 Moby may be best known as a musician -- his latest album 'Innocents' came out this week -- but he's nearly as famous (or infamous) for his left-wing politics. He's long been an outspoken vegan and animal rights activist and at one point even briefly became embroiled in national politics for revealing that John McCain hated George Bush (a fact he learned from a music industry friend who also happened to be McCain's daughter). Moby has continued sharing his political views via blogs, tweets and interviews throughout the past decade.
(Note: We conducted this interview prior to the government shutdown, but Moby's political perspective is reinforced by the current crisis.)
Though Moby's raised money for Bradley Manning's legal defense (and refrained from commenting on the more complex Edward Snowden issue) he remains a strong supporter of U.S. President Obama.
"I remember being 17 years old watching MTV with my friends and all my punk rock friends would give the finger to the screen. At some point I realized the TV isn't listening to you. If you want to effect change, figure out how to strategically advance your agenda. And a lot of times that involves compromise and it involves compromise that might not make sense in the short term or that it might end up being really just compromise. Obama has made a lot of mistakes, but I do think ultimately he's very strategically trying to advance a progressive agenda within the framework of the power structure of the United States. I don't agree with everything he does, but I don't think he's done anything too egregious; a lot of the policies he's criticized for were actually started before he was president," says Moby.
"I think he could be doing things better, of course, everyone does, but I'm not gonna criticize it. I have some friends who are hardcore lefties who loathe Obama and I was like, 'Really? Really? You want the alternative?'"
While Moby doesn't give Obama's presidency anything higher than 'a solid B,' he gives George W Bush's presidency a D-minus and as for the Tea Party wing of the Republican party, well, he says they are "batshit-fucking-racist-atavistic-crazy."
Interview continues after slideshow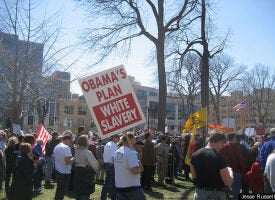 Ten Offensive Tea Party Signs
Moby believes the Tea Party movement is a reaction to the "browning or beiging" of the human species.
"Everyone's going to be mixed race -- it's inevitable and great. Lots of people resist that, it's sort of what explains the rise in religious fundamentalism -- it's basically people confronted with a future that doesn't look like the idealized path they imagined and they are terrified about it," he says.
"That's the Tea Party, that's religious fundamentalism. It's this old, scared way of responding to the future. And so you have like, old white people in the south who see an influx of Southeast Asians, Latinos, Europeans, South Americans, and simply they're scared. I think most humans have a hard time expressing that we're scared and instead we get angry. And then people try to justify their anger with trumped-up, Fox News-style statistics. So that's what's going on in the States. It's a lot of insecure, scared people whose fear is manifested as horrifying anger and racism."
But despite all this, Moby remains optimistic about America's future.
"We look back to the early 1960s, when there were separate drinking fountains and African-Americans had to sit in the back of the bus, and that seems ancient to us. We have a black president. So some of these bumps, they're just being paved over," he says. "But the bumps fight back."