You don't have to search far to find fantastic nail art inspiration. You can simply turn to your Instagram feed and try to recreate your favourite nail artists' designs. For example, this mod mani was inspired by a look Essie's lead nail artist, Rita Remark created for their winter collection:
The mod aesthetic is one that has influenced fashion and home decor over the decades. This peach and grey design has a hint of gold shimmer to give the design dimension and texture. All you need to create this look is a small nail art brush and a steady hand.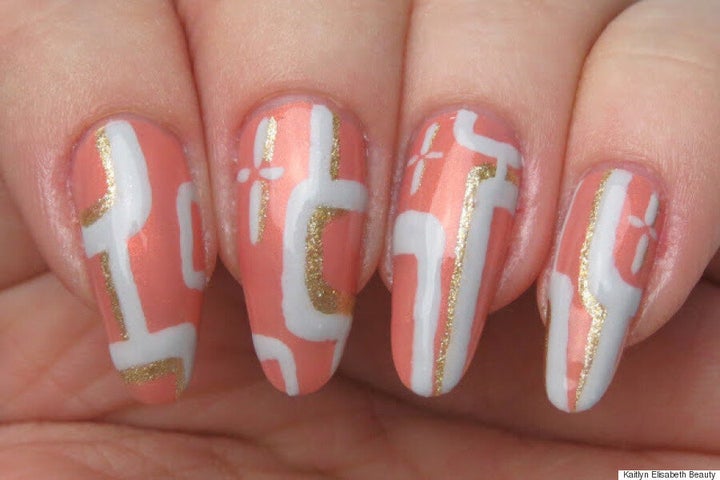 To start, paint all of your nails with two coats of your base colour (you can do any colour combination you wish for this look). For this particular look, Essie's "Oh Behave!" was used for the base colour. Allow the colour to dry.
Next, add drops of the polishes you'll be using for the rest of the design to a piece of aluminium foil. Take the main colour of the mod design (I used Essie's "Go With The Flowy") on a very small nail art brush. You want to emulate the patterns seen on wallpaper, clothes and housewares during the '60s. Create rounded outlines of squares and rectangles, and make sure to make some of them thicker than the others. You can also add thinner lines to connect the outlined shapes. Also, create a few star-like shapes either outside or inside of the outlined shapes by painting two longer vertical lines and two shorter horizontal lines.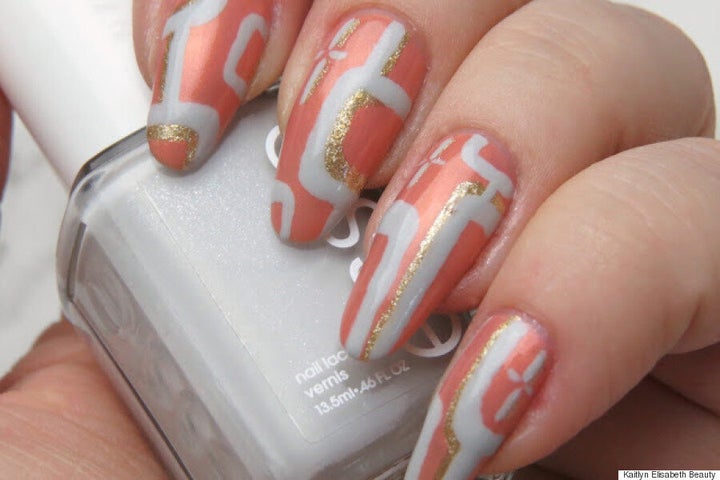 To add extra dimension to the look, take a shimmery/glitter nail polish, like Essie's "Getting Groovy," and follow the outlined shapes and stars you created with the other polish. Some of the accents can go inside an outlined shape, and others can go on the outside. It just helps to add some shine and more interest to the overall design.
Now if you need to, go back over the design with the main colour of the mod design to clean up any edges and make it look like the shimmery shade is actually underneath the grey.
Allow everything to dry for five to 10 minutes, and then apply a good topcoat to even out the look of your design and to make everything last.
Polishes used: Essie Oh Behave!, Essie Getting Groovy, and Essie Go with the Flowy