One of the men who allegedly sold crack cocaine to Rob Ford -- and tried to sell a video of the Toronto mayor purportedly smoking it -- is behind bars according to a Toronto Star report.
The report claims Mohamed Siad sat in the back of a car with two reporters in early May, showing them a cell phone video of Ford doing drugs and making racist remarks.
Arrested during police raids in May, the 27-year-old may have tried to tempt prosecutors by offering them the alleged video, according to the Toronto Sun.
The alleged video, which sparked a Kickstarter campaign to buy it, has not surfaced. And Ford has vigorously denied its existence, or that he has done drugs.
"I cannot comment on a video that I have never seen or does not exist," Ford said at a May 24 news conference.
'It's unclear if he was the auteur behind the video, or if it had simply come into his possession,' the U.S. news site adds.
Story continues below slideshow
The target, according to police, was a gang known as the Dixon City Bloods, also known as the Dixon Goonies.
Investigators say the gang's network spanned Windsor and even Edmonton, with members involved in shootings, robberies, gun-running and drug trafficking.
"Many of the alleged crimes committed were centred in the area of the apartment complexes on Dixon Road in Toronto but the investigation revealed the impact of their activities ranged far beyond and involve serious crimes of violence, gun importation, and drug trafficking," police said in a news release.
The raid netted some 40 guns, more than half a million dollars and 43 arrests. Among those arrested was a man named Mohamed Siad.
Charges against Siad include trafficking in firearms, participating in a criminal organization and trafficking in cocaine.
Citing unnamed sources, the Toronto Sun reports Siad was trying to use the alleged video as leverage against his charges -- a deal with the prosecution the newspaper says was shot down.
Since his arrest, Siad has been segregated from the general population after reportedly being stabbed.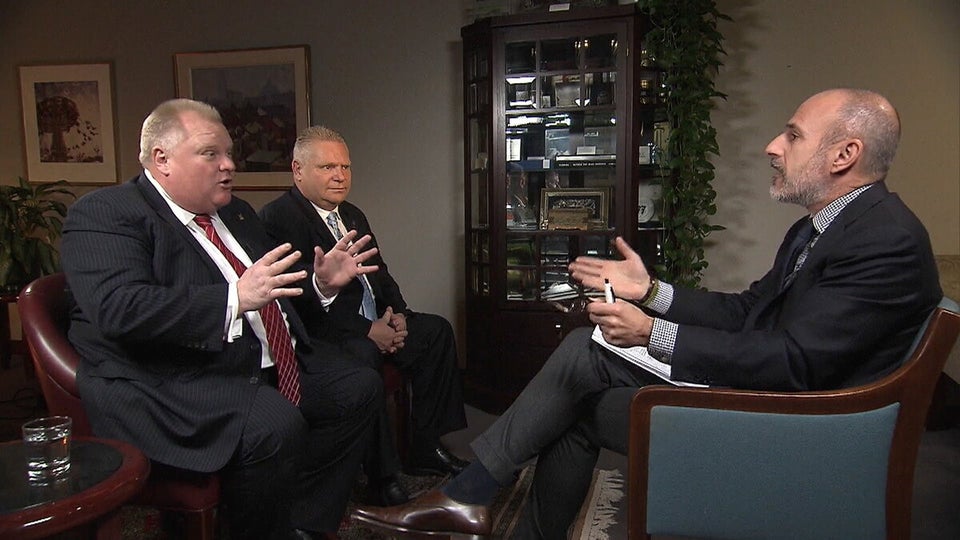 Best Photos From Rob Ford Crack Scandal