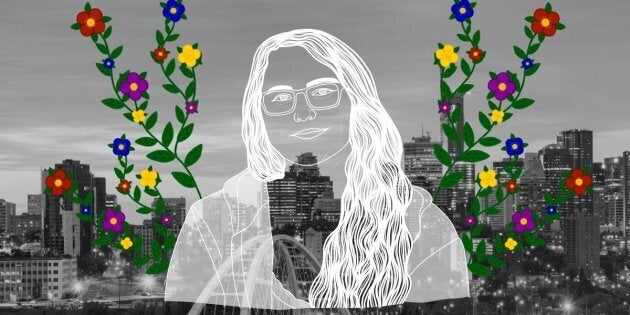 Molly Swain knows that everything isn't perfect in Indigenous communities, but she is passionate about how we need to highlight joy now and then.
Molly is Métis from Calgary and is currently living in Edmonton. She's starting her PhD in what she hopes will be Métis political relationality. She also co-hosts Métis In Space, a podcast where she and Chelsea Vowel deconstruct the science fiction genre with a decolonial lens.
She lived in Montreal for a while, but as soon as she left the Prairies, she knew she needed to find her way back. Edmonton feels like a very Indigenous space for Molly because of the city's larger Indigenous population and that changes the dynamic, especially when it comes to visibility.

A thread weaves itself through Indigenous communities and people across the country. That thread is resistance, and it's something Molly has thought a lot about — her master's thesis even touched on it. But she thinks the way we talk about resistance needs to change.
It's really important for us to have a narrative that recognizes that resistance to Canada is valid and valuable for us as Indigenous people in that, you know, the Canadian state is still a colonial state. As much as it tries to frame itself as being in this era of "reconciliation," etc., it's still doing the work of the colonial state, which is to eradicate us.
Indigenous communities have been plagued with an almost constant stream of outside negativity. A discussion happening among Indigenous people right now is the need for joy.
I'd like to see more writing on Indigenous joy. I think one of the things reconciliation is sort of doing, is trying to fit us into this multicultural paradigm, where we become boiled down to our cultural expression. It's either drumming, dancing, or art – which are all amazing – but it's also important to remember that we are also people living our day-to-day.
That, as much as there is suffering in our communities, and things are really hard, and colonialism works to make things challenging for us — every single community has joy and is thriving in whatever ways that it can. It would be great to see that narrative expanded outside of artists and our cultural expression, to what amazing things are we doing in our communities on a day-to-day. How is it that we're working to feel good? And how are we feeling good?
Why can't we have that mindless entertainment? The silly comedy? That's one of the things I loved about "Thor: Ragnarok," for example. I felt like it was such an Indigenous film. It was just irreverent and silly, and also just great and had really strong moments of family. Sure, it had identity and struggle, and all that ... but we should also be sharing and highlighting those moments when we're just being ridiculous. Whether that's going out with friends, going on dates — we need to have those narratives exist in resistance to colonialism, instead of essentializing us into either struggle or this superficial knowledge of our cultures that the mainstream has.
Molly has spent the better part of her life living as an urban Indigenous person — from Calgary to Montreal, and now Edmonton. She understands that there isn't a single urban experience, but the community is growing and mobilizing.
Urban Indigenous people are expressing ourselves and relating to one another in ways that I think are both unique to each city and just really exciting. Pan-Indigeneity doesn't really capture the complexity of how we relate to one another.
There's a lot of Indigenous people now being born in cities and raised in cities; they visit their communities, but the city is what they know.
I'd like to see more writing on Indigenous joy.
There isn't one urban Indigenous experience you can point to and say this is what an urban Indigenous culture is like. But I do think that it's something that's unique and it's vibrant in new ways. And people are coming together to build things relationally, politically that are unique and exciting. We're building exciting new Indigenous spaces for ourselves without necessarily falling into the trap of homogeneity.
I think a lot of people have a really good sense of who they are and where they come from. But this is where we live, this is our day to day, our everyday life in the city, and so we need to express ourselves in this space as well.
Some of the responses in this piece have been edited for clarity and brevity.
This story is part of Not My Territory*, a HuffPost Canada series about urban Indigenous perspectives driven by the people who are part of the country's fastest growing populations.
*Some Indigenous people live in cities that don't overlap with their community's traditional territory, and many feel burdened by being regularly called on to represent cultures and backgrounds that aren't their own.