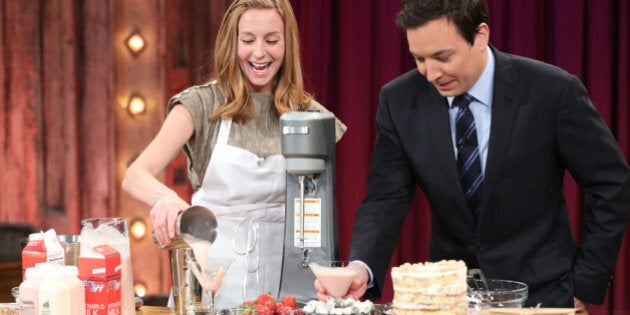 Chef David Chang's Momofuku empire has been taking the food world by storm ever since he opened his first restaurant in New York in 2004. And Chang's famous ramen has enjoyed the company of some sweeter, equally swoon-worthy creations coming out of his restaurants over the past little while, and there's one woman to thank for that: Christina Tosi.
Tosi is the chef, owner and founder of Momofuku Milk Bar, the bakery side of Chang's holdings, and the creator of its beloved desserts like the crack pie (made with oats and more sugar than you can imagine), compost cookies (picture potato chips and pretzels in a cookie) and birthday cake truffles (similar to a cake pop, without the stick). She received a James Beard Rising Star Chef Award in 2012, and is not shy about her love for raw cookie dough.
Tosi was recently in Toronto, visiting the only location of Milk Bar outside of New York and speaking as a featured panelist at the Canadian Restaurant and Foodservices Association show. She also held an afternoon of "cake walks" for Milk Bar patrons (click here to see it demonstrated), to introduce the new dulce de leche cake (pictured below).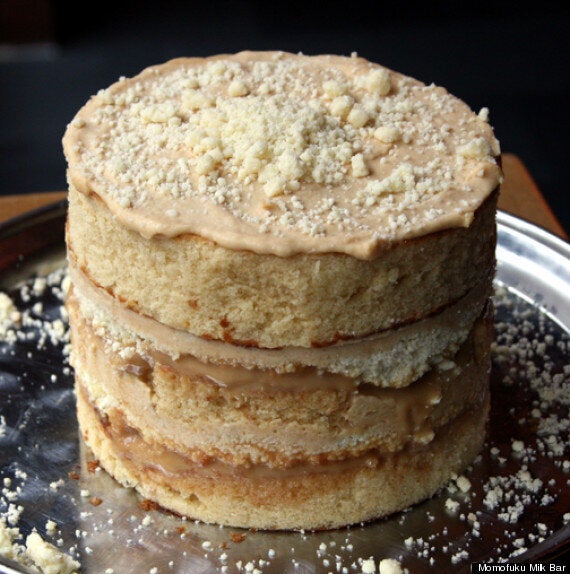 We had a chance tap Tosi's brain about where she comes up with such amazing treats.
Have you made any surprising flavour combination discoveries (like the pregnant classic ice cream and pickles, but for normal tastebuds)?
I'll get in trouble if I talk concoctions. I'm not a normal person with normal tastebuds so I'll save you all from cringing/dissing on my late night flavour pairings, but I will say when I was a kid, with little to no access to anything but my mother's pantry, I'd dip everything in ranch dressing, Miracle Whip, katsup, barbecue sauce, honey, mustard, etc. I'd mix condiments up to try and create new condiments, dipping sauces and LOVED playing around with tasting strange things together.
What are the trends in desserts right now? Obviously cronuts and hybrids have been big recently, but what else is on the horizon?
I think there's a retreat to the classics in fun forms, whether it's the flavour of apple pie refigured into macaroon form, or making an apple pie-flavoured vinegar. From-scratch recipes like make your own beer, yogurt, cereal, jam, jelly, but with those classic flavours in mind/form.
Could you give us some tips on how to fake being/actually become an awesome baker?
It's all in a killer recipe. the finesse, the finishing comes later. But in reality it doesn't matter how great it looks, if the flavour isn't there, it'll be easily forgotten.
I'm a fan of the hand-me-down recipes — friends, family, bake sales, community cookbooks — those are the recipes that have withstood the test of time, and fed many hungry fans. When you taste something delicious, ASK FOR THE RECIPE! Or offer to trade a recipe!
I have a hard time trusting recipes online, reader reviews or not, though Smitten Kitchen is always a great place to search. For online recipes, I look for salt — a little goes a long way, but it's an imperative ingredient in any baked good, and great cues (time parameters, sensory cues, etc.).
Are there specific steps you take to get a recipe from good to awesome?
When we're in the final recipe testing process we play around with small increments of sugar, salt, acidity, flour and fat, typically to understand the building point and the breaking point in the recipe. We'll go through anywhere from eight to 18 tests, stepping up and stepping down these key ingredients/elements to best understand and decide on the greatest balance of all to take the recipe from good to awesome.
What are the essential tools for a baker to have?
I swear by an offset metal spatula (to smooth/create an even layer), a spoon (to taste!), and an ice cream/cookie scoop to ensure even/level proportions for a cookie, cake truffle or pie filling.
Do you have any fast go-to 'dessert alternatives' or snacks people can whip up quickly when the sweet tooth strikes but there are no desserts to be had?
I love repurposing items from the pantry (go figure). I can fashion a sundae of out nearly anything and ice cream, a cookie out of nearly anything — binding with butter, maple syrup, peanut butter or marshmallows. That said, I think I could roll out a "cake truffle" with a few slices of bread, fruit juice and a few other cupboard ingredients. I love using a bowl of oatmeal as a sweet or savoury canvas as well.
What has been the biggest obstacle in your career?
Out of culinary school, I worked as a pastry cook in amazing restaurants for years. I ended up leaving the pastry cook scene because, though I loved the industry, the restaurants and the chefs I worked for so much, I had to be honest with myself. I was never going to be them. I was never going to be as fancy and fine tuned stylistically to "fit in." It was the most difficult thing to stomach.
The great news is it put me in the right hands, working for Dave, where he needed someone most. He didn't need nor was he looking for a pastry chef. He needed support elsewhere. I got to know, understand and be a huge part of the Momofuku operations, before he saw that my true heart was in the kitchen.
It is the most optimistic advice, but the most true-to-my-experience advice when I tell those who ask, that you'll make it to where you belong in this world, in this industry if you stay proud, true and honest to who YOU are.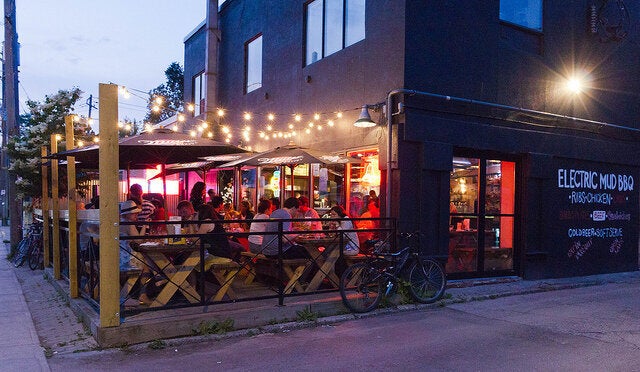 Best Toronto Restaurants (HuffPost Picks)